Local Eyes: Mudpuddles Toy Store

Reporting done by Fernando Rojo and Jack Kozicz. Editing and narration by Fernando Rojo.
Transcript:
FERNANDO ROJO, HOST:
The secret behind children's love for toys might be in a toy store itself. So what happens when children can play with toys without having to take them home? I'm Fernando Rojo for The Communicator, and this is LOCAL EYES.
Jan Benzinger is the co-owner of Mudpuddles, a local toy store in Kerrytown. She owned a nature shop prior to the toy store, and the success of the children's area in the store brought her to a realization.
BENZINGER: Kerrytown really needs a toy store, so we did that. And we really like it.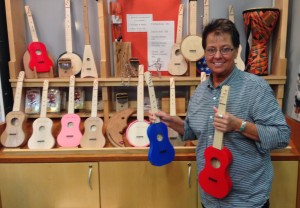 ROJO: Mudpuddles does not only sell toys, however. Many children come on a regular basis, just to play with the toys in the store. But, are kids allowed to play in the store if they are not actually buying toys?
BENZINGER: Absolutely. I mean there are a lot of kids who come in almost everyday, just to come and play at the train table.
ROJO: Yael is a regular Mudpuddles customer. She likes to look around the store while her daughter plays with James, her favorite toy train.
Although it is far from home, Yael comes to Mudpuddles with her daughter multiple times a week. Mudpuddles is her go-to destination for birthday presents, and a great place to bring her daughter. Still, she says that at first, it felt odd just bringing her child to play.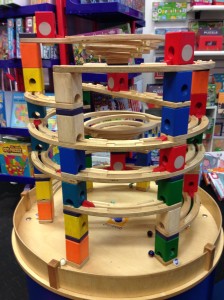 YAEL: I do like it, I was very embarrassed in the beginning because (you know) they could see me and I come a lot just to play, but (um) they are so friendly here and I got used to it.
ROJO: Some would ask, if people can play with toys without buying them, will Mudpuddles go out of business? Well, that's just not the case. Mudpuddles relies heavily on the holiday season for business, and Benzinger says she is geared up for this year.
BENZINGER: All businesses make the biggest portion of their money during the holidays, but toystores, wow. We make half our money in the last six weeks of the year.
ROJO: So, whether parents want a fun place to bring their kids or a great selection of toys to take home, Mudpuddles is the place to go.
I'm Fernando Rojo for The Communicator, thanks for listening to LOCAL EYES.