Mock Trial Ready to Compete in Regional Tournament
Photos by Sophia Camp. See the gallery in another tab via Flickr by clicking here.
This Saturday, Community High School's very own A and B teams face their first tournament of the season at the Washtenaw County Trial Court. This regional tournament features 12 other teams raring to compete at the slaughterhouse, also known as a courtroom. This "to the death" competition will be battled in heels, suits, and ties, and in a formal, civil, and structured manner.
The concept behind Mock Trial is simple: with set parameters and a fictional case and characters, produce a team who can convincingly argue for either prosecution or defense. At the tournament, be prepared to be assigned a side to represent, and even though each team member knows the case like the back of their hand, be on guard for curveballs.
In brief, the fictional case deals with a murder. The key characters are Sam Seaside, Nicki Shore, and Jo Turner. Sam and Nicki were good friends. Nicki and Jo were dating. Sam held a party the night of prom while their* parents were out of town. Things got out of hand that night and when Sam's parents returned, their father's gun was missing from the house. Sam snuck out of the house the following weekend to attend the last party before graduation. Later that night, Sam, Nicki, and Jo left the party in Nicki's car. That was the last time Nicki was seen. Nicki's car was found in a parking lot along with a bullet and blood stains. Jo joined the army and is in the Middle East, unavailable to be questioned. Nicki's body has not been located.
Students are assigned roles as either lawyers or witnesses. Lawyers are assigned to either prosecution or defense and, as a group of three lawyers, are responsible for developing an argument supporting their side with the given case material.
Witnesses are examined by lawyers from both sides. They are required to read the character's witness statement, which is provided with the case materials, develop a realistic and persuasive depiction of the character, and portray the character while staying within the information provided. Otherwise, points could be deducted if a lawyer objects for unfair extrapolation, which means the actor provided information about their character in court that was not explicitly or fairly assumed based on the witness statement. This keeps the playing ground level so that each team has the exact same information and resources to work with.
Since assigning roles in Mock Trial is not influenced by gender, all characters are given gender neutral names and adopt the pronouns of whoever portrays the witness.
A session in court begins with opening statements from a lawyer representing both sides. Generally, the lawyer sets the stage for the trial and will outline their argument.
Afterward, a witness is called to the stand and is examined by the lawyer who represents their side. The lawyer then begins a direct examination, where essentially the lawyer asks the witness questions that allows the witness's side of the story to be explained.
Then, a lawyer from the opposing side begins a cross examination where the lawyer interrogates the witness and attempts to bring out points that would benefit the argument of the lawyer. It is the witness's job to stand their ground, give compelling answers, and not allow their side of the story to be soiled by the opposing lawyer's agenda.
The lawyer representing the witness is then given the option to perform a re-direct examination, where the lawyer is able to ask questions pertaining to the subjects brought up in the cross examination that allow the witness a chance to clarify and explain any damaging testimony that might have been brought out during the cross exam. The opposing side's lawyer is then after given the option to do a re-cross examination pertaining within the information discussed during the re-direct exam.
Some teams have themes for their argument to keep everything connected. "We have our theme and so all of our arguments … can be argued or talked about in a way that fits that theme, and so then in an opening statement or a closing argument, those things can be brought together with your theme and make your arguments not only sound reasonable, but sound compelling and organized and pleasing to listen to," said Preston Horvath, defense lawyer for A team. "Whoever you're telling doesn't have to put it all together for themselves; you can put it together for them."
Christina Chang, defense lawyer and prosecution witness for A team added, "The great thing with … putting together all the pieces is it shows that even with all these separate parts, the team is one team that is working together and it's all cohesive."
The procedure of direct and cross examination continues until all the witnesses for prosecution and defense have been examined. Then, after all the information has been heard by the jury, a lawyer from each side gives their closing statement.
Horvath said, "When you hear a really good Mock Trial team, you hear their opening statement where they tell you what you're going to hear, and then you hear their arguments and you hear exactly what they told you you were going to hear, and then you hear their closing argument and they take all that information and-", Chang interjected, "punch you in the face with it."
There is no verdict in a Mock Trial case. The case materials are written to be balanced, so no side has an advantage. Naturally, whichever team is the strongest, at the end of the day, made their side seem more plausible. The teams are scored and the teams advancing to the state level are announced at the end of the three rounds.
Mock Trial coach Chloe Root has guided both teams throughout the processes of preparation. "It's scary going into the courtroom because … you feel like you try to do everything to prepare [the students] for that situation, and then you kind of have to let them go do it," she said. As a coach, whenever a student runs into an unforeseen situation, Root worries that she didn't prepare them for the situation. She can often be seen in the audience with sweaty hands, frantically taking an excessive amount of notes. But, trusting her young ones to fly out of the nest, although scary, can turn out to be satisfactory. "Usually what happens is then they surprise you by figuring out how to deal with it in a way that's effective and cool, and you're like, 'Oh, why was I even worried?'"
All in all, the entire Mock Trial crew, cool, calm, and collected, is prepared for the unpredictable. Handling everything in stride, there will be no ruffled feathers. This prim and proper team, with perfectly aligned cuffs, collars, ties, and tights, is poised and ready for combat.
*they/them/theirs is used as a singular gender neutral pronoun throughout the article
The regional tournament is on Saturday, March 8, at the Washtenaw County Trial Court, located at 101 E. Huron St in Ann Arbor.
It is free and open to the public, although getting in can be congested because of the security checks. Please make sure your cellphones are turned off in the courtrooms. The team can be penalized if anyone identifies the name of CHS's team to the judges. Do not wear or carry anything that would identify the team, ex. logos for Ann Arbor, Community High, University of Michigan, Pioneer, Huron, etc.
The itinerary is as follows:
8:30 a.m. – 10:30 a.m. First Round
10:45 a.m. – 12:45 p.m. Second Round
2 p.m. – 4 p.m. Third Round
4:30 p.m. Announcement of Advancing Teams
A Team
Prosecution
Lawyers
Avery Farmer
Eve Kausch
Lynus Zullo
Witnesses
Christina Chang
Graehm Patrell-Fazio
Liam Sullivan
Defense
Lawyers
Christina Chang
Preston Horvath
Gabe Schat
Witnesses
León Pescador
Nate Porter
Avery Farmer
B Team
Prosecution
Lawyers
Clara Motiño
Erez Dessel
Sara Jackson
Witnesses
Jasmine Chang
Jeff Ohl
Miranda Chambers
Defense
Lawyers
Jasmine Chang
Miranda Chambers
Alec Doss
Witnesses
Athena Le
Erez Dessel
Olof Carlson
About the Contributor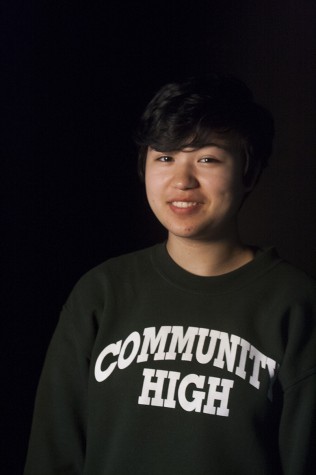 Sophia Camp, Co-Editor-In-Cheif
Sophia likes to write and take photos. She believes that every individual is as complex and multifaceted as herself, and she most likely would love to hear you talk about yourself.