Smashing Sexualization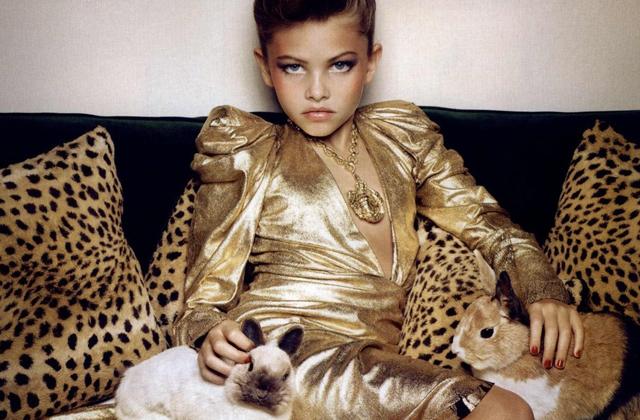 Four years ago, a ten-year-old female model appeared an issue of Vogue Paris. In one picture, she lounged on cheetah pillows, wearing a gold metallic dress with a plunging neckline. She was too young.
Each generation has become increasingly accepting of the sexualization of men and women than the one before it. Flip through a magazine, drive down a highway, or watch television, and you will see advertisements that show a woman or man striking a suggestive pose.
Kraft Salad Dressings recently introduced an ad campaign that features model and actor Anderson Davis. In a picture advertisement, Davis lies on a red and white picnic blanket, and appears to be practically naked. In a video ad, Davis says flirtatiously, "When it comes to pizza crust, I like to do things – by hand. So tonight, things might get a little messy." Later in the ad, his shirt "accidentally" comes off.
In Western society, both genders are sexualized, but not equally. This is according to the study, "Equal Opportunity Objectification? The Sexualization of Men and Women on the Cover of Rolling Stone," done in 2011 by University at Buffalo sociologists, Mary Nell Trautner and Erin Hatton. "Using a unique analytical framework that allows us to measure both the frequency and intensity of sexualization, we find that representations of women and men have indeed become more sexualized over time, though women continue to be more frequently sexualized than men," the study stated. Trautner and Hatton came to this conclusion by analyzing Rolling Stone magazine covers from 1967-2009.
Sexualizing someone isn't harmful just because it can be offensive. The same Rolling Stone magazine study reported that, "…research has shown that sexualized images may legitimize or exacerbate violence against women and girls, sexual harassment, and anti-women attitudes among men…" The consequences that result from sexualization in the media are over-looked and unacceptable.
It all comes down to making money.
Nowadays, it's common for pop icons to sexualize their performances or music videos. Miley Cyrus is known for her performance at this past year's MTV awards, in which she twerked on Robin Thicke wearing a foam finger. Her performance drew a myriad of reactions. No matter what people's opinions were on the issue, the unfortunate bottom line is that sex sells. In October of 2013, a New York Times article by Jacob Bernstein wrote of Cyrus's behavior saying, "It does appear to be working. Ms. Cyrus's new video, 'Wrecking Ball' (in which she is filmed largely nude, periodically licking construction equipment), was directed by the fashion world's perennial bad boy, Terry Richardson, and has been viewed 180 million times on YouTube alone."
The sexualization of women and men in the media needs to cease. It's only benefiting the greedy companies that are running the advertisements. Everyone has someone in their life that is being affected by Cyrus's wrecking ball. Don't let her knock you down too.

http://journalistsresource.org/wp-content/uploads/2011/07/Hatton_Trautner_Sexuality_and_Culture.pdf
http://www.nytimes.com/2013/10/03/fashion/the-pro-miley-backlash.html?pagewanted=2&contentCollection=Homepage&t=qry113%23/sexualization/365days/&version&action=click&region=Masthead&module=SearchSubmit&url=http://query.nytimes.com/search/sitesearch/?action=click&pgtype=Homepage
http://www.usatoday.com/story/news/nation/2013/06/20/zesty-guy-kraft-ad/2439467/
http://www.pbs.org/newshour/updates/social_issues-july-dec13-sexualization_12-21/
http://www.buffalo.edu/news/releases/2011/08/12769.html
http://journalistsresource.org/studies/society/news-media/objectification-sexualization-women-rolling-stone#