ALBUM REVIEW: Kid Cudi, "Satellite Flight: The Journey to Mother Moon"
There are few vocal talents as haunting as a properly utilized Kid Cudi — one need only look at the ingenious ways his mentor, Kanye West, has contextualized him on songs like "Gorgeous" and "Guilt Trip" as an achingly, throbbingly open wound of remorse and regret. The closer company Cudi keeps with West, too, seems to be unanimously associated with his best work; while his first trip-hop album, Man on the Moon, leaned too heavily on some admittedly classic singles, the 2010 follow-up Man on the Moon II: Legend of Mr. Rager remains one of the most consistent, bug-shit-insane inventive hip-hop projects of the new century, no matter how many spears critics may throw through Cudi's veneer.
After a modestly well-publicized break-off from Kanye's G.O.O.D. Music crew, though, where does that leave the rest of his discography, and where does that leave his fifth full-length, Satellite Flight: The Journey to Mother Moon?
[youtube]http://www.youtube.com/watch?v=4Kl-mf_M4ss[/youtube]
Cudi seems to have been largely the one holding his own creative reins in recent years, with deeply mixed results — with 2012's WZRD project, he made a stab at psychedelic rock band scope and failed fairly miserably, while last year's follow-up Indicud ranks with his strongest, most tortured work — not necessarily for lyrical content, but for the immense skill Cudi began to demonstrate with swirling, oppressively clanging soundscapes. It seems the better the guy is getting at constructing actual instrumental music, however, the more comfortable he feels in his own singing talents. And it should just be directly stated — he shouldn't be. At all. Satellite Flight is as convincing evidence of this as any other.
The triptych "Going to the Ceremony", "Balmain Jeans" and "Too Bad I Have To Destroy You" are all vocal disasters to varying degrees from Cudi — with "Ceremony" being a failed stab at riding the psychedelic-rock-band sounds of WZRD, "Too Bad" being a bizarre mash-up of twinkling childlike instrumentals and some of the most annoying vocal inflection he's ever done, and "Balmain Jeans" being, well, a near-indescribable fiasco of both lyrical and singing prowess (a sample lyric: "help me take off my Balmain jeans, I'll undo yours // you can lick it after I'm doing lickin' you first, I wanna taste it"). The bad stuff here is genuinely unlistenably bad.
[youtube]http://www.youtube.com/watch?v=pSryAgcPuFA[/youtube]
The strongest arguments for Cudi's continued vitality are, more often than not, the songs where his vocals make no appearance at all. Opener "Destination: Mother Moon" rides a fantastic, hypnotic drum-loop for two minutes, "Return of the Moon Man" is an exemplary horn-driven mini-musical suite and "In My Dreams 2015" is a short, sweet re-imagining of the very first song Cudi ever released on a major record label.
The strongest effort here is the title track, Satellite Flight, by some measure — Cudi allows his vocals to bleed into the swooning orchestral arrangements and excellent drum samples, creating one of those rare, excellent moments in his catalog — where his considerably different talent levels of vocals and production coalesce for a sublime couple of minutes.
[youtube]http://www.youtube.com/watch?v=qcJMlfESR6I[/youtube]
Cudi says Flight began as a small EP with a few songs and only sprawled into a 40-minute full-length in a sudden burst of creative vitality, which to his credit was a fairly seamless transition. The tracks here have an even more celestial, less personal bent than Cudi has been pushing lately, with much of his lyrical focus being on planets, satellites, and whatever the hell else Cudi is using as metaphor for his personal development. The result is a maddeningly inconsistent work from hip-hop's most melancholy figure, one littered with both laughably misguided lyrical and vocal decisions as well as the subtle touches of sonic genius that he's all-too-capable of. There's plenty of one-hit wonders in the world, so perhaps Kid Cudi should be content with being a one-masterpiece wonder.
Rating: 5.4
Leave a Comment
About the Contributor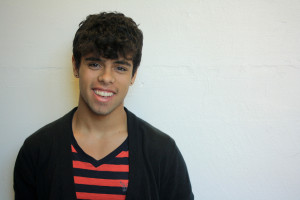 Ryan Michaels, A&E Journalist
Ryan Michaels, a high-school senior, splits his time between Skyline and Community. His driving passions are for the arts and for writing, and intends to cover a broad range of pop cultural discourse during his time on the Communicator staff (film, albums, art exhibits, etc.) He is also a featured columnist with Heritage Newspapers (Ann Arbor Journal, Saline Reporter, etc.) and has published over 340 columns with them since 2007, and spent multiple years as part of the Skyline crew team.