CHS Black Student Union Goes to Cincinnati
Community High School's Black Student Union [BSU] visited the National Underground Railroad Freedom Center Museum of Cincinnati. The museum's four floors contain a plethora of information on slavery and slaves throughout history — both American slavery, and the 29.8 million slaves across the modern world. BSU advisor Janelle Johnson believes the experience was highly valuable, from both a learning and a bonding standpoint.
"First of all, it's a beautiful museum," said Johnson. "There's this beautiful quilt when you walk in." In fact, quilts are a common theme throughout the museum, portraying the lives of numerous relevant figures. The quilts on display depicted an array of both positive and negative American racial experiences. On one end of the spectrum was a quilt about Plessy v. Ferguson, the Supreme Court case that upheld "separate but equal" segregation. Balancing in out was a quilt on Mr. and Mrs. Loving, who Johnson explained "broke the barrier" on interracial marriage. "They also had a Harlem Renaissance quilt that was just beautiful; they also had the first African American astronaut, Mae Jemison, that was really nice," Johnson continued. "So it was a lot of beautiful art that was displayed there."
The museum also contained information on less beautiful topics, and is full of artifacts of American slavery. One particularly intense feature was a real American slave pen — the only remaining one. The pen, originally from Kentucky, served as a space where slaves stayed until being moved into another location, where they could be purchased. "It was very interesting to see how this owner bought and sold slaves, and he showed us where they actually stayed while they were waiting to be bought and sold," said Johnson. "And it was pretty powerful, because it was the original pen. They had re-done the floors, because people had to walk on it and whatnot, and they had to make it … safe for people to be in it, but it was pretty powerful."
Exhibits were not on just the American slavery of the past, but the worldwide slavery of the present. Johnson described the atrocities that occur across the globe even today: "They're forcing people to work, using intimidation, or threatening them. That's what I'm talking about for modern-day slavery. You know, they lure you in, they get you to work these jobs, and they tell you that you cannot leave, and if you do leave, your family is going to be harmed, or your friends or your loved ones will be harmed, or you will be harmed." More information about current slavery can be found on endslaverynow.com, which gives estimates on the number of slaves in over 150 nations. Modern sex trafficking was also addressed. Johnson said she found these exhibits "extremely interesting and extremely powerful."
This year, BSU sought a new destination after visiting the Charles H. Wright Museum, in Detroit, last year. Additionally, many BSU members are seniors, and they wanted a longer trip that would provide a better bonding experience. "We really wanted to do an overnight field trip," explained Johnson. "This museum [was] highly, highly, highly recommended." They were attracted to the many features of the museum, from the slave pen to a machine that allows visitors to trace their genealogy. Though the line for the genealogy machine was too long, BSU still learned a lot. They consider the trip a successful bonding experience.
"We got to stay in a hotel, and we got to talk outside of school, so it allowed us to bond on a more personal level. You don't get to do that as much at school," said Johnson. "It was wonderful, it was a wonderful group of students that we took, and I would definitely do it again … Hopefully in the next three or four years, we can do it again."
About the Contributor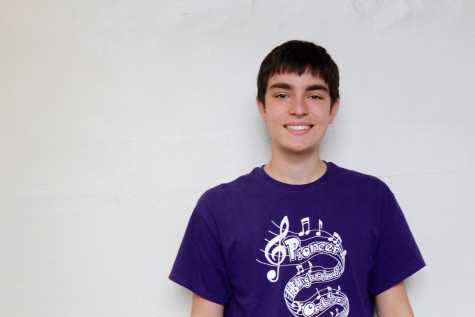 Matty Hack, Editor-in-Chief
Matty is a CHS senior and this is his third year on the Communicator Staff. He is a co-editor-in-chief and can often be found correcting pedantic punctuation errors. Matty also enjoys birds, playing violin and piano, science and petting his cats. He is pro-Oxford comma.