Author Rachel DeWoskin Reads at Nicola's
Rachel DeWoskin can read in the dark. DeWoskin can still read in daylight perfectly well; she learned Braille not to make up for a visual impairment, but to experience the frustration faced by the protagonist of her novel. On Sept. 12, 2014, DeWoskin gave a reading of her new young adult novel, Blind, at Nicola's Books. DeWoskin is a Community High School alumna and the daughter of CHS English teacher Judith DeWoskin.
Blind follows fifteen-year-old Emma Sasha Silver, who has lost her eyesight in a tragic accident. Emma, one of seven siblings, struggles with how to live in a sight-oriented world, and how to live as a normal teenager without sight. Just as Emma is about to begin regular high school again, one of her classmates is found dead, most likely through suicide. Emma, who has not fully returned to her own mental stability, takes it upon herself to explore the meaning behind her friend's death. Through Emma's sightless eyes, DeWoskin explores the existential and psychological effects of blindness.
DeWoskin was inspired to write about a blind protagonist by one of her children's books. "My children have a beautiful children's book called The Black Book of Colors," said DeWoskin. "It's a Venezuelan children's book, and the entire book is black, and the images are invisible, but you can feel them." As DeWoskin read the book to her children, she began to wonder how she would experience the book if she could not read the text, but could only read it by deciphering the Braille and feeling the images. From there, she began wondering about what would happen not if she was blind, but if one of her children were. "And how would we cope? And how would we talk about color? And would our memories remain visual?" DeWoskin wondered. "And so, I made up Emma Sasha Silver in order to explore some of those questions I found riveting."
DeWoskin never went as far as blindfolding herself while writing the book, but she took profound extra steps in order to better understand a world without sight. She spent eight months swimming blindfolded, an experience she found terrifying. "I spent a lot of time thinking about the dark, and whether there are ways to think about the dark that makes it comforting, rather than scary," DeWoskin said.
While writing Blind, DeWoskin also visited the Chicago Lighthouse for the Blind, an organization devoted to finding employment for blind or visually impaired people. There, she met with Jim Kesteloon, the president emeritus of the Lighthouse. From Kesteloon, DeWoskin learned about the experiences and fears faced by visually impaired teenagers. One crucial theme of the novel that DeWoskin learned from Kesteloon is the fundamental fear of blind teenagers that they cannot support themselves or anyone else, and can therefore never be lovable. "I realized … that's the fundamental fear of all human beings, right? That we're not lovable. And so the way to cope with whatever your impossible context is, is to find the things that make you lovable, and the people who love you, and hold on."
Kesteloon's more individual experiences also influenced the character of Sebastian, one of Emma's friends and a central character in Blind. Kesteloon's parents allowed him to take his driver's test when he turned sixteen, knowing he would fail. "And I put that story in Blind, I gave that story to Sebastian, because I think it's such a beautiful story about parenting," DeWoskin said. She joked about how she isn't as good a parent as Kesteloon's: "I couldn't even let Emma Sasha Silver ride her bike. You will notice if you read the book that I let her go out into the garage and sit on her bike." Kesteloon was also a main editor of DeWoskin's manuscript, and she described him as "a dream reader.
During DeWoskin's research, she learned that, despite modern technological advances, knowing how to read Braille is still a necessary skill for the visually impaired. Not only did DeWoskin show Emma learning how to read Braille, but she taught herself, as well. Many parts of learning Braille were a revelation for DeWoskin. "As a little kid, my goal used to be to trick my parents and read past the time when I was supposed to turn the lights out. And I had a lot of strategies for that, all of which were failures," DeWoskin recounted. "Most notable was the idea at our farm we visited during summers that I would fill a jar with fireflies, which, a – died, and b – didn't light enough under the covers." Finally, through Braille, DeWoskin found a method of reading in the dark.
Learning Braille was also, however, a highly frustrating experience for DeWoskin. "It was extremely difficult for me," she said. "And made much easier by cheating." Though DeWoskin could easily memorize the Braille patterns visually, she found it "nearly impossible" to read the language with her eyes closed. "I spent a lot of time thinking about it and working through it and experiencing enormous levels of frustration. Even though I had no excuse," DeWoskin said. She tapped into this frustration to create a realistic learning experience for Emma, for whom Braille is a necessity.
DeWoskin read three excerpts from Blind, which show Emma both answering some of DeWoskin's initial questions, and asking some of her own. In one of the excerpts, DeWoskin read Emma's musings about the word "blind" itself: "I hadn't noticed what an odd and colorless word it is, how it can suck the meaning out of whatever it attaches to: Blind love? Blind rage? Blind faith? Why are those the unthinking kinds? And who's more lost or hopeless than the blind leading the blind? The most amazing love happens at first what? Right, sight. Seriously?"
Several CHS students attended the reading, including senior Mari Milkie, who is about halfway through Blind and is greatly enjoying it. "She has beautiful descriptions, and she also knows how to get inside the heads of teenagers to describe what's happening," Milkie said of DeWoskin's writing. Milkie also described DeWoskin as "the perfect reader," adding, "She read it almost like it was poetry, which made it even more alive."
Junior Hannah Tschirhart also attended the reading, and plans on starting to read Blind soon. She loved the language DeWoskin uses in her book, and is pleased she went to the reading: "Hearing the excerpts that she read was awesome, and it really made me want to read the book," she said.
"One of the things that I found really impressive was that [DeWoskin] learned Braille. That was really really cool and I cannot imagine how difficult that must have been," Tschirhart added.
Milkie, meanwhile, was impressed with DeWoskin's choice to visit the Chicago Lighthouse for the Blind. "I thought it was really important that she went out and did all that research," she said.
Blind was only recently published, but DeWoskin has already embarked on her next novel. "My next project is actually a novel set in 1940 Shanghai," she said. "It's about a Jewish girl, a seventeen-year-old young woman, and her dad, who escape from Warsaw and end up in Japanese-occupied Shanghai, where they wait out the war, hoping for her mom to return."
If DeWoskin returns to Ann Arbor for a reading of her next novel, she can count on a big crowd. Over a hundred people attended the Blind reading, and rose to their feet at its conclusion.
Leave a Comment
About the Contributor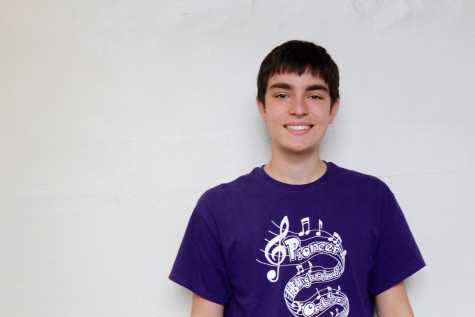 Matty Hack, Editor-in-Chief
Matty is a CHS senior and this is his third year on the Communicator Staff. He is a co-editor-in-chief and can often be found correcting pedantic punctuation errors. Matty also enjoys birds, playing violin and piano, science and petting his cats. He is pro-Oxford comma.