Preserving Ann Arbor's Nature
Perched atop a shelf in Community High School Dean Marci Tuzinsky's office is an engraved slice of a tree trunk. Across the middle are carvings forming the words "Community High School," and above them, "Volunteer of the Year 2012." This award was given to CHS in recognition of its efforts in the annual Garlic Mustard Pull. While some CHS students may wince at memories of pulling weeds in gloomy, rainy weather, their efforts have provided a direct benefit to Ann Arbor's myriad parks.
The city of Ann Arbor has 158 different patches of land that are considered parks or natural areas – from the miniscule, half-acre Pittsview Park in southeastern Ann Arbor to the comparatively massive 146-acre Bird Hills Nature Area in the northwest. The sheer quantity of green areas means that Ann Arborites have parks and recreational areas at their disposal wherever they are in the city, but it also means that much management is required in order to keep these areas healthy.
The City of Ann Arbor's Natural Area Preservation (NAP) fulfills these obligations. NAP articulates its goals through its mission statement: "Protecting and restoring Ann Arbor's natural areas and fostering an environmental ethic among its citizens." This entails anything from taking surveys of the wildlife in the natural areas to fighting the invasive plants that threaten them.
There is enough variety within Ann Arbor's park system that the priorities in one area may be completely different from those in another. This is why NAP distinguishes between parks and natural areas.
"Parks are primarily recreational areas, such as the golf courses, the swimming pools, the ice rinks, the canoe liveries," explained Dave Borneman, Deputy Manager of NAP. "So if a site is primarily one of those recreational places, then it's a park." Well-known examples of these parks include Gallup Park and Veterans Memorial Park.
Meanwhile, natural areas, as their name would imply, are primarily natural habitat. "Furstenberg [Nature Area] is a natural area," said Dea Armstrong, NAP's ornithologist. "It has some rustic trails. You're not allowed to ride your bike in Furstenberg, especially on the boardwalk."
The employees of NAP do not have enough manpower to accomplish the varying tasks needed to maintain Ann Arbor's diverse outdoor areas. Therefore, they rely on volunteers for many of their projects.
NAP takes surveys each year to monitor populations of certain groups of animals in natural areas and larger parks. These surveys include the Breeding Bird Survey, the Frog and Toad Survey, the Mudpuppy Survey and the Salamander Survey. Volunteers with some background with these animals are assigned a park or natural area, visit it several times, and report their findings.
As a head organizer of the Breeding Bird Survey, Armstrong sees many benefits to these wildlife biology surveys. Not only do they report which species are in which areas, but they can also influence NAP's other projects. "We want to do a burn here – say, at Furstenberg," said Armstrong. "But we know that we have a lot of Song Sparrows and a lot of Common Yellowthroats here, and while it might be really dried out in June or July, it's not a great time to burn. Because birds are breeding there."
For other parks, which may not contain as much biodiversity, NAP offers several stewardship programs. People who live near a particular park can participate in the "Adopt-a-Park" program, where they conduct a variety of activities to maintain and improve the park. According to Borneman, these park stewardship programs have promoted a deeper connection between Ann Arbor's citizens and their parks. "They've adopted this site and they care for it year in and year out," said Borneman. "They have a special interest in that park."
A plethora of other programs exist for Ann Arborites who want to beautify their city. They can even adopt a median, and plant flowers in these strips of land in the middle of the road. Many citizens, however, have neither the knowledge of ecology to participate in a wildlife survey, nor the time to serve as park stewards. For these citizens, NAP offers lower-commitment work days that are equally helpful.
"If you don't want to be a long term adopter, but if you're free for two hours this Saturday morning," said Borneman, "you can come to a work day, and we'll teach you what's happening that day." The activities on work days depend on the issues a particular park is facing, and the time of year. Frequently, though, work days assist NAP with combating one of the biggest problems facing Ann Arbor's natural areas: nonnative, invasive plants.
A significant number of invasive plants threaten Ann Arbor's native plants. These invasive plants crowd out native plants and reduce diversity. "Here in the city, shrubs in general are a big problem," said Borneman. "Nonnative shrubs, things like European Buckthorn, or Glossy Buckthorn, which is another variety, privet, honeysuckle shrubs and Autumn Olive — those are the big shrubs that we're dealing with."
Even if NAP and its volunteers clear a region of invasive shrubs, the seeds they have deposited can still grow back. "Let's say we cleared buckthorn completely and there are no more trees there," said Armstrong. "But wait, what's in the soil? More buckthorn seed." This is why volunteers are needed year after year to rid parks of nonnative species.
Every spring, CHS students volunteer with the NAP to participate in the Annual Garlic Mustard Weed-Out Day, known among CHS students as the "Garlic Mustard Pull." Students go to a park or natural area with their forums to uproot Garlic Mustard – one of the invasive species ravaging Ann Arbor's parks.
Tuzinsky, when she was Lead Teacher at CHS, was one of the main organizers of Community's participation in the Garlic Mustard Pull. The idea originated from a group of Forum Council students who wanted to do something for Green Week. "We initially reached out to the city of Ann Arbor, and local schools," said Tuzinsky. Half the school worked in city parks, and the other half worked at other public schools.
"When we came back, everyone was sharing their experiences," said Tuzinsky, "and the people who went to the parks had a better experience than those who went to the schools, mostly because schools don't have the equipment for all the students to use. And so the next year, we decided we were going to do that [work with NAP]." Since then, CHS students have worked with the NAP each spring. The extra several hundred pairs of hands mean that vast quantities of Garlic Mustard can be eradicated each year.
Mass efforts like the Garlic Mustard Pull prove to be effective at reducing the impact of invasive plants in Ann Arbor. "The results are reasonably satisfying if you can get back there to see it," said Armstrong.
"We've been able to make massive amounts of efforts in the forest of Ann Arbor," agreed Tuzinsky, who has seen noticeable improvement in the amount of Garlic Mustard in the areas where CHS has volunteered.
Not only have Community's efforts made an impact in city parks – leading to the award in Tuzinsky's office – but the event gives NAP an opportunity to accomplish another one of their goals: fostering an environmental ethic among Ann Arborites. According to Borneman, Ann Arbor citizens can damage parks by letting their pets run free, or throwing yard waste into the parks. At volunteer events, NAP employees can instruct volunteers on how to best protect their parks.
Overall, though, NAP does not encounter many issues with people; Armstrong believes that Ann Arborites have a very strong environmental ethic, and are proud of their park system.
In a city with over 1,200 acres of natural areas, NAP believes that Ann Arbor citizens have a lot to be proud of. "We have a great park system," said Borneman. "We have some great natural areas that have never been plowed up, that have always been in native soil."

About the Contributor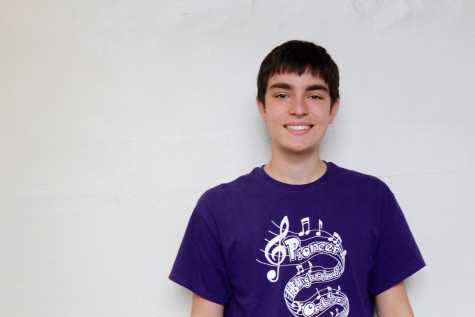 Matty Hack, Editor-in-Chief
Matty is a CHS senior and this is his third year on the Communicator Staff. He is a co-editor-in-chief and can often be found correcting pedantic punctuation errors. Matty also enjoys birds, playing violin and piano, science and petting his cats. He is pro-Oxford comma.