Mittens for Detroit Succeeds at Warming Hands
She smiles as she pulls on a new pair of warm gloves. Sometimes it is the little things that mean something much greater to these people in Detroit. "There are plenty of people across the nation who can't afford a five dollar pair of gloves, let alone a meal at times, and it breaks my heart," said Nicole Connaire, an employee at SmithGroupJJR. This is just one of the reasons why she became involved with Mittens for Detroit.
Mittens for Detroit is a nonprofit organization that collects and distributes new, unused mittens to those in need, living in Detroit. It was founded on Nov. 1, 2010, by actress Erin Cummings. "She was living in Detroit filming 'Detroit 1-8-7', when she had the idea to collect and distribute mittens and gloves," said Wendy Shepherd, Executive Director of Mittens for Detroit. Shepherd, who has been involved with the program for almost two years now, is currently in the middle of collecting and sorting mittens and gloves donated by individuals and companies, such as Starbucks and Chrysler Group LLC.
The process of sorting the donated mittens and gloves consists of having them brought to the downtown office from people who have helped organize the collections. "We have teams of people come in from various organizations and businesses, who participate in what we call The Big Sort," Shepherd said. The Big Sort takes place from September through April; however, donations are accepted all year. Most of the mittens arrive from Oct. 1 through Jan. 31.
SmithGroupJJR is another example of a company that became involved with collecting and donating mittens and gloves this past year. "We try throughout the year to do things, but when you get an opportunity to give back in such a tangible way, I think it feels like you are doing more than just giving money and ultimately not knowing where it goes," Connaire said. "So I think that was a big drive for me to be involved with this effort."
Another SmithGroupJJR employee, Amy Russeau, also became involved with the program and helped market the mitten drive around the office to encourage people to donate. "We'd never done a mitten drive, and the prospect of starting a new fundraising effort was appealing," Russeau said. "And when it comes to supporting those who are less fortunate, my experience has been that SmithGroupJJR employees are generous and compassionate."
One of Russeau's ideas was to hang clotheslines in the hallways of the office with the donated items from employees. "This generated momentum for the effort and served as a visual reminder, nudging employees daily to bring in their mittens and gloves," Russeau said. Along with this idea, SmithGroupJJR posted pictures of the donated gloves on social media sites such as Facebook and Twitter as a reminder to bring in donations.
Russeau's best idea, however, seemed to be the fliers that were handed out to employees after they donated. "The fliers read 'I gave someone the warm fuzzies today,'" Russeau said. "These posters helped to recognize employees for their generosity, and offered a bit of 'peer pressure,' encouraging other colleagues to step up to the cause and also contribute to the drive."
"There are many ways for people to become involved with helping to warm hearts, two hands at a time," Shepherd said. "There are public collection boxes at businesses and organizations throughout our season. Some businesses are small, and some are large – Starbucks, for instance, has had collection boxes in nearly 100 stores."
Along with companies donating mittens and gloves, Shepherd points out that many individuals have contributed as well. "We also have many, many charity knitters, crocheters, and upcyclers who create gorgeous mittens for us," Shepherd said. "They live all over the country." These volunteers contribute to this charity every year.
Over the past four years, Mittens for Detroit has received and distributed about 55,000 pairs of mittens. With the help of Chrysler, they have already received over 39,000 pairs of mittens since October. Shepherd started the season with a goal of 20,000 pairs and now hopes to collect 55,000 pairs by Feb. 28, 2015.
Lots of sorting has been taking place recently as they package the gloves for distribution. Mittens for Detroit currently works with 13 partner charities, who distribute the mittens to people in need. If they have extra pairs, they are able to support special projects. "This year, because of the huge Chrysler collection, we have are distributing to over 30 programs, agencies [and] schools," Shepherd said.
Mittens for Detroit has additional ways of raising money for the cause itself. The 5th Annual Night of Giggles & Gloves took place on Jan. 24, 2015, at the MGM Grand Detroit with a silent auction and light refreshments. "It is a comedy show featuring three Michigan comedians, hosted by Mittens for Detroit founder Erin Cummings," Shepherd said.
As the Executive Director, Shepherd's commitment to Mittens for Detroit is obvious. Her personal involvement began with her birthday party. "… I was looking for a charity to have folks support rather than bring presents," Shepherd said. "When my 40 guests brought over 100 pairs of new mittens and gloves, I decided this was the perfect organization for me to get involved with!" Now Shepherd is not only involved, but plans just about everything to do with Mittens for Detroit.
"I love Detroit," Shepherd said. "I was born in Detroit… It's my home; it's my past, my present, and my future."
Leave a Comment
About the Contributor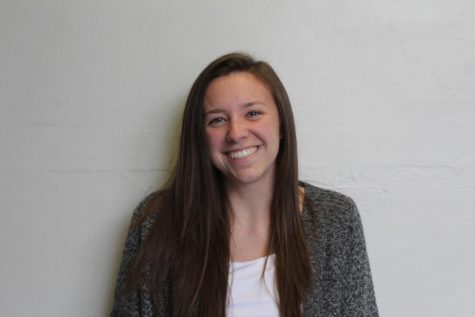 Megan Syer, Editor-in-chief
Megan is a senior at Community High School, and this is her fourth year on staff for The Communicator. Her hobbies include photography, graphic design, and singing. She loves musicals, especially "Dear Evan Hansen," "Into the Woods," and "Hamilton." Megan can usually be found in the third floor computer lab working on The Communicator, and it is extremely rare to find her anywhere else. Her favorite dessert is Tracy Anderson's famous cookies, and she refuses to believe that Tracy gets the recipe from the back of the chocolate chip bag since she cannot replicate it.