Swift Sparkles in Detroit
A catwalk inside Ford Field was raised in the air, circling 360 degrees. Atop it, fearlessly stood Taylor Swift.
Swift's 1989 world tour came to Detroit, Mich. on May 30. The whole show teemed with celebrities. Opening acts were Canadian-born singer Shawn Mendes and Australian-born singer Vance Joy. As a surprise, the lead singer of Imagine Dragons, Dan Reynolds, sang the band's song, "Radioactive" with Swift. Lastly, models Gigi Hadid and Martha Hunt made appearances on stage.
Throughout the night, different backgrounds were projected onto the stage to help provoke a song's aesthetic. There was a superb male dance crew – they did tricks from swinging from suspended lamp posts to dancing with lit-up-neon umbrellas. Everything was colorful, sparkling, electric, spellbinding and inspirational.
When introducing her song, "Clean," Swift said, "I just want you in those moments, to look in the mirror and understand what you are and what you are not. You are not somebody else's opinion of you. You are not damaged goods just because you've made a few mistakes in your life. You are not going no where just because you haven't arrived at your final destination."
Between some of the acts, videos were shown, most of them being of Swift's friends. Among other things, they talked about what it's like to hang out with Swift, and how they met her. The montage included Cara Delevinge, Lena Dunham, members of HAIM, Jaime King, Selena Gomez, and Lily Aldridge.
The concert began with the first track on Swift's new album, "Welcome to New York." The all-male dance crew was dressed in neutral colors. Swift strutted out on stage in a blue skirt and black top with a silver jacket; all appeared to be sparkly. Signs which read, "W 42 ST," and "Broadway," glowed in the background.
The show finished with "Shake it Off," the sixth track on 1989. And if you start with sparkles, you must finish with them. Swift sung and danced in a two-piece, bright-magenta-fringe outfit.
And though 1989 is a pop album, Swift brought back a few of her older songs of the country genre.
Around 10:00 p.m., she rocked a white, jewel-embellished shorts-and-top ensamble with tall black boots. Standing, she played the piano on the raised catwalk and said, "So if you haven't already discovered this, or realized it, the two characters I'm referring to are Romeo and Juliet, and the song I wrote when I was 17 is called 'Love Story'." This song was released on her album, "Fearless."
She also did a mash-up of "Wildest Dreams" and "Enchanted," from "1989" and "Speak Now," respectively. "I Knew You Were Trouble" from "Red," was also performed.
The bracelets that the crowd had was the fairy dust of the show. Coordinated with the songs the Swift performed, these bracelets that were given to the audience lit up to varying colors. Over 50,000 people were at the show, and looking around you was absolutely surreal.
The concert was wonderful, and undoubtedly one of her best accomplishments to date.
To keep up with the 1989 World Tour, head to http://taylorswift.com.
About the Contributor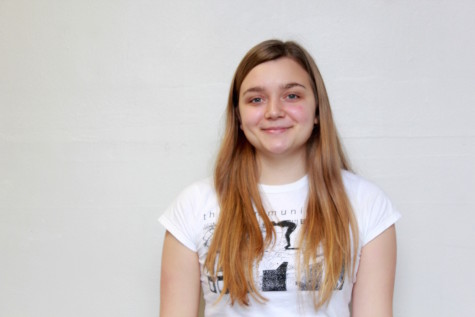 Sophia Werthmann, Editor-in-Chief
This will be Sophia's third year on staff. Her favorite things include 80 degree weather, acting, playing piano and bulletproof coffee (coffee, coconut oil, butter).