Gymnastics, July 14th
A successful U.S. Gymnastics team competed at the Toronto Colisseum on the 14th, winning two golds, two silvers, and two bronze medals. All of this came after a spectacular couple of days for Team USA, which had already won Gold in the Men's Team All Around, the Men's Individual All Around, and the Women's Team All Around.
Marvin Kimble took home gold in the Men's Pommel Horse; Rachel Gowey took gold and Madison Desch got bronze in the Women's Uneven Bars; Donnell Whittenburg earned two silvers, in Men's Rings and the other in Men's Floor; and Sam Mikulak took bronze in Men's Floor.
Sam Mikulak, who graduated from U of M and is a London 2012 Olympian, had this to say about his floor routine: "It wasn't my best floor routine ever, it's still a very new routine, I haven't fallen in it, so that's what I'm very happy about."
And about the Pan Am Games Mikulak was very enthusiastic. "…awesome practice for world championships and the Olympic Games, getting out in this arena, getting the crowd behind you, your blood flowing, getting your nerves going–really just figuring out how to handle that is the most rewarding part of this competition."
Marvin Kimble was elated about his Pan Am gold, and eager to get back to training.
"….[inspired to] go back to the gym, train harder, train for our U.S. championships, and hopefully make the world team," Kimble said.
At the end of the Pan Am Artistic Gymnastics competition the U.S. boasted 5 gold medals, 6 silver medals, and 4 bronze medals.
About the Contributor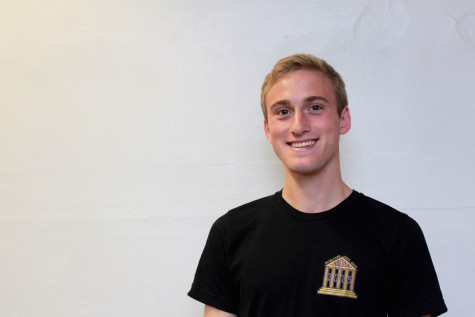 Matthew Ferraro, Editor-in-Chief
This is Matthew's third year on Communicator, and he's eager to get down to work. Communicator ranks among his favorite things, with crew and the oboe as well. This year he is a co-editor-in-chief.