Dar Williams Performs New Songs at The Ark Last Night, Tonight
Dar Williams comes from a very musical family. "When my sister played guitar, we sang along, and in the car we sang, and when we were bored we sang," she said.
Last night, Williams performed at The Ark in Ann Arbor, Mich. Currently she's on tour and will head to the west coast soon for two weeks in October.
The night opened with a warm-up act, a band called "Mouths of Babes." During a song, they did a quick segway into Meghan Trainor's "All About that Bass," which had the crowd cheering. They also did a heartfelt song which reflected on racist actions by police officers.
Those who like Dar Williams will also enjoy "Mouths of Babes."
Backstage, Williams spoke about the music industry. "I'm a big ol' hippie. Like I get to do what I love, I get to perform," she said. She added, "It's hard to watch your friends, who you love, the producers, and the engineers you know all of those people we feel close to – watching them struggle when we know how brilliant they are."
Williams came on stage, her blonde hair casually down, wearing a dress with pink flowers on the bottom.
Throughout the show, she wove an elegantly crafted monologue between songs which was comedic and authentic.
"Emerald," her new album, is a masterpiece of creative lyrics and sounds. Her set list was wonderful – mixing in some old songs with the new. One of the old songs included, "Spring Street," which Williams said she wrote most of in a coffee shop in SoHo.
The songs she performed from her album included, "Slippery Slope," a tender and slightly playful tune, and "New York is a Harbor," a soft jazz-like song.
But the best song of the night was the fun, upbeat "Fm Radio," which spread smiles through the audience.
Williams' stage presence and connection with the audience is impeccable. And The Ark, being an intimate venue, increased the power of her performance. It is no wonder Williams prefers to perform rather than record – she's very good at it.
Williams has been to Ann Arbor to perform at least 20 times. She even opened in Ann Arbor for Ani DiFranco in 1994.
Last night, she wanted people to take from the concert, "Whatever they need to take, that's what music is for."
Dar Williams has a second show at The Ark tonight at 8:00. Tickets are $35.00.
About the Contributor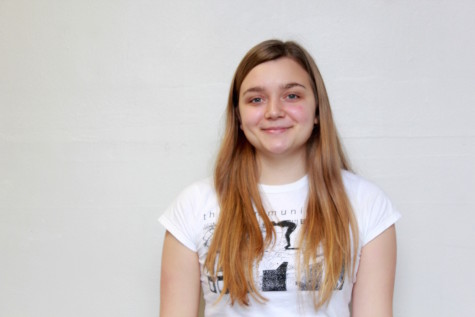 Sophia Werthmann, Editor-in-Chief
This will be Sophia's third year on staff. Her favorite things include 80 degree weather, acting, playing piano and bulletproof coffee (coffee, coconut oil, butter).