Welcome to the Neighborhood
Beezy's serves up "simple, honest food" for hungry diners
"French toast for Jake!" A booming voice crackles over the microphone, just barely audible over the lively hum of the restaurant. At eleven o'clock on a Sunday, Beezy's is buzzing with people, an unlikely rhythm seen in the chaos of the small restaurant. People lining the entirety of the exposed brick wall, packed closely together waiting in anticipation to get a taste of the Beezy trademark "simple, honest food", funny quirks and all: the place known for making only scrambled, egg variety.
Opened in 2008 in downtown Ypsilanti, Beezy's is a well known brunch place and has come to be known as a sort of a "hipster haven" by some locals and regulars. In cost, Beezy's contrasts drastically with popular Ann Arbor brunch restaurants. The most expensive of items on the menu totaling at $7.25 in comparison to many restaurants in downtown Ann Arbor where dishes of equal, and sometimes lower quality, are sold for around $10.00.
With a menu offering brunch daily until 2 PM and sandwiches all day, Beezy's has dishes for the vegetarian, the carnivore and everyone in between. Their Tempeh Hash & Eggs is a notable plate on the menu with its great flavor and unique use of tempeh in a skillet-like dish with potatoes, peppers and onions. But if meat is your true love, Beezy's still has your back. With a huge variety of sandwiches, Beezy's is prepared for any sort of diner. Though worth every minute, the lines during the weekend are long. But once you've ordered your food, the wait feels short with a coffee in hand and nice place to sit.
Calming music drifts from room to room in the busy restaurant, a background to the constant chatter and laughter of the diners. Sipping coldbrews, house blend coffees and naked smoothies, patrons recline in their seats enjoying the early spring morning, the smell of amazing food wafting into the noses of all. With a friendly environment, Beezy's is the kind of place you wish you lived next to. The warm orange of the walls draws you in and makes you feel at home amidst the chaos. The loud noises of the kitchen behind you, a mind fulfilling conversation awaiting you and a delicious plate of simple, honest food before you.
Leave a Comment
About the Contributor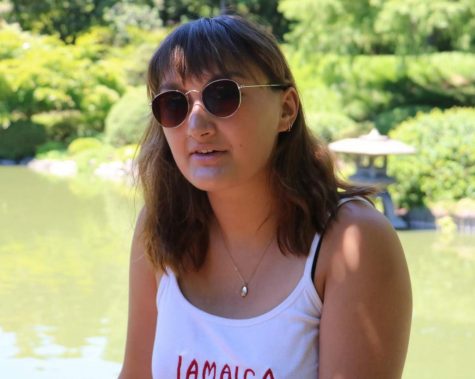 Mira Simonton-Chao, Website Editor-in-chief
Mira is a senior at Community High School and has been on staff for the last four years. She loves writing and The Communicator but also really hates writing staff profiles. She is passionate about American cultural studies, music and living the most vibrant and expressive life she possibly can. She also loves traveling and cooking yum food.