Not Your Average Band Concert
Ann Arbor Pioneer's Schreiber Auditorium was filled to the brim with wide-eyed middle schoolers, proud parents and confident high schoolers to celebrate their developments in band education with the Bands in Review concert; the 66th annual concert was split into two, one on March 19, and the other on March 22. The first concert was hosted at Pioneer High School, with Skyline High School Symphony Band and their corresponding middle schools: Forsythe, Tappan, Slauson and Ann Arbor Open. The second concert was held at Huron High School, for middle schools that will feed into it, along with Skyline Varsity and Concert as well as all the bands from Huron High School.
After the bands from the middle schools performed their pieces, the program continued with Pioneer Varsity Band, Pioneer Concert Band and Skyline Symphony at the first concert. Varsity played "Chorale and Shaker Dance II" by John Zdechlik. Pioneer Concert Band followed with "Ride," an upbeat and invigorating piece, by Samuel R. Hazo and "Xerxes" by John Mackey. Skyline Symphony performed the soothing piece, "Sleep," by Eric Whitacre, and circus-esque piece, "High Wire" also by Mackey. Pioneer Symphony Band performed "Danzon No. 2" by Arturo Marquez, and "Asphalt Cocktail" by Mackey. The bands were lucky to have Mackey himself come work with them for two days here in Ann Arbor, as well as to have him present at the concert.
During the two days Mackey was in Ann Arbor helping out the young musicians, many students developed a liking for the composer, buying him ice cream and forming a "welcome-committee" for him. Likewise, Mackey also enjoyed his time with the bands, both because of their compassion and musicianship. "I mean, it's a great band. It's the best band I've heard in Michigan, and certainly one of the best I've heard in and throughout the Midwest high schools for sure," he said about the Pioneer Symphony Band, before the concert. "The students are really engaged, play beautifully, have a lot of energy, intensity. They're enthusiastic and pay attention. They take construction well, I feel like they love playing in band and that makes them play better."
Asphalt Cocktail, written as an opener but played as a closer at this concert, is about a wild taxi ride through New York City. The piece included a harpist, a trash can and a rush of adrenaline. Mackey joked that it was his "Napoleonic testosterone music."
He was also able to deliver his pieces in a personal and comedic way on stage: "I hope you enjoy my piece, a march about a horrible, ruthless king who left destruction everywhere he went. A king whose life mission was to destroy any culture different than his own. I hope you enjoy Trump – oh sorry, Xerxes. I meant Xerxes."
The purpose of the concert is to expose middle schoolers to the band programs they will be a part of in their high school years. "I think it gives them a sense of what they can expect in high school," said Libby Kos, a member of the Concert band at Pioneer High School. "It shows them their future years in band." Robin Bailey, Fine Arts Coordinator of Ann Arbor Public Schools, made an appearance and spoke on how special Ann Arbor's Fine Arts programs were, alongside Pioneer High School Bands Director David Leach and Mackey himself. "You basically heard lovely things about this district but you heard them from someone who lives here and works here and probably has to say nice stuff, but I don't and it's all true." Mackey said before Pioneer Symphony Band took the stage to perform the finale. "This is an amazing place. I travel all the time to work with high schools and college groups and this is a really an incredibly special community for the arts."
Leave a Comment
About the Writers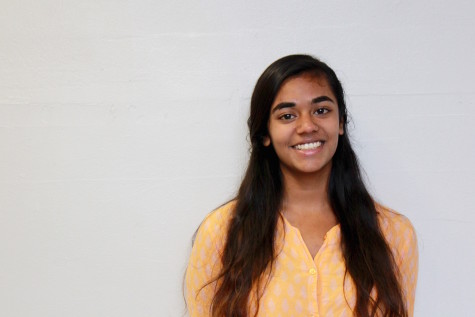 Anurima Kumar, Editor-in-Chief
Anurima is a senior at Community, and this will be her third year on the Communicator Staff. She is a co-editor-in-chief, and enjoys playing the clarinet and piano, dancing and photography.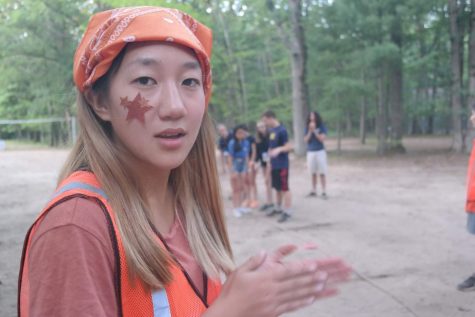 Gina Liu, Website Editor-in-chief
Gina Liu is a senior and is currently serving as a co-Website Editor-in-chief for the second year. She hopes that her experiences junior year will help guide her not only in web design/management but in life. She still loves mockumentaries, playing cello and playing varsity tennis over at Pioneer in the springtime. Additionally, she has problems remembering to drink water, and problems remembering things in general. She also placed second in The Communicator's first "Sliced" challenge.