Roasting More Beans
On a brisk Saturday morning downtown, John Roos arrives at the Farmer's Market with cheerful greetings and sets down his bicycle. He joins workers Andy and Michael behind the stand pouring freshly roasted coffee, wisps of steam twirling in the chilly air as he hands the cup to a customer. These original blends range from a variety of options such as Lobster Butter Love, Rich French Neighbor and Portland in the 90s.
By eight o'clock, the market is buzzing with life. Annie Noffke, CHS junior and employee, arrives to take her position behind the stand as John chats with other vendors and shoppers. Many women are intrigued by a favored blend of Noffke: Bad Ass Women Blend.
"Hell yeah," Noffke tells them. "That's what we're about here at Roos Roast."
The Founding
Once a wind surfer and burrito truck owner on the west coast, Roos found his love for roasted coffee in Portland, Oregon in 1989.
"I walked into this coffee place and it was so entrenched with the coffee smell," said Roos, hypersensitive to smells because he has a background in cooking and has worked in multiple restaurants. He ended up moving to Portland and living in the rainy city for ten years, moving back to Michigan in 2002 with the dream to run his own coffee shop with a roaster.
He began goofing around with a roaster in his garage and spending more time on art.
"Part of the thing I did in Portland was I sort of transitioned from being a chef to doing a lot of artwork," he said. "Almost the whole time I was there I was having art shows, painting paintings, coming up with cool designs."
Attending art residencies and workshops, Roos learned the art of printmaking, which was a key element in the development in Roos Roast. When he was out for a bike ride along Huron River Drive with friend Chris Donnelly, he shared his idea for the coffee shop. When Donnelly suggested to name it "Roos Roast," inspiration struck and the two headed back to Donnelly's house.
"I drew a picture of his hand and started carving a wood block print and that's kind of how it happened," Roos said. "That became the original image for Roos Roast and [it] just sort of went from there."
Continuing in his garage, he would roast about ten pounds of coffee, bag it into ten bags and sell it. Jefferson Market, a bakery and cafe in Ann Arbor, began carrying it, followed by Eve Restaurant. Meanwhile, Roos took a job at Subaru to make money while business took off, though he had no experience as a salesman.
"I was roasting in the morning, going to work at Subaru, coming home, roasting at night," he said. "It was really getting busy."
Four years passed, and after opening a stand in the Farmer's Market, he quit his job selling cars to focus on the business.
The Employees
A series of events led to the opening of an official store on Rosewood Street, and the employee base of Roos Roast began to expand. Roos was then faced with decisions of who to employ and what to consider for applicants.
"The most important thing is that they want to be here," he said. "They want to be doing this job." As much of the business requires interacting with customers, Roos looked for people who knew how to "smile, keep the place clean [and] be on time."
Noffke was hired on the day of her interview. Coincidentally, it was the same day Roos was shooting promo pictures for the Bad Ass Women Blend. He asked Noffke and all of the female workers to pose outside with "bad ass things," she said, including a giant stabler gun. This was her first impression of work at Roos Roast.
Noffke and her father had been customers for years. With a trip to Italy to pay for and need of a job, she found her place at the coffee shop.
"I really like the atmosphere," she said. "It's based off your own work ethic so you get stuff done yourself. It's not like people are telling you exactly what to do. It's more like 'I need to do this so it's going to get done because it needs to be.' It works for me."
The Future
Roos is now working on opening a second location on Liberty Street. Although selling downtown is more risky because the business flow can vary, he is excited to be involved in the environment.
"I feel like it'll be really fun to be part of the whole downtown scene, get to know other businesses, be right down here," he said. "[We will] try to make it a place where if you're coming to Ann Arbor, you've got to stop by."
Expected to open around the end of April, the store will carry the signature blends of Roos Roast, which can also be ordered on their website, roosroast.com.
Grace York, CHS sophomore and employee, currently works at the Rosewood store. "Everyone is very positive and connected," she said. "Every time I'm there I'm like, 'Wow, I'm so lucky that I get to work here.'"
The business, of course, would not be the same as it is today without the encouragement and ethics Roos brings. Both York and Noffke appreciate his positive energy.
"It's funny, I'm like the source for everyone's dreams," Roos said. "That's what I want. I want to be the source for everyone's dreams."
About the Contributor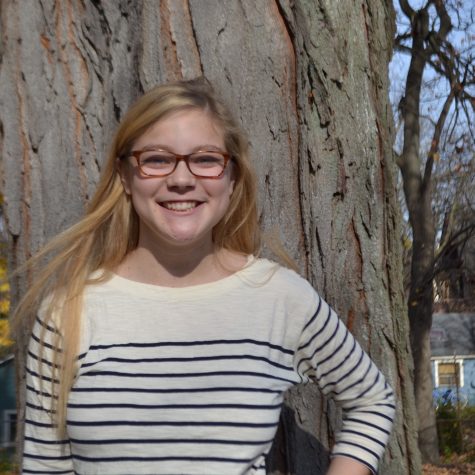 Alexandra Hobrecht, Print Editor-In-Chief
Alexandra is somehow a senior this year. Much to the concern of her friends, she likes having unread messages in her email inbox (7,484 so far). She enjoys pretending she is in a lifelong music video and impresses people with her singing skills. Someone once even compared her to the Muppets, though she has yet to audition. She quotes The Office daily, is currently learning sign-language and loves peanut butter toast.