CHS Students Learn About Social Change Through Art
The film starts out with a quote from Alice Paul. "I always feel the movement is a sort of mosaic. Each of us puts in one little stone, and then you get a great mosaic at the end." The quote is the inspiration for the title of the documentary, "Little Stones."
Directed by Sophia Cruz with cinematography by Meena Singh, the film follows the stories of four women around the world making social change through different genres of art. Panmela Castro creates graffiti artwork around the streets of Brazil to protest domestic violence. Sohini Chakraborty teaches meditative dance to young survivors of sex trafficking in India. Anna Taylor helped found Judith & James, an upscale fashion company, which employs vulnerable Kenyan women and teaches them to sew. Sister Fa is a singer and performer from Senegal whose music and speech protest genital mutilation. All of the women have overcome their own obstacles to champion global movements. The documentary's staff is also mostly women, and the composer, Amritha Vaz, contracts women of color to make the music featured in the film.
Community High students had the opportunity on Thursday, October 6 to preview Little Stones and ask Cruz, Singh and Vaz questions about its production. Afterwards, the students ate lunch and then split into groups along with students from Washtenaw International High School (WIHI) and the Detroit School of Arts. One group went to a workshop on graphic design while the other did a poetry exercise, and later the groups switched.
"I thought it was a very eye opening experience," Lindsey Dye said, a Community junior who attended the field trip with Cindy Haidu-Banks and Janelle Johnson's Social Justice class. "[The event] highlighted the issues that Americans don't seem to acknowledge very often and it showed that you can stand up for issues that you believe in through an enjoyable and creative outlet. It seemed to make me a lot more aware of the entire world and situations of other people that I wouldn't have really thought of otherwise."
Read more about Little Stones:
http://driftseed.org/littlestones/
Leave a Comment
About the Contributor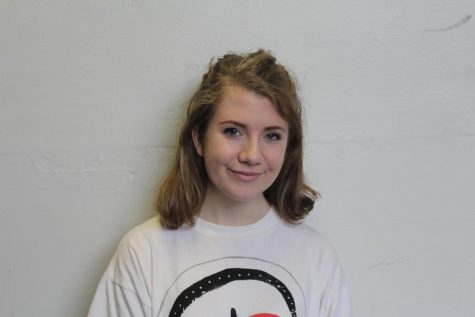 Grace Jensen, Editor-in-Chief
Grace has an odd love for palm trees which makes it especially unfortunate that she lives in Michigan. She did not know how to spell her middle name (Margaret) for the majority of her lifetime. She spends way too much time at Community High School for Communicator, Mock Trial, and Forum Council. She thinks she is better than people who don't like spicy food, and people who think they are better than other people.