Blueberries and Snowcones
Thirty-five years ago, Carol Brooks bought a stall at the Ann Arbor Farmer's Market so she could sell her blueberries. Ever since then, she has been delighting locals with her blueberries as well as kettle corn, hand towels, seat cushions, scrubbies and the favorite of Community High School students, snow cones.
When Brooks was 15, she started going to the Eastern Market in Detroit with her parents. She recalls the live chickens and all of their fresh eggs, but Brooks did not go to the Eastern Market to shop. She was looking for the perfect market for her business. She had been working with a friend on his blueberry patch, and they needed a place to sell their blueberries in July, when blueberries are in season. Brooks said, "I asked a lady about her idea of a market because they had blueberries on their farm, and she said she's gone to Jackson, she's gone to Chelsea and she's come to Ann Arbor and Ann Arbor is the best."
Years later, Brooks was convinced, and she was able to get a Special Transitory Food Unit License so she could have a stall at the Ann Arbor Farmer's Market to sell her blueberries. Ever since then she has been driving about an hour from her farm in Palmyra on Wednesday and Saturday mornings to sell fresh blueberries in season, and frozen ones the rest of the summer.
Brooks works hard to produce blueberries for her business. She always starts about daylight and usually works until 30 minutes before dark on her blueberry plants, except for the two market days. This year she has had lots of help from her son, a friend, his two relatives and two boys, and a neighbor. The berry patch is about three-and-a-half acres and Brooks said, "It takes me at least three days to trim a single row and each row has 180 blueberry plants." She has a total of 11 rows to trim. To trim a plant in the fall after the berries are grown "you get to the very bottom of the plant and cut it off and the new sprouts that grow have the big blueberries on them." She does not like to leave them because she doesn't like to pick little berries and her customers don't like to eat them. Her life got a lot easier when her son bought her a chipper for the farm. Before, they carried the branches to the side to burn them and had to be careful not to scorch the plants. Now her son puts the branches through the chipper and it puts chips directly on the plants. This is really good because sawdust around berry plants "helps hold the moisture and acid and keep down the grass," Brooks said. Brooks also doesn't spray her blueberries so cancer patients come and buy from her.
Blueberries aren't the only reason Brooks has been coming to the market every Wednesday and Saturday. Ten years ago Brooks went to a large flea market in Tecumseh and while making coffee ran out of cups. She walked around the flea market and found some cups, but the man told her he wouldn't sell the cups without the snow cone machine. In desperate need of cups, she gave in and bought the used snow cone machine. Soon Brooks was making snow cones, and when that machine wore out, she bought a brand new one. Now she sells snow cones which are extremely popular with the Community High crowd. All day long, students head across the street to line up for a dollar snow cone with pour-your-own syrup. She does the ice and lets the students pour their own syrup, so the line moves faster and they have more time to enjoy their snow cone before they have to head back to class. The students are happy and "having the students pleased with a smile just makes me happy," Brooks said. "It has worked awfully good and I enjoy it very much."
Brooks also sells her delicious kettle corn, and, to do something in the wintertime when there are no blueberries and it is too cold for snow cones, Brooks started selling rugs that she makes on a loom, along with other homemade goods like crocheted rugs, placemats, hand towels and scrubbies for the kitchen.
Over the years Brooks thinks the market has gone downhill in part due to limited parking. "When you buy a melon you don't want to carry it two blocks, and the same with a tray of blueberries," Brooks said. This year other markets have started in this area and "people go to the closest one; we used to be awfully busy." She also wishes they would power wash the market and get it clean. However, despite the grime and the parking problems, Brooks still loves selling her blueberries and snow cones from her stall at the other end of the sidewalk from Kosmos.
About the Contributor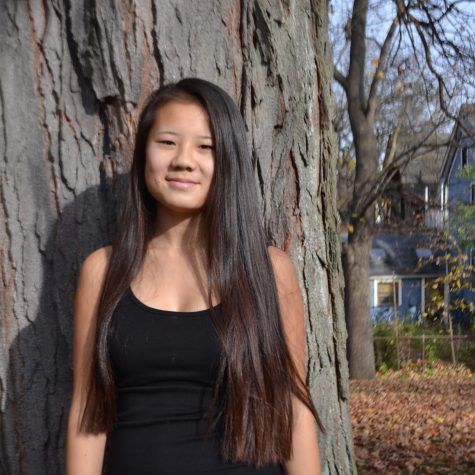 Jackie Mortell, Journalist
Jackie Mortell is a sophomore at Community. This is her first year on the Communicator. She loves playing varsity field hockey and lacrosse at Huron High School. She also enjoys traveling, spending time with her family, friends and puppy and eating fresh fruit.