Shades of Yale University A Capella Group Performs at the Neutral Zone
As Yale University freshman Cami Arboles crooned an astonishing high note in a rendition of Etta James's 'At Last,' thunder rumbled from above, as if on cue. Arboles was one of 18 members, which also included CHS alumnus Isaac Scobey-Thal, of the acapella group Shades, that performed at the Neutral Zone on Jan. 11. Shades's repertoire focuses on African diaspora and African-American traditional songs. All members attend Yale University in New Haven, CT, and are currently on their winter tour. S.hades stepped on stage to perform for Students Educating Each Other About Diversity, or S.E.E.D., which is an after-school program that holds discussion and dialogue for teens about diversity and ongoing issues in the community. Shades stopped in Ann Arbor for a special performance for the teens as well as a Q&A session on anything from the history of their group to college advice for students.
Shades was founded by the former Yale student Titilayo Ngwenya, who felt that traditional African music she had grown up with were not being sung in music groups at her school.
"She came to Yale as a freshman, she's a Black woman, and went to this pre-orientation program that we have," Yale junior and soprano Eilaf Elmeleik said, explaining the origins of Shades. "[She] saw different acapella groups, and saw they weren't singing the music she wanted to sing and that she had grown up with, music of the African diaspora and African-American tradition. She and a couple friends […] decided to bring this group together." Even now, songs that have been arranged by Ngwenya at her time at Yale are sung today, like their arrangement of ''Amen / We Shall Overcome.'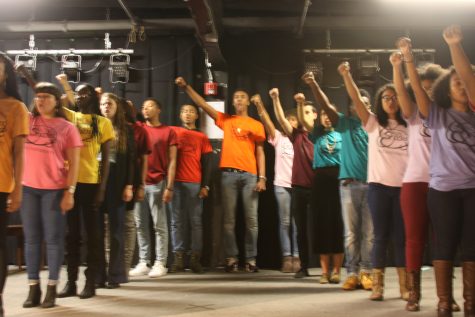 Shades kicked it off with  'Nkosi Sikelel' iAfrika,' a portion of the current South African National anthem that was also a liberation hymn for the Pan-African movement. They explained they had been singing this song to show their alignment with South Africa ever since Apartheid. As they stood in a special V-shaped formation full with salutes, what caught the attention of many (and was later asked about in the Q&A) were the uniquely colored t-shirts every member had. "'Shades' is meant to represent the idea of there being different backgrounds, different identities, different ethnicities, different religions [and] different personalities," member Kingsley McNulty said. "The different colors of our shirts represent that."
After 'At Last,' the audience was encouraged to offer snaps, claps and encouragement to their performances if they were enjoying them. Hollers and hoots were all around when tenor Drew Crichlow soloed in their arrangement of 'Let Me Know' by Jon B., charming the audience. 'Let Me Know' is almost a completely different song than 'Nkosi Sikele'i' iAfrika,' being that the first is a smooth R&B song, compared to an anthem used for equal rights that was composed 100 years before 'Let Me Know.' However, this is how Shades intends the program to be. "After picking [songs] we struggle a lot with defining what African diaspora and African-American tradition mean, in terms of our rep, because that's a really broad category," member Jackie Salzinger said. "We want to represent the fact that the African-American tradition is alive and well and thriving and is in all your radio and in all your Spotify."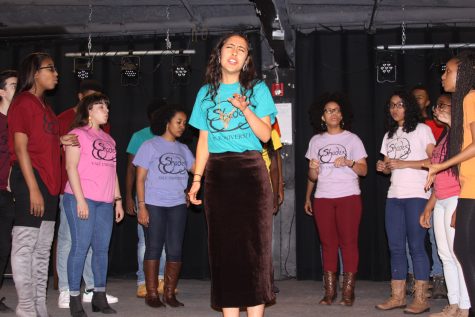 Up next after 'Let Me Know' was Scobey-Thal, who soloed in the sad but classic love song, 'Pretty Wings' by Maxwell. Scobey-Thal, once a Neutral Zone teen himself, talked about how important it was to tour in places in like Detroit, Ann Arbor and the Neutral Zone in particular. "A really important part of the Shades mission is to basically go to spaces with many younger students of color and sing and also run musical education workshops," Scobey-Thal said. "It's been a really important part of our mission to go to places, like the Neutral Zone, that aren't going to pay us thousands of dollars, but get to connect us with awesome young people, like [S.E.E.D..] But also […] not in a way where we come here with something to give you and you receive it. This whole tour has been experiences of us being in spaces of students that have blown us away."
As powerful as the performances had already been, chairperson for Shades Camila Guiza-Chavez added to the impressiveness as she was featured in 'Redemption Song' by the great Bob Marley.
Strong lyrics like 'Emancipate yourself from mental slavery / None but ourselves can free our minds' rang through the B-Side. After delivering the rendition of the iconic song, Guiza-Chavez stressed how important family was in Shades and how Shades was her 'landing pad' in college. "We call Shades a family quite often," Guiza-Chavez, who is a native Californian, said. "I think that the group has gone through a lot of things together. Last year was a really tumultuous year on campus, politically and emotionally for a lot of students of color. Shades was really there and present, we checked in on each other on how we were doing and we sang at various events that had to do with what was happening, like a student protest. I think that really helps us bring us together too."
One of the many songs that was featured at student protests and concerts on their campus was 'Amen / We Shall Overcome,' and was the soulful closer for the Shades. "When you're singing in a group like this, listening to one another is a really deeply important part of sounding good," Scobey-Thal said as the closing statement for the Q&A.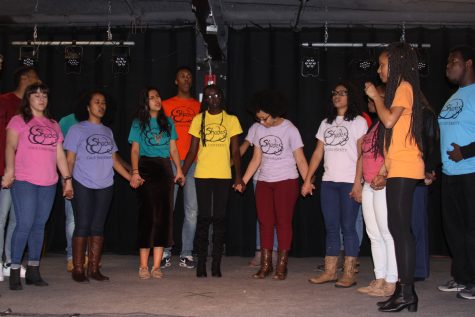 "When I was a Neutral Zone teen everyone said this: that S.E.E.D. people were the best listeners and S.E.E.D. was where you went to learn how to listen really productively. I can see that that has totally not changed, and I can just see [S.E.E.D.] so powerfully engaging in these issues with each other, in a group I always deeply, deeply admired when I was in the Neutral Zone. I know personally for me, it is so beautiful to be in the Neutral Zone and see the next generation of people in it."
You can listen to Shades and their album 'Coming Home' on Spotify. Below is a recording of the live performances on Jan. 11.  Check out their website full with repertoire, profiles of members, and contact info at http://www.shadesofyale.org/ 
Leave a Comment
About the Writer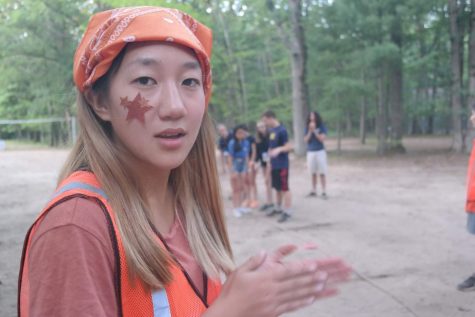 Gina Liu, Website Editor-in-chief
Gina Liu is a senior and is currently serving as a co-Website Editor-in-chief for the second year. She hopes that her experiences junior year will help guide her not only in web design/management but in life. She still loves mockumentaries, playing cello and playing varsity tennis over at Pioneer in the springtime. Additionally, she has problems remembering to drink water, and problems remembering things in general. She also placed second in The Communicator's first "Sliced" challenge.