Pokey LaFarge and Jack Grelle Light Up The Ark
The crowd chattered in the warmly lit environment of the sold out Ark on Feb. 2. The diverse crowd awaited a show by two young roots musicians; Pokey LaFarge was the main entertainer, and would bring his signature mix of roots styles to the stage after an opening performance by country musician Jack Grelle.
After a few words by the manager of the non-profit club, Tim Joy, Grelle took the stage. His mix of high energy country twang and political commentary was enough to get the crowd excited for the show to come.
The song "Changes Never Made" had an especially important progressive message for the young singer/songwriter. "I consider myself a political person, and writing a song about current times and the social movement that's going on is really important to me," said Grelle, who appeared on Rolling Stone's list of "10 New Country Artists You Need to Know" in the January 2017 edition.
The best from Grelle was yet to come, however, as he had yet not unveiled his most emotional number. "[My favorite song I've written is] the song I wrote about [my grandma] called 'Birthday Cards' that I played tonight," Grelle said. "That one is one of the few songs I've written that might strike an emotional chord for me when I play it live." The song concerns itself with the story of his grandmother and more specifically her beautiful signature on the cards she would send him. The entire crowd felt the powerful meaning of his music, and he walked off to rousing applause.
After a short break, Pokey LaFarge and his band took the stage. Immediately launching into their music, they impressed the crowd with the lively mix of jazz, blues, pop and ragtime that has made the group famous. LaFarge used his strong voice to add personal flair to his new song, "Something in the Water," and exhibited his considerable range on "Wanna Be Your Man."
He quickly had the crowd cheering, clapping and singing along. Between songs, he entertained the crowd further with dry humor and by thanking those that attended. His entertainment skills were touted by his peers. "Pokey is a really great entertainer, a good frontman," said Adam Hoskins, the guitar player for LaFarge's group. "I think for anyone to accomplish anything that's worth anything, they have to take pride in it." Grelle agreed with that assessment.  "I think a thing that makes him stand out more than the rest is his ability to put on and perform a great show, keep the crowd engaged and interact with his band," Grelle said.
However, midway through the show, disaster struck. At least it could have, if not for LaFarge and his band's admirable talent. As they changed instruments, the band discovered that not a single mic was working. As the sound engineers scrambled to fix the problem, the band played acoustically, ending their song with ear-shattering applause and shouts of "Do it again Pokey!"
LaFarge had a few words of wisdom for up and coming artists. "With any artist, you may not necessarily know where you want to go but you have an idea of how you want to get there. What I've noticed from some of my heroes is that they constantly reinvent themselves. You have to do that to stay relevant to the world, to yourself," LaFarge explained.
His favorite part of the concert? LaFarge had a surprising answer. "I was uncomfortable. We played 8 new songs, we haven't played a show since New Year's, we have a new sax guy. It's a lot of new stuff, [so] it's fresh," LaFarge said.
The patrons of The Ark were given a show filled with spirit and meaning, made all the better by the room, which Hoskins described as a "gem." With beautiful acoustics and rousing showmanship, the night was one to remember.
Leave a Comment
About the Writer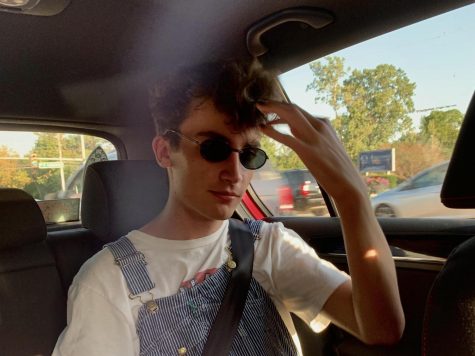 Isaac McKenna, Print Editor-in-chief
Isaac McKenna is a Print Editor-in-Chief for The Communicator and has been on staff for all but one semester of high school. He loves designing, writing op-eds and drinking way too much coffee. In his free time, he plays guitar in several local bands at festivals and shows around Ann Arbor; sometimes he loses his voice screaming at his friends' concerts. 2019 marks Isaac's discovery of the importance of corduroys and pinstripes despite his inability to decide on an outfit in the morning.