City Council Discusses Sanctuary in Ann Arbor
On Monday, Feb. 5, an excited assembly of activists varying in race, age, gender and knowledge of the issues at hand crowded into Ann Arbor's city hall. Nervous citizens held neon signs reading "Stop the Ban" and "Hate Never Made Us Great," apprehensively awaiting decisions the city council would make that night.
Tanya Garay and her high school-aged daughter had never attended a council meeting.  She had never been very involved in politics, but after Trump was elected she felt it was her duty to step in and learn more. Garay knows that as an individual she cannot make national changes, but wants to help in any way that she can.
"We can make changes with the local government and work our way up," Garay said.
Crystal Rotin, a woman who legally immigrated to the United States from Columbia, is disgusted with Mr. Trump's executive order regarding immigration, and everything else Trump does for that matter. She does not want to be constantly asked if she has her papers or if she is allowed to be here. Rotin finds Trump "Horrific."
"I cannot understand how somebody can be so heartless," said Rotin.
The meeting began with public commentary.  Ann Arbor residents Stephanie Preston, Sarah Cohen, Judith Hoffman, Peter Houk and Claire Duvernoy discussed the need for pedestrian safety around schools.  Preston mentioned that there are 1400 crosswalks and 50 percent of them are in the Pioneer district.  She and many others want traffic safety to be more equally spread throughout  the districts.
Other Ann Arbor residents Julie Quiroz, Allison Hight and Paula Uche expressed their disgust for Donald Trump and the executive order banning Muslims from entering the United states he put into action on Jan. 25 .  The women advocated for Ann Arbor to declare itself a sanctuary city.
A sanctuary city does not have an official definition. It is essentially a city that willfully defies a federal law that it does not agree with. Ann Arbor declaring itself a sanctuary city would both openly defy Donald Trump, and let immigrants live freely in the city.
Quiroz stated the importance to "Defy Trump and expand sanctuary." She continued to say "This illegitimate President's threat should be a cause to embolden our cities leaders not to diminish our progress," Quiroz said.
Unfortunately, there is a catch.  If the city were to declare itself a sanctuary, it would lose the millions of dollars in federal funding that it receives every year from the federal government. This would jeopardize affordable housing, the federal grant to build a new train station and stormwater/flood control efforts according to Mayor Taylor.  
The council made a unanimous decision that they would not directly defy the federal law but instead put an immigration resolution into action.
The resolution is sponsored by Ann Arbor Mayor Christopher Taylor and Council Members Jack Eaton, Sumi Kailasapthy, Graydon Kraphol and Chuck Warpehoski.  It explains that Ann Arbor currently does not and will not ask immigrants for papers. Without directly defying federal law, Ann Arbor is opening its doors to everyone.
Leave a Comment
About the Writer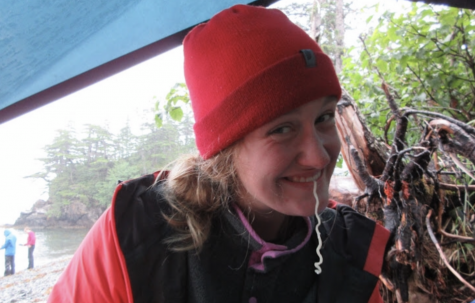 Ruby Taylor, Managing Editor
Ruby Taylor is a senior, and is currently in her sixth semester on Communicator staff. She loves all living things with every ounce of her being... except she hates creepy crawly crustaceans. She works as a barista at Argus Farm Stop, Mock Trials (yes it's a verb!) at CHS, and reads Reese Witherspoon's book picks in her free time. She is an INFP and her favorite word is cozy. She is a Gemini, but if you really want to understand her, recognize that she is a Pisces moon. She loves rain and the arb and her friends and taro milk tea.