The Ides of Trump
The striking smell of sharpies and markers spread across the third floor as five students from the Social Justice Community Resource class sat behind a table draped with a pink paper tablecloth. On the table sat a pink paper bin with phrases on it like "Freedom of Expression Anybody?" and "Exercise your Rights!"
The students—Britta Carlson, Nyah Selassie, Mira Kaufman, Hawa Dicko and Olivia Freeman—eagerly attracted passing students with the same enthusiastic and inviting message: "Come write letters to Trump!"
They were participating in "The Ides of Trump," a nation-wide postcard protest in which people across America write letters to President Trump expressing their discontent with the government. The event takes its name from the famous day in history, March 15, 44BC, on which Julius Caesar was murdered: "The Ides of March." The purpose of the movement is to "sharpen your wit, unsheathe your writing implements and write from the heart."
All throughout the lunch period, Community High School students had the opportunity to go up to the table and write a message to Trump with markers on small blue, orange and pink notecards addressed to the White House. At the end of the lunch period all the notecards were placed in the big pink bin to be sent out.
Senior Mira Kaufman is a student in the Social Justice CR, which has a semester theme of  "Wake Up! Stand Up!"
"We're trying to give a space for people to share their voice." Kaufman said. "We hope that, through giving people a plug, they will start to take action."
The CHS postcards addressed to 1600 Pennsylvania Avenue will be sent out on March 16.   
Leave a Comment
About the Contributors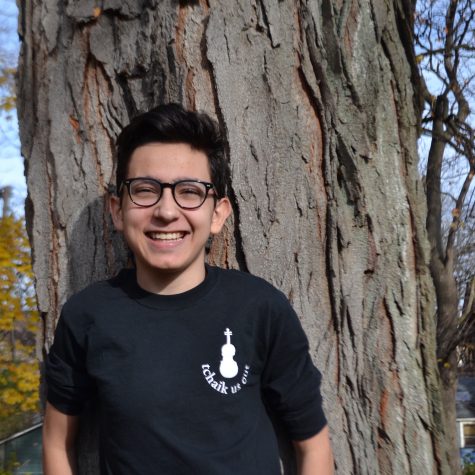 Francisco Fiori, Managing Editor
Francisco is a sophomore and is thrilled to be back to work on Communicator! He enjoys watching The Mindy Project, making others laugh and performing. Going to Journalism is always the highlight of his day, besides going to bed. His favorite foods are iced animal crackers and bibimbap from Kosmos.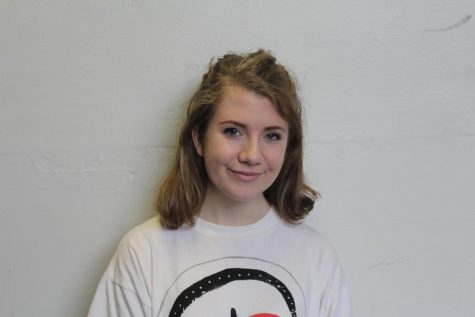 Grace Jensen, Editor-in-Chief
Grace has an odd love for palm trees which makes it especially unfortunate that she lives in Michigan. She did not know how to spell her middle name (Margaret) for the majority of her lifetime. She spends way too much time at Community High School for Communicator, Mock Trial, and Forum Council. She thinks she is better than people who don't like spicy food, and people who think they are better than other people.