Community High Mock Trial Team Competes in State Championships
Teenagers shuffled into the Veteran's Memorial Courthouse in Lansing, MI, the morning of March 25, pressing against each other to escape the drizzle outside. They were screened and carefully checked by security before accessing the building. This, however, was no field trip or juvenile justice event; this was the state finals of the Michigan High School Mock Trial Tournament, and the teens present were members of the best mock trial teams in the state. Among them was Community High School's very own 'A' Team.

Earlier this month, both the 'A' and 'B' teams from Community attended regionals in Oakland County. Due to new Michigan Mock Trial rules, the teams faced each other at the regional, with the 'A' Team emerging victorious. The 'A' Team scored high enough in all three trials at regionals to fall in the top four teams there and advanced to states.
Community's A Team had been prepping almost five months for the case. They spent their evenings diligently practicing, refining their arguments and perfecting each detail.
But States had higher stakes and held fiercer competition. During trial number one, Community's plaintiff side would be presenting, competing against Capac's defense team.
KT Meono, an 'A' plaintiff witness and Community junior, was worried. "We added some new stuff yesterday," Meono said. "It's going to take longer, meaning if we get a lot of frivolous objections we're going to have to cut stuff on the fly. That makes me nervous."
Performing well in the first two trials was crucial for Community. Only the top four scoring teams at the end of the two trials moved into the semi-finals. Teams got points based on each element of a trial: direct examinations, cross examinations, opening and closing statements, and objections, as well as decorum and overall performance. All elements are judged on a one to 10  scale, 10 being the best. There were three judges in each trial, one presiding and two scoring. The points for each team were then added up and ballots were given out accordingly.
The first two trials went well, with plaintiff competing against St. Mary's and defense against Capac High School.
After the preliminary trials concluded and all teams had taken a brief lunch break, the competitors reconvened to find out who was advancing to the semi-finals. Huron High School, Kalamazoo Central, Caledonia and Community High School made up the top four. With little time to celebrate, 'A' Team was thrust into the semi-final trial against Huron. Community's plaintiff was competing again, and the pressure was on. The top-scoring team would advance to the finals.
The trial was a fast-paced, verbal ping-pong match.
Witnesses Meono, Adrian Huntley and Taylor Tucker-Gray delivered with their performances. Grace Jensen, Zev Miklethun and Lucas Cole did well as plaintiff lawyers, with Miklethun and Cole giving the opening statements and closing arguments, respectively.
At the end, it was nearly impossible to anticipate how the judges would score. As the judges stepped outside to deliberate, Community Mock Trial coach Billie Ochberg did not know what they would decide.
"That was a very tense round," Ochberg said. "Great talent on both sides. The time factor is a big one in mock trial… we have to do everything according to these time limits, and it can be very nerve-wracking. We had that happen in this round, the time thing working against us, so that was tough."
Overall, however, Ochberg was confident in the 'A' Team's performance.
"I think our team was phenomenal," Ochberg continued. "Both our opening and our closing statements were delivered with just tremendous passion… our attorneys who had to recover as they realized they wouldn't have enough time to do the cross examinations they had planned really did a great job of re-calibrating…I think that, in the end, the time thing didn't really matter."
Just after Ochberg shared her thoughts, the judges filed back into the room. They had made their decision. Community High would be advancing to the finals. Shock crossed both teams faces. Community's reactions soon faded from excitement to anticipation. They were now just one step away from the state championship.
At 4:40 that evening, the final trial began. Kalamazoo's plaintiff was competing against Community's defense, and both teams wanted the win. This was no average team face-off. Kalamazoo Central has been a long time rival of Community, facing off in the state finals four of the past six years. Going into the season, Community's main goal had been to beat Kalamazoo.
The trial started off with strong arguments on both sides, Kalamazoo presenting first with their opening. Community senior Antoni Alvarez delivered Community's shortly after, and the trial began. The competitive atmosphere was palpable, and the objection battles were fierce. Judges heads quickly moved as opposing lawyers debated, following the arguments as they kept score.
Community senior Noah Dworkin, was portraying the defendant, Chris Martin, for Community. After Community lawyer Huntley directed Dworkin, he was subjected to a 17-minute cross examination by a Kalamazoo lawyer. As Ochberg said earlier, time limits were very important for both teams. This lengthy cross examination took up 85 percent of Kalamazoo's total crossing time, leaving only three minutes total for the crosses to come. Team members watching on from the pews noticed the panic on Kalamazoo members's faces and knew it was a good sign for Community.
Other witnesses included Cole and senior co-captain, Nedeltchev, who both performed strong and portrayed their roles convincingly. Adrian Huntley, Antoni Alvarez and Hannah Rubenstein all did very exceptionally well as the defense lawyers.
At the end of the trial, Community's defense had the opportunity  to present their closing argument. Hannah Rubenstein, Community senior, stepped into the well of the courtroom armed with a closing that had scored perfect 10's at regionals. She delivered it impeccably, finishing it in the nick of time. As the judges left to deliberate, the team bore smiles on their faces.
Shortly after the judges returned, James Liggins, the Tournament Director and an alum of the Kalamazoo program, announced the winners. Community High had lost. It was a split ballot, with the deciding factor being a single point. The team received a second-place trophy, as well as medals for all the members.  As sad and surprising as the loss was, it's important to remember: Community High School's A Team has officially been recognized as the second best mock trial team in the state of Michigan. That's something Community High School should be proud of, no matter what.
Leave a Comment
About the Contributors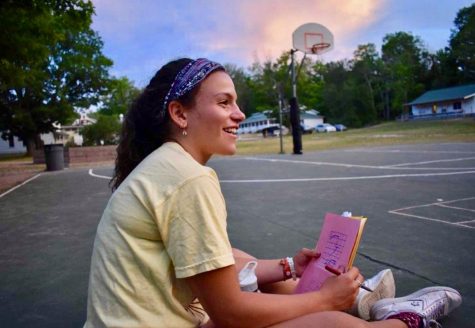 Cammi Tirico, Print Editor-in-chief
Cammi is in her fourth year on staff and is a senior at Community. This is her second year making up 1/4 of the print editor-in-chief team. When not working on The Communicator, she can be found playing golf and basketball for Skyline, lawyering at Mock Trial, singing camp songs off key at Camp Al-Gon-Quian or climbing trees. Cammi's favorite part of journalism is when an interviewee says something special or powerful out of the blue. Two averagely fun facts about Cammi are that 1 ) she is scared of lightning but loves rain and 2) her favorite shape is a triangle.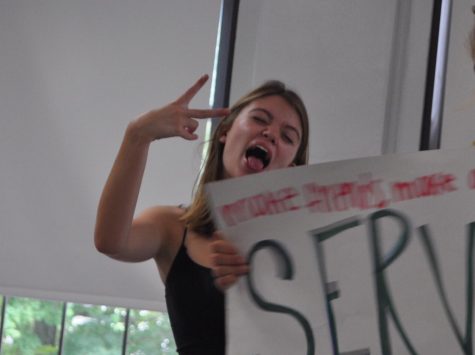 Paige Duff, Web Editor-in-chief
Paige Duff is a senior in her fourth year on Communicator staff, and one of three wonderful Web Editor-In-Chiefs. Her greatest skill is the ability to spin any fortune cookie slip, horoscope, or Magic 8-ball answer in a positive way. Paige loves the planet with her whole heart, and most of the people on it. She also loves car-singing and car-dancing — she does not love car-driving. She's looking forward to a magical year!