Mr. B's Boogie and Blues Celebration at The Ark
"Has anyone been to all 20?" Mark Braun asked the crowd at The Ark. A silence ensued in which every member of the audience looked around at everyone else. "Just me then." This was met with laughter and applause for the man who has made it all happen.
Saturday April 22 was the 20th Anniversary of "Mr. B's Blues and Boogie Celebration." Braun, also known as Mr. B, has organized this piano performance since its inception.  For two decades, the blues and boogie-woogie concert has featured some of the most talented pianists in a massive collection of some of the best music in the genre. This year's concert was no less impressive, featuring four amazing players, including Braun himself.
Al Hill, winner of three International Blues Challenge awards, kicked off the show with a fast-paced tribute to his hero, Ray Charles. Then, after thanking the crowd, he launched into a romantic song written by his wife. As his fingers flew on nearly every key, the mostly elderly crowd was filled with energy, swaying and dancing in their seats to the music. All the while, drummer Larry King and bassist Paul Keller held down the beat, each taking impressive solos of their own.
Braun had high praise for the talented pianist. "I like that he has a real grounded soulfulness," Braun said. "He knows who he is, he's got his own sound and feel and vibe, and he's real consistent. His version of 'Cry Me a River' was one of my favorite parts of the night." That song, originally recorded by Ella Fitzgerald, was covered by Hill with slow, sultry piano and powerful, emotional vocals. When he exited the stage, he deserved every clap of the thunderous applause for his energetic and technically skilled performance.
Next up on stage was Bill Heid, a jazz and blues pianist who has played all over the U.S. and the world. "Let's get right to it baby, B flat," Heid said simply to King and Keller, before launching into his music.
Heid's talented solos quickly enraptured the crowd, and his gritty, perfectly sung vocals filled the listening room with his energy. With its thinly veiled sexual innuendos and jazzy piano, his rendition of "I've Got News For You" by Ray Charles had the entire audience laughing and cheering as the performance went on.
After several more piano pieces, Heid got up and walked to the other end of the stage, where a wooden Hammond organ had sat untouched throughout the show. However, once Heid began to play, it became obvious that he was also master of the wide range of sounds created by such an organ. His 12 bar blues soloing skills were put on show in a piece dedicated to Braun, who gave him props for his spectacular performance. "I'm such a giant Bill Heid fan, so hearing him play just put me in awe," Braun said. "That was probably the highlight."
Next Braun came out once again to announce the intermission before the next two acts. After joking that there was only an intermission so he wouldn't have to play right after the masterful Heid and embarrass himself, Braun turned to a more serious subject. He announced the auction of two signed prints, with all proceeds to his charity, Mr. B's Joybox Express.
Kim Van Hoek, who is on the board of directors for Joybox Express and is a close friend of Braun, attended the concert with her husband, John Sickler. She has worked on his most recent fundraiser, in which Braun and other riders will pedal a specially made bike from Flint to the Straits of Mackinac, and then swim, pulling a boat behind them, to Mackinac Island, where Braun will play several shows. "The money is being designated towards Flint students through YouthQuest, which is another organization that works in Flint to try to provide experiences for the kids," Van Hoek said. "It could make a real life-changing difference for some of these kids."
Although they were there supporting Joybox Express, Van Hoek and Sickler were also there to enjoy the music. "It falls with jazz and blues," Sickler said. "You can find just about anything in the music."
Van Hoek also described one of Braun's previous concerts that she had attended. "He wrote a song about an area of Flint that meant a lot to him and dedicated it to his sister, who was in the audience, and she started crying right away," Van Hoek said. "He's a really fantastic man."
As intermission ended and the lights dimmed, Braun once again took the stage, this time not standing, but sitting behind the piano. He kicked off his performance with a return of a favor by dedicating his song to Heid. Braun's fingers flew as he repeated complex licks over a simple rhythm, clearing any doubts the crowd may have had of his ability.
Braun then played several other songs, using his mixed boogie-woogie style of piano with strong vocals to project his playing. Braun was influenced as a young man by some of the best early boogie-woogie pianists, including Little Brother Montgomery and Boogie Woogie Red. In this way, he is a rare connection to the original masters.
"The guys I learned the most from were really beautiful old guys," Braun said. "They had been through a lot of stuff that I'll never have to go through, and they had a kind of honesty and humility about them. I try to represent that when I play."
Braun learned more than just life lessons from the masters; he learned how to really play. Launching into a piece with complicated solos and intricate chord changes, Braun began to hum along with his music in a way common to boogie-woogie. Joined by Keller, the two laughed as they hummed over their playing. Braun's energy on stage was palpable, even as he sweated under the bright lights. As he finished his final song, which included a slow, pretty piano intro leading to a grooving beat, the audience gave him a round of applause.
Braun then stood to introduce the next player, the legendary Bob Seeley. He named Seeley as one of the best living boogie-woogie players, and related their close friendship. As Braun made a joke about how the 88-year old might not even be alive to play his show, Seeley crept up behind him with a zombie walk, earning laughs and cheers from the crowd as the two showed their true relationship. After a few more jokes, Seeley took control of the stage.
However, he wouldn't play just yet. First, he related an early story of his fascination with steam trains. He told that when he was a young man, he nearly missed a train, only catching it by running alongside and holding onto the outside. His love for trains never stopped, and to this day he plays a music that has a close relationship to the transportation.
Finally, the energetic elder sat down and played. Without bass or drums, Seeley was a one-man orchestra, playing his traditional style with confidence and ease. His gritty vocals on "Mama Don't Allow" had the crowd smiling as he named different jazz and blues artists which mama don't allow, and his superb soloing skills proved his mastery of the art. "To hear Bob come out still throwing darts at age 88 was pretty great," Braun said of his friend.
As Seeley played, each of the artists who had performed joined him on stage, until all of them were playing different pianos, organs, basses, and drums. Although it was a huge amount of sound, the skill of each player on his instrument created a dynamic experience. "[The piano is] a unique instrument," Braun said. "It's the king of all instruments, it's a whole symphony." Each of the separate symphonies on stage performed a beautiful act, and all took a bow for a well deserved ovation after their electrifying performance together.
Leave a Comment
About the Contributor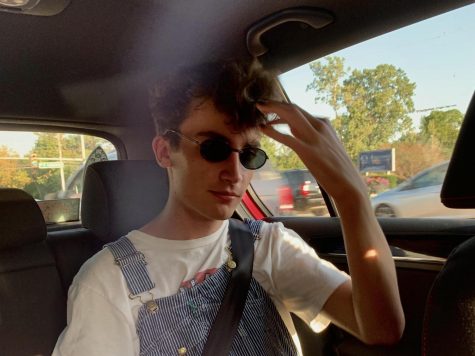 Isaac McKenna, Print Editor-in-chief
Isaac McKenna is a Print Editor-in-Chief for The Communicator and has been on staff for all but one semester of high school. He loves designing, writing op-eds and drinking way too much coffee. In his free time, he plays guitar in several local bands at festivals and shows around Ann Arbor; sometimes he loses his voice screaming at his friends' concerts. 2019 marks Isaac's discovery of the importance of corduroys and pinstripes despite his inability to decide on an outfit in the morning.