Albums You Should Know- "Hunky Dory"
If you haven't listened to a David Bowie album by now, you should. Many of his albums are considered classics, and are well worth a listen. However, I get that trying to jump in and start listening to an artist you haven't listened to before can be daunting, especially when they have as large a discography as Bowie. A good place to start is "Hunky Dory," one of his more accessible and popular albums.
"Hunky Dory" was released on Dec. 17, 1971 as Bowie's fourth studio album. Although his song "Space Oddity," released in 1969, had previously reached top five on the U.K. charts, he had not yet reached the level of fame that he would later achieve. "Hunky Dory" was generally well-received at the time of initial release, but the album was not a major hit right out of the gate. This would change a year later in 1972, when Bowie released "The Rise and Fall of Ziggy Stardust and the Spiders from Mars," the breakthrough album which brought him his fame and helped to cement him as a household name.
After "Ziggy Stardust's" release and subsequent commercial success, "Hunky Dory" went on to reach number three on the U.K. charts. In 1973, the song "Life On Mars?" from the album was released as a single, and also reached number three on the U.K. charts. Since then, "Hunky Dory" has been on many people's top albums list, including Rolling Stone's "500 Greatest Albums of All Time" in 2003, and TIME's 100 best albums in 2006.
The songs on "Hunky Dory" are all great individually, but they also make a cohesive album that really flows from one song to the next. The album has an approachable feel to it with a unique style that is essentially David Bowie; an eclectic mix of influences that seamlessly blend together into his own unique sound.
If I had to choose two songs from the album as my favorites, they would be "Oh! You Pretty Things," the second song on the album, and "The Bewley Brothers," the final song. "Oh! You Pretty Things" was the first song to get me hooked on the album, with an earworm of a chorus that gets stuck in your head for weeks; "The Bewley Brothers" grabbed me on the first listen with its poetic lyrics—something I enjoy about the rest of the songs as well.
"Hunky Dory" is not hard to find online, so if you haven't listened to this classic album you should definitely sit down and give it a try.
Track list:
Changes
Oh! You Pretty Things
Eight Line Poem
Life On Mars?
Kooks
Quicksand
Fill Your Heart
Andy Warhol
Song For Bob Dylan
Queen Bitch
The Bewlay Brothers
"Hunky Dory" on Spotify –

Check out this other Spotify playlist of other essential David Bowie songs –
About the Contributor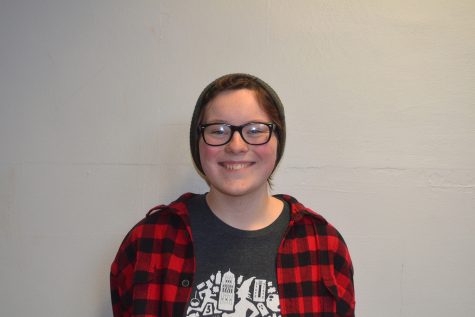 Lydia Stevens, Journalist
Lydia Stevens is a junior at Community High School and this is her first year on Communicator. She enjoys reading, photography, and obnoxiously bright flannels. Lydia firmly denied needing glasses until 9th grade when she realized that people could actually see the moon and not just a bright smudge in the sky.