Hillary Clinton Visits Ann Arbor to Explain "What Happened"
Clinton speaks at Hill Auditorium on campaigning, Russia, sexism, and the future.
"What happened?" — a question many, in the political world and not, like presidential candidate Hilary Clinton, have been asking  since the November 2016 election. Clinton answers that question from her perspective in her new book, "What Happened." Clinton visited Ann Arbor on Tuesday, Oct. 24 as the sixth stop on her book tour across the country. She spoke to a sold-out crowd of 3,500 at Hill Auditorium. A glance around the room showed a majority of older white women in the crowd, although people of color, men, and young people, especially college students, were also in attendance. Clinton spoke on many topics, ranging from Russia to her grandkids.
Though her book's main focus is how and why she lost the election to Republican candidate, now president Donald Trump, she also spoke to what is happening now and what should happen next. In both the book and at the event, Clinton was "unfiltered," as she said herself. The audience witnessed her speaking as a citizen, rather than a politician, now that her campaign is over.
"For a lot of women, we really edit ourselves," Clinton said. "But in the political world, they edit us even more." This book gave Clinton a chance to write and share her unedited opinions and experiences.
Clinton started off the night with a confession: after the election, she had not intended to write a book. However, she realized she needed closure. In writing, the truth became more clear to her,  and she learned new information and developed a better understanding of her experiences during the election.
"What Happened" is separated into six sections: Perseverance; Competition Sisterhood Idealism and Realism; Frustration; and Resilience. The speech at Hill also followed these same topics.
Perseverance
Throughout the campaign trail, Clinton faced numerous challenges, many related to her gender. However, this is far from the first time Clinton has had to overcome sexism.  After graduating from Wellesley College in 1969, she applied to law school. She was accepted into her top two choices: Harvard and Yale. Clinton shared the story behind her choice: on her visit to Harvard, she was told by a professor that they "did not need any more women." Clinton went  to Yale Law School.  
Directly following the 2016 election, more perseverance was required of Clinton in staying positive despite her loss.
"I am not going to lie, right after the election, I was devastated," Clinton said.  "I watched a lot of HGTV, read a lot of mystery novels where the good guy wins at the end, and drank my fair share of chardonnay." Despite this setback, Clinton has persisted.
Competition
The Trump team's strategy proved too much for Clinton's more mellow campaign. The Clinton campaign faced electoral issues that may have cost them the win. Gerrymandering hurt, but she said a huge problem was voter suppression.
Clinton used the example of Wisconsin to shed light on voter suppression.  In Wisconsin, Clinton claimed 200,000 to 300,000 voters were turned away at the polls. Clinton lost Wisconsin by 22,748  votes. She talked about how voter registration needs to be reformed, and that 18-year-olds should be automatically registered to vote.  
Sisterhood
Clinton spoke about women in politics throughout the speech. She was the first woman to receive the presidential nomination from a major party. She noted that the only other woman running within the major parties, Carly Fiorina on the Republican side, was treated badly in debates with over ten men.
"The only way to get sexism out of politics is to get more women in politics," Clinton said.
She remarked that she was treated differently than male candidates — often told she wasn't qualified, constantly interrupted, and disregarded. Clinton had been a First Lady, Senator, and Secretary of State before running for office and believes these positions more than qualified her.
"We know we will have equality when a mediocre woman in able to get the same jobs as a mediocre man," she said, drawing laughter and applause from the crowd.
She spoke about how women candidates are under more pressure and critiqued more than men. Not only are they criticized on their political views and what they say, as all politicians are, but they are also judged by what they wear and how they look, explained Clinton.
She continued on to speak about how girls feel this pressure early on in their lives. "We have to start much earlier with little girls and building their confidence," Clinton said.
Idealism and realism
In "What Happened," Clinton describes her deliberation on the balance between idealism and realism, two distinct but not opposing schools of thought. Both in 2008 and in 2016, she lost the presidential race to candidates that promised bigger, quicker, more radical change. She was criticized for being too much a "part of the system." American voters seem to have wanted something different. Clinton was too much of a realist to make the promises that other candidates campaigned on.
Despite not winning the presidential election, Hillary Clinton has made history throughout her career. In 2001, after winning a seat in Congress, Clinton became the first American first lady to ever win public office. She later became the 67th U.S. Secretary of State . Most recently, in 2016, she became the first woman in U.S. history to become the presidential nominee of a major political party.
Frustration
A main topic of conversation was Russia. Clinton explained how through writing the book, she learned a lot about Russia and to what extent it  altered the election. She described how just before the election in the state of Michigan, Russia posted  propaganda on sites like Facebook and Google.  She made the comparison that the online hacking and stealing of information  was worse than Watergate. "To call it hacking is an understatement,"Clinton said. "This is theft," Clinton said.
In a chapter of the book titled "Those Damn Emails," Clinton spoke about how the election could have easily turned out very differently if her emails did not play such a large part in the news coverage. Clinton talks about Oct. 7, 2016 — a major turning point in the election — the day that the "Access Hollywood' tape of Trump was released. In the eyes of the Democrats, her odds turned even more favorable. However, mere hours later,  Clinton's campaign chairman, John Podesta, had some of his emails hacked and made public by WikiLeaks, working with Russia. This distracted much of the media away from the damaging Trump video.
Resilience
"The outcome in Michigan was not what we wanted, but I want today to be a reminder to everyone, do not grow weary," Clinton said. "We have a lot of work to do, to stand up for the values we share and the causes we believe in. That is more important now, here in Michigan and across America, than it has ever been."
The last chapter in "What Happened" is titled "Onward Together," which became a theme of the night. Clinton focused much of the conversation on the future.
"I'm not going anywhere except right into the middle of the battle," Clinton she reassured Americans.
Reactions to Clinton's speech
The crowd reacted enthusiastically to Clinton's words of tenacity.
"I thought it was very inspiring," said Kate Sherwin, a young woman attending the speech. "She does a really good job of motivating young women and young voters to really take action. I think she's criticized a lot for the way she was presented, or presented herself, during the election. I think it was a really nice thing to see a different side of her and see her relaxed, because her true personality seemed to really come out."
According to Brittany Pinnock, another young woman, Clinton's speech was "absolutely amazing…[Clinton] speaking her truth, and really the truth, I really enjoyed it," she said.
Dr. Pat Williams Loyd found inspiration in Clinton's speech.
"We saw on the campaign trail that she is a symbol… she speaks so articulately for women and for [teenage] girls to get into politics, and not only politics, but to be a voice: to be a voice in your community and your family and your neighborhood and in your state," Loyd said. "She was all of that and brought that passion to it."
Leave a Comment
About the Contributors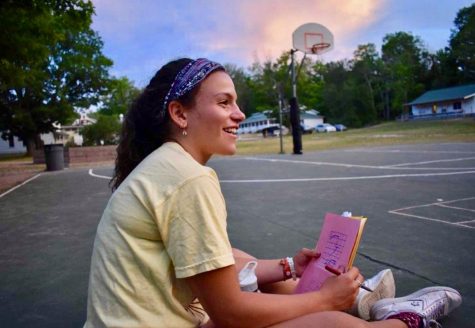 Cammi Tirico, Print Editor-in-chief
Cammi is in her fourth year on staff and is a senior at Community. This is her second year making up 1/4 of the print editor-in-chief team. When not working on The Communicator, she can be found playing golf and basketball for Skyline, lawyering at Mock Trial, singing camp songs off key at Camp Al-Gon-Quian or climbing trees. Cammi's favorite part of journalism is when an interviewee says something special or powerful out of the blue. Two averagely fun facts about Cammi are that 1 ) she is scared of lightning but loves rain and 2) her favorite shape is a triangle.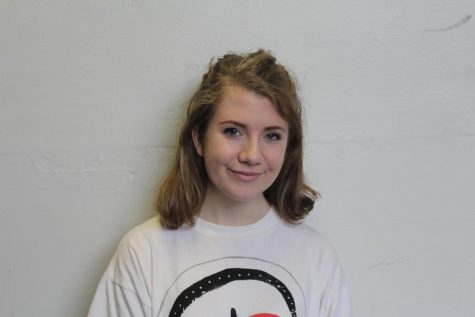 Grace Jensen, Editor-in-Chief
Grace has an odd love for palm trees which makes it especially unfortunate that she lives in Michigan. She did not know how to spell her middle name (Margaret) for the majority of her lifetime. She spends way too much time at Community High School for Communicator, Mock Trial, and Forum Council. She thinks she is better than people who don't like spicy food, and people who think they are better than other people.