The Artist as Himself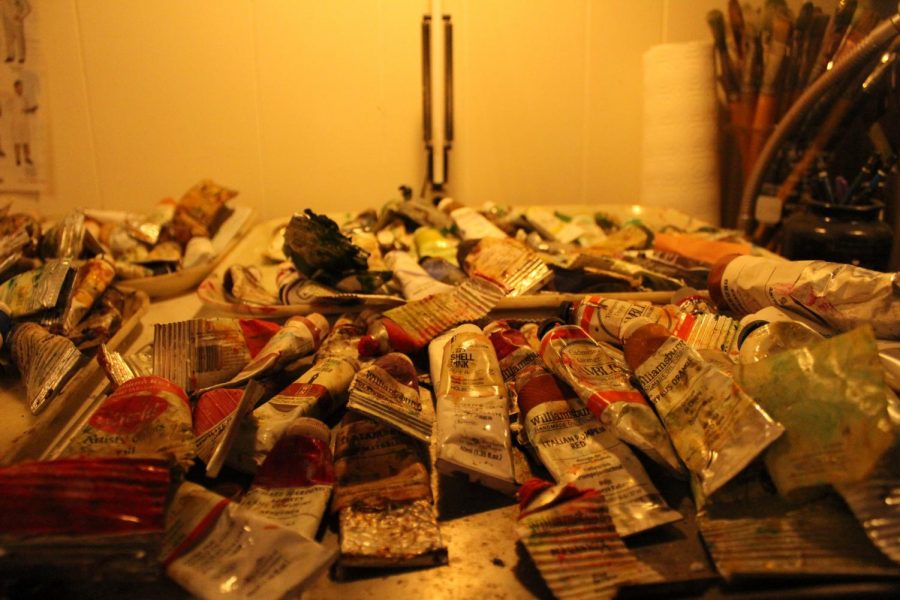 Detroit party stores, run down motels, and kitsch bird figurines are just a few painting series that artist Thomas Rapai has successfully executed over the course of several years. Based out of Ann Arbor, Michigan, Rapai works with oil paints, getting inspiration from mainly Japanese and Chinese art styles. He focuses on delicate line work, and incorporates his own color pallet.
Thomas Rapai was born on February 12, 1964 in Detroit, Michigan. He grew up with two older brothers, an older sister, and one younger brother. Rapai attended Detroit Public Schools for the majority of his schooling career, and then moved to Redford in his tenth grade year. Growing up, he didn't know what he wanted to pursue in the future. He was interested in music and art, but neither his school nor his family had money to spend on instruments.
Considered a "problem child" at nine years old, Rapai's mother had taken him to the Detroit Institute of Arts (DIA) to keep him occupied and to possibly inspire him. She had thought that it would intrigue him in ways he hadn't seen before. The Wedding Dance by Pieter Bruegel especially captivated his attention. "You can see the drawing underneath the paint," says Rapai. "It's beautiful, and that's really an influence on my paintings." After that, he began going to the DIA every Saturday to take art classes.
In his late teens, Rapai grew bored of living in the suburbs and moved to Hamtramck. He began going to punk clubs, gay clubs, art-house movies, and of course, the DIA. He was determined to pick up inspiration and develop himself, as well as his art style. He attended Wayne State University for art, then transferred to the University of Michigan, where he graduated with a Bachelor's degree in Fine Arts.
At fifty years old, Rapai was diagnosed with cerebral palsy, causing temporary paralysis on various areas of the right side of his body. "Sometimes it hurts to paint," says Rapai. "I still go ahead, but sometimes my muscles twitch, so it's hard to get an accurate line. Though I am right handed, I was painting with my left hand for a while. It's just really hard work." He has lived with it the majority of his life but since his diagnosis, Rapai's conditions have gotten more intense. Even on his more painful days, he continues to push through and make jokes about his conditions. He has grown into accepting who he is as an artist, and working with what he is given. He believes that since he is so intertwined being an artist, nothing can stop him and his creativity.
Alongside his physical limitations, Rapai has delt with mental limitations as well. Rapai had caught himself acting as a different person for a majority of his life. Since he was always different from the other kids growing up, he found himself not being who he actually was in his everyday life. "I tried so long to be someone else, and it didn't work out," says Rapai. "It only gives you heartache and problems. You just have to accept yourself the best you can." Rapai has learned first hand that being yourself will get you places, unlike pretending you are someone you're not. Rapai has embraced his art style, his disabilities, and who he is as a person. "You just need to go through life the best you can," Rapai said. "It makes you neurotic after a while if you spend all of your time being someone else or trying to do something that isn't you."
Going to the DIA as often as he has, Rapai has developed beliefs based on how the audience has interpreted different pieces of art. With his artistic and creative brain, he feels an intense disliking towards individuals who tend to not interpret the pieces themselves. He believes that the individual should look at the piece themselves and interpret the art however they'd like. "I don't think it should be spelled out," says Rapai. "I think they should come to on their own cognition and learning, and then experiencing it." Even when it comes to the history of an art piece, he thinks that you should always interpret the painting yourself first, then go and research what the artist's intent was and what inspired the artist to paint what they did.
Interpreting a piece is just one part of painting the final picture. A rather large part of painting is the cost. Rapai explains how being an artist is neither cheap nor for the faint of heart. Rapai gets money from the art he sells in galleries in Detroit, which he then puts into buying supplies for his future projects. "You take [your art] to the gallery, they put out little cards, they sell your work, and whatever you sell, they get half of the profit," says Rapai. If getting only half of the profit isn't hard enough to work with, more than half of the earned profit goes straight into making another painting. He calls it a "never ending cycle."
Despite the negative connotations and costs, he is currently living as a successful artist with his two cats Toku and Kaiju on the west side of Ann Arbor. His current focus with art is sketching and painting kitsch bird figurines. "It is the personification of nature," says Rapai. "The birds have these human characteristics that they wouldn't have in the wild. They're a little bit creepy." His studio- located in his basement houses large canvases with birds of all shapes and colors.
From Germany to Los Angeles, Rapai has traveled to galleries in all areas showcasing his work with pride. He is a natural born artist and is proud of what he creates and sells. "It's only the act of doing that's important about it," says Rapai. "It's the residue that we tend to only look at. When the artist is painting or doing art in general, they are putting down that moment. They can come back later and erase that moment, take that moment out, or out another moment on top of it while it morphs into this object."
The Paul Kotula Project in Ferndale features Rapai's art every few weeks, showcasing his kitch bird figurines, as well as his Detroit party store series. Paul Kotula Project started in 2006, and is currently showing eighteen artists. The gallery is open Thursday through Saturday from 5 to 11 pm during an exhibition, or by appointment. Call to make an appointment or ask about hours at (248)544-3020, or visit www.paulkotula.com. For further interest or inquires about Rapai's art, please visit thomasrapai.com for contact information.
About the Contributor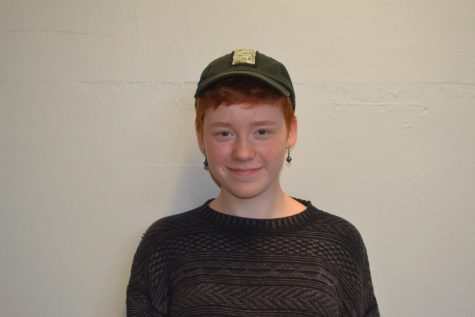 iO Soucy, Journalist
Community High junior, iO Soucy, is practically unable to go an hour without either listening to music or talking about strange funk music. Her favorite scent is lavender, and will almost always choose listening over speaking. If she ever appears glum, slap some mint tea and maybe a waffle in her hands.