Sara Blake's Last Day at Community
It was a bittersweet moment on Feb. 13 for staff and students alike. After eight years of dedicated work at Community High School, beloved teacher's assistant Sara Blake is starting a new chapter in her life as the new Administrative Assistant for Assistant Principal Marcus Edmondson at Huron High School.
Blake spent her last day at CHS reminiscing with teachers, saying her goodbyes to students, and holding back tears. In Anne Thomas' math class, she got the chance to teach her favorite lesson, the factoring book, for the last time.
"It's something that I started a number of years ago," Blake said. "Anne always lets me teach it. It was emotional, because I know I'm not going to be in the classroom anymore."
Thomas and Blake have worked closely together for eight years.
"Sara has been my right hand," Thomas said. "I'm going to miss her so much; I think it's a huge loss to Community."
"At one point I was in three classes a day with Anne," Blake said. "So her and I had clockwork going. We knew how to help each other. I organized her and I was able to do those behind the scenes things to keep her able to do the things that she needed to do. Her and I were both pretty emotional about that coming to an end."
Blake's other favorite memories at CHS include assisting in Janelle Johnson's Harlem Renaissance Literature class, watching kids' math skills flourish through their high school careers, and most of all, getting to know all of the students and learning about their lives.
Although leaving is hard, Blake is excited to see what her future holds.
"I was able to go to Huron for a few days first, to see what I'm in for," Blake said. "I got a chance to meet some of the kids, who I'll be working for. That gives me something to look forward to, instead of focusing on missing [Community students]and all of the teachers." She is excited to immerse herself in the huge blend of cultures that make up Huron and help upperclassmen plan their graduations.
Certain that she will continue to visit Community, and treasure her memories, Blake is maintaining a positive attitude.  
"I feel so connected [to Community]," Blake said. "The smiles in the hallway, and just talking about life, and how your weekend was. At Community, we're a family. I feel like I'm chopping off a part of me, but at the same time I'm excited about the new beginning, and I'm trying to focus on that."
Leave a Comment
About the Writer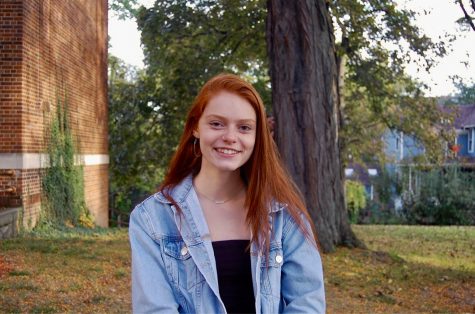 Roxie Richner, Journalist
Roxie is a senior at Community High and this is her third year on Communicator staff. When not at school, you can find Roxie hunched over her laptop at a coffee shop working on one of many passion projects, at a political meeting, event or rally, or taking a much-needed nap in her super comfy bed. She enjoys watching stand-up comedy, the news, The Daily Show with Trevor Noah, Veep, and Dance Moms — an eclectic mix that perfectly captures her essence. Roxie is so grateful to have one more year on Communicator and looks forward to working with the incredible staff to create meaningful work!