Lamar Jackson: Quarterback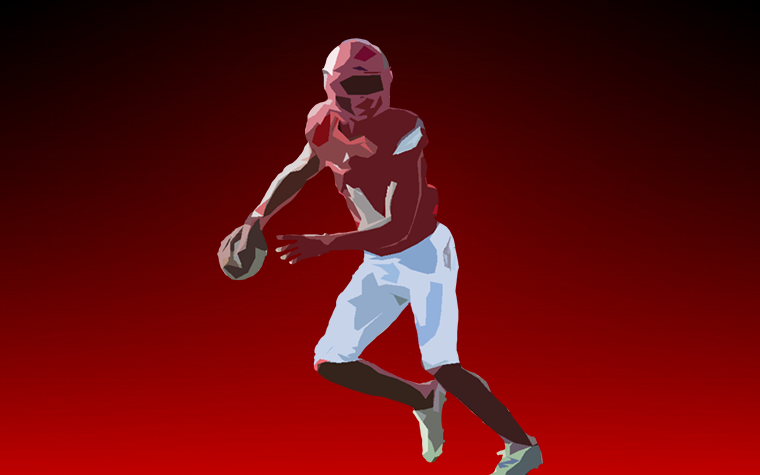 In the history of the NFL, many college quarterbacks have made the switch to wide receiver upon entering the league. The usual candidate is an athletic, dual-threat quarterback who showcased average abilities as a passer in college, in other words, his skills were deemed "not good enough" for an NFL quarterback. Some of these converted quarterbacks have flamed out, but others have excelled as pass-catchers, with New England's Julian Edelman chief among them. These freakish athletes have almost never gotten a legitimate, prolonged chance to lead an offense.
This year, seemingly just like the last several years, a dual-threat quarterback prospect has again emerged. And just like past years, much talk surrounds a positional change.
Quarterback A: 14 games, 63.1% completion rate, 4143 passing yards, 8.6 yards per attempt, 26 touchdowns, 13 interceptions.
Quarterback B: 13 games, 59.1% completion rate, 3660 passing yards, 8.5 yards per attempt, 27 touchdowns, 10 interceptions.
Quarterback C: 11 games, 56.3% completion rate, 1812 passing yards, 6.7 yards per attempt, 16 touchdowns, six interceptions.
Quarterback D: 11 games, 62.6% completion rate, 3756 passing yards, 8.3 yards per attempt, 26 touchdowns, 10 interceptions.
Quarterback E: 14 games, 70.5% completion rate, 4627 passing yards, 11.5 yards per attempt, 43 touchdowns, six interceptions.
Above are the 2017-2018 stats from the consensus top five collegiate quarterbacks in this year's NFL Draft. No, the player in question is not "Quarterback C". The player actually put up some of the most impressive stats for a positionally-questioned quarterback ever. "Quarterback B", Louisville's heisman-winning, Lamar Jackson is a generational athlete and could be a game-changing quarterback at the next level, given the chance.
Jackson electrified college football not only with his arm, but with his legs too, rushing for 1600 yards and 18 touchdowns last season — which are unparalleled numbers for any quarterback, no matter the level — to top off his already impressive passing numbers. He boasts an uncanny ability to make defenders miss in space, using agility and elusiveness. His short area quickness and break-away speed are on display when he takes off to run, but they also prove to be an asset in the pocket, allowing him to avoid the pass-rush, move up in the pocket, and quickly rifle the ball down the field.
His play has drawn comparisons to former Eagles quarterback Michael Vick, who's 3,954 rushing yards ranks third all time from the quarterback position in the NFL, behind only Steve Young and Randall Cunningham. Vick himself said that Jackson was "fives times better" than he was in college and stated that if he was an NFL general manager, he would draft Jackson to be his franchise QB.
In high school, Jackson played quarterback. Schools recruited him as a quarterback and in college, he won a Heisman at the position, while putting up numbers that had rarely been seen before. So why is Jackson getting pushed to switch positions?
Among those in support of the position change is former NFL scout, personnel director, general manager, and current ESPN analyst, Bill Polian. In defense of his argument, Polian stated that Jackson is "Clearly, clearly not the thrower that the other [top quarterback prospects] are… The accuracy isn't there." It's a confusing statement given that Jackson had a higher completion rating than Josh Allen (Quarterback C), who has been projected to go in the top half of the first round of April's draft. While Jackson's footwork needs refining, due to its tendencies to lead to errant, innccurate throws, many NFL scouts believe his arm is one of the stronger ones in the class.
Polian went on to call Jackson "too short" and "too skinny" to play quarterback in the NFL. Again, perplexing. He is 6'3, which is taller than the likes of many prominent NFL QB's, including Drew Brees, Aaron Rodgers, and Dak Prescott, and weighs roughly 210 lbs, which puts him just below league average. While he didn't run the 40-yard dash at the combine, many, including Jackson himself, believe he would have recorded a time in the mid 4.3's or 4.4's; a speed which has almost never been seen from a starting NFL QB.
Finally, Polian added that Jackson does not possess the ability and experience to run a pro-style offense at the next level. Louisville though, runs a pro-style offense; A complex one; One in which Jackson has excelled. Yes, the Cardinals' offense did heavily feature quarterback runs, but this makes sense. If Jackson, often the best athlete on the field, is going to have the ball is his hands on every play, why not take advantage of that? After all, under head coach Bobby Petrino at Louisville, he slashed and dashed the ACC for the conference lead in passing yards, rushing yards, and touchdowns. His athleticism was, and has great potential to be a weapon, not a knock on him as a prospect.
The ridiculousness and flat out incorrectness of Polian's evaluation, among others, raises the question of whether the Lamar Jackson debate is one of talent, or of race.
The black quarterback debate has been around since the early days of the NFL. What's interesting though, is that it exists solely at the professional level. In high school and college, dual-threat quarterbacks are given opportunities to use their athleticism to their advantage and often, offenses are tailor-made to fit these explosive playmakers.
Historically, almost no white quarterbacks have explored, or been asked to explore a position change, and the few that have often put up lackluster numbers as passers in college. Weirdly enough, almost every black college quarterback transitioning to the league has been asked to switch, no matter their résumé. Even when the most talented ones do get a shot at quarterback, they are doubted, slandered, and sometimes supplanted in a matter of games in favor of a more "prototypical" (white) NFL passer.
There's no question that mobile quarterbacks can be a gamble, but when they pan out, such as Randall Cunningham, Michael Vick, Donovan McNabb, Steve McNair, Russell Wilson, Cam Newton, Tyrod Taylor, and many more, they can light the NFL ablaze.
Jackson is arguably the most athletically-talented quarterback prospect ever, and he deserves a shot to compete for a starting job. If he lands on the right team — one with a coaching staff that caters to him and his talents — Jackson has the potential to not only be one of the most dangerous players in the league, but to change this debate forever.