Walking Out of Gun Violence
About a hundred kids stand outside of Community High School, huddling around each other with arms around shoulders and heads down. A uniform, quiet chatter travels across the blisteringly cold morning air. Student's noses and cheeks are flushed red; those without gloves have their hands deep down in their coat pockets. Suddenly, a single voice pierces the frigid air. The crowd goes silent.
On March 14, students all over the country walked out of their classes in memoriam of the 17 students' lives that were lost at Marjory Stoneman Douglas High School only a month prior. Every minute spend outside was suppose to represent a life taken. Among those participating were the students and teachers of Community High School. Shortly after 10a.m., seniors Bree Linton and Will Carroll stepped forward to express their anguish towards the state of our nation.
Only a half an hour before, Linton had received a FaceTime call from BBC producer and journalist Eliza Craston to discuss the state of urgency surrounding mass shootings and gun control in the United States. Craston had found Linton through a previous interview that she had done with MLive at a separate gun-control protest. Linton's quotes were then used in a PBS article, which had gained enough traction for BBC to pick up on it and take interest in Linton.
"She actually direct messaged me on Twitter," Linton said. "She tweeted at me and said 'Can you please follow me back so I can DM you?'"
Linton had just enough time in between the interview to drive from her house to school, where students had already started walking out of the building. Linton was met outside by the dean, Marci Tuzinsky, who was holding a megaphone for Linton and Carroll.
That day, both Linton and Carroll brought student safety to the surface. Fear has manifested itself in many students ever since mass shootings started to take over the news. For some, news alerts reading 'mass shooting' and 'many people killed, many injured' is nothing out of the ordinary. These traumatizing events have become too routine.
"All of us kids in school now, even those who have recently graduated, have grown up in a society — a nation — that has always had gun shootings and gun violence," Linton said. "I feel like our country is becoming more and more unsafe to where schools use to be considered a safeplace, and now they aren't."
The walkout was enough to compel Christina Tabaczka, a Community High Alumni who graduated in '76, to come back and participate. Her voice quivered as she described how tired she was of seeing people die as a result of weapons of war.
"They don't belong in a night club, they don't belong in a hotel in Las Vegas, they don't belong, most especially, on a high school campus, Tabaczka said. "It's, to me, an outrage. As I say, I don't mind people hunting, but why do you need an AR15 to shoot Bambi?"
What exactly should be done about guns is a large debate surrounding the spike in publicized mass shootings. Some, like Tabaczka, believe in passing Legislation to ban assault rifles. Others, like Linton, believing in taking guns out of the system entirely. On the other end of the spectrum, some reject the idea of government control over guns.
Regardless of who holds which viewpoint, the conversation surrounding gun control has been pushed to the forefront of the nation's politics. The nationwide student walkout was intended to perpetuate that. Many of these students, including Juliette Nanos, senior, are aggravated by the absence of legislative action in Washington D.C.
"I feel like being safe at school should be guaranteed," Nanos said. "Trump needs to make an effort to understand that education is the most important thing to young ones, and us young ones are the future."
Leave a Comment
About the Contributor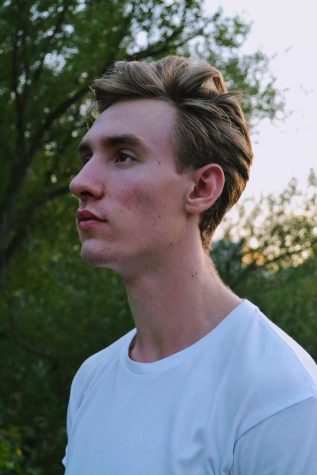 Sacha Verlon, Opinion Editor
Sacha Verlon is in his third year on staff for the Communicator. He has an attention span of one minute and is Literati Coffee's biggest fan. Verlon enjoys playing guitar and using his musical skills as a means to procrastinate doing his homework. He loathes the cold and hopes to go to college somewhere warmer, possibly in California. You can find him zipping around Ann Arbor on his red Vespa.