Glen Hansard Takes on Royal Oak
The sounds of rolling, empty beer cans, old Irish people shouting lyrics, and the rough voice of Irish singer/songwriter Glen Hansard filled the venue of Royal Oak Music Theater on Tuesday, March 20 at 8 p.m. The venue was packed with many Irish folk, gingers and brunettes alike. Hansard waltez on stage, guitar in his hand and confidently stands in front of the microphone. Without saying a word and with the ensemble in place, the stomping of his foot starts off his song "The Gift". The crowd erupts into loud cheers with beer cans flying in the air.
As the first song ends, Hansard thanks everyone in a thick Irish accent for coming from across the country to be at Royal Oak Music Theater. The packed venue erupts in cheers, hollers, and the iconic Irish saying, "pogue mahone," meaning "kiss my butt" in Gaelic. He continues the night with "Way Back in the Way Back When," "Wedding Ring," and "Love Don't Keep Me Waiting" mashed up with Aretha Franklin's "Respect." He also performed covers of Noel 'Bunny' Brown & The Wildcats' "Heartbreak Girl," Rob Bochnik's "Lovevolve," and Woody Guthrie's "Vigilante Man." Though the songs varied with different energies, they emerged into each other with ease.
Being the storytelling Irishman he is, he tells a story in between each of his songs as the night progresses. He tells where his inspiration came from for his song, why he wrote it, and what it means to him. Before his song "Little Ruin" starts, he explains how he came up with the concept and where his inspiration comes from. He wrote it for everyone who is exhausted with breakups and bad times, as he has experienced the same emotions. He wrote it when his friend was in a bad place with no home and no job who could use a pick-me-up.
Hansard had also mentioned the expectations when going to a gettogether. "In Ireland when you go to a get together, it is just expected that you have something to show," said Hansard. "You are expected to bring a poem or a song to sing for the guests. It brings everyone much closer together."
About half way through the set, Hansard's face dropped to a straight gaze. He walked away from the microphone and steps on top of the amp on the edge of the stage. Without vocal amplification, Hansard starts to sing "Grace Beneath the Pines." With a voice such as his, the lyrics echoed through the venue as if he was still being amplified. His backup orchestra and horn section accompanied his guitar and voice while slowly building in dynamics. As he performed, the audience was strangely silent due to the fact that they didn't want to lose any of the rawness of his voice.
As the song ended, he announced that he was going to bring out a special guest. He motioned to his left, and out came Detroit musician Shara Nova to perform, "If I Get Another Chance." They mentioned how they've been good friends for countless years, and Hansard wanted to pay respect to her and allow her to perform her own song. Though the crowd was unaware of her guest appearance, they supported her as a musician and danced along anyways.
As he finished a cover of the song "Gold" by Inference, he put down his guitar and motioned for his band to come up to the front edge of the stage with him. With no acoustics and no instruments, they all link with arms on shoulders and stand silently. Hansard's bellowing voice fills Royal Oak with the beginning of the 1954 Irish folk song, "The Auld Triangle." Though Hansard did not write the song, everyone single person in the venue, no matter age, sex, race or ethnicity, knew the lyrics. Every band member – including the guitar rodie and their manager – performed a verse, some in trios and quartets. The voices of the crowd and performers intertwined with one another and the venue was filled with conjoined voices throughout. Only three people had their phones out to record or take pictures, unlike every other concert existing. Everyone was completely immersed in the music and the personalities of every musician on stage.
Hansard has since ended his tour and is back in the comfort of his home in Dublin, Ireland. There are no foundational plans for his next tour, but the sounds of "The Auld Triangle" and the voices of the crowd will continue to ring throughout Royal Oak Music Theater.
Leave a Comment
About the Writer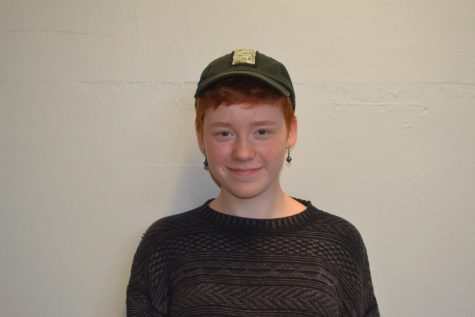 iO Soucy, Journalist
Community High junior, iO Soucy, is practically unable to go an hour without either listening to music or talking about strange funk music. Her favorite scent is lavender, and will almost always choose listening over speaking. If she ever appears glum, slap some mint tea and maybe a waffle in her hands.