Just a Kid from Bridgeport
It is safe to say that Bridgeport, Conn. is not the most well known city in the United States. Yet Bryan Konefsky chose to begin his career in Bridgeport, Conn. rather than move to "the Big Apple", less than 60 miles away.
"It kind of felt like a city where the parents left home, and the kids were in charge," Konefsky said.This made him feel as if he could do anything, which engaged him into looking into many unusual fields. Konefsky recently presented a film at the Ann Arbor Film Festival this March, and is even planning on opening up his own festival in his new home of Albuquerque, N.M. Though he is a successful filmmaker today, his path
Coming out of Bridgeport, Konefsky made the decision to study painting in college and wanted to pursue art as an occupation. He was very passionate in painting, until he noticed that the pieces that were popular, weren't the kind he would enjoy making. He noticed that most people were just following trends, and not producing from the heart. This drifted him away from art, but he still wanted to go into a similar field. He loved creating, and he thought to give film a try, and that is where it all took off.
Unlike painting, Konefsky had no major knowledge in film when he began. He just really loved the idea of it, and wanted to be educated as much as possible. "I tried my best to soak up all the knowledge I could, and went to seminars all around the country."
This was a very interesting time in Konefsky life, and he thought it was more beneficial to listen to real filmmakers talk about their journey, rather than professors talking to a classroom full of students. This journey of knowledge lead him to Ann Arbor, Mich., where he would witness the film festival in person, for the very first time.
"The festival was intriguing, and there was a special spirit and passion there, that I can not describe," Konefsky said He even decided to join the board of advisory for the festival. His first two years attending, were very enjoyable for him, but his third year attending, the event was not quite the same.
He felt they had lost some of that "fire" that it had in its earlier years. Konefsky was disappointed with this, and decided to take a break from the event. Six years later, Konefsky made the decision to attend the event once again, and he was pleasantly surprised by the event. He believes the passion and spirit is back in Ann Arbor, and was ecstatic while attending the event.
Konefsky has created over 30 short films, and even at 59, he doesn't want to stop any time soon. He plans to not only attend the next Ann Arbor Film Festival next March, but also to  create his own festival in his hometown of Albuquerque, N.M. From just a kid from Bridgetown, Konefsky felt he could do anything. At 59 years old, Bryan Konefsky still is still standing by that today.
View Comments (2)
About the Writer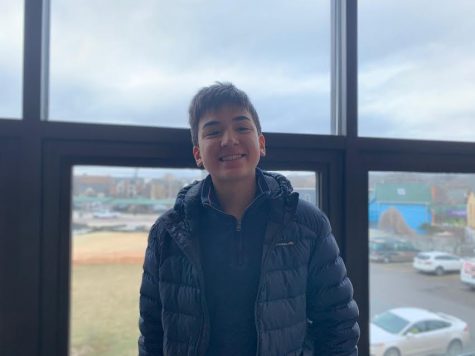 Ben Cooper, Journalist
Ben Cooper is a senior and this is his third year on the Communicator staff. Other than writing and editing articles, Ben enjoys playing basketball, participating in Mock Trial as well as  spending time with his two dogs. He is looking forward to writing all sorts of stories this year, in addition to learning and improving his writing as much as possible.