Tunes of Tenacity
The hallway on the third floor of Community High School (CHS) is almost always full of noise. Students chatter as they eat, study, and socialize, their voices echoing and bouncing off of the gray walls. Yet above the racket floats the music of Miles Durr, a ninth grade pianist and student at CHS.  
Durr was only six years old when he had his first piano lesson. He began his lessons in the home of a strictly "By-the-books" tutor, who may have had an affinity for teaching piano, but certainly not for patience. Whenever Durr played a wrong note his teacher stopped him, rearranged his fingers on the correct keys, and made him start again.  
From the very beginning, Durr showed a strong drive to do the work required for the instrument. He recalls practicing a little every day, then more and more frequently. Eventually, he was spending up to three hours per day studying music theory and sitting behind the keys.
"There were a lot of annoying chores to do," said Durr. Despite his complaints, he continued his studies finding a new teacher who taught at King's Keyboard—a small music store in Ann Arbor.  Although Durr's brother had already quit, Durr found himself enjoying the music he was playing as he began picking out his own pieces and learning more advanced material. Even at his young age, he found that he made more progress by choosing his own work.  By age seven, he was ready for recitals.
"We did recitals at a church nearby," Durr said. "Then, after we stopped, I did recitals with my new teacher."
In the beginning, Durr was intimidated by the idea of performing. "Before, I would just not want to go to any of [my recitals]," Durr said. "I wanted to play by myself, that was enough for me. Now, I want to be able to overcome [my stage fright] so I can have [performing] as a skill in the future," he said.
Working to improve his confidence, Durr seeks out more recitals and other situations that will put him in the necessary discomfort of the spotlight.
On his own unique stage of the third floor hallway, Durr can be heard playing some of his favorite pieces. "Torrent," a piece by Chopin, is—according to Durr—"one of the most difficult pieces out there." Through fast choppy notes, the music exudes a feeling of conflict.
"It's like a violent stream or river, or a maybe a violent burst of motions,"  Durr said. Another piece by Chopin, "Tristesse," has almost the opposite effect.  "The 'Tristesse' etude translates to sadness, but it's really a sense of nostalgia," Durr said. He believes that pieces like these may only take a few weeks to learn, but often several years to truly perfect.  
"I've been playing these kinds of pieces for so long that some of it has just been subconsciously ingrained in my memory," Durr said. "Like muscle memory, when I memorize patterns so much it just comes naturally."
Durr also described the way music can match his personal inner dialogue; the faster pieces matching the intensity of the rapid thoughts racing through his head, while the smoother, slower pieces bring a sense of tranquility.  One of his largest current goals is to play Rachmaninov's second piano concerto on stage, with an orchestra. Despite the difficulty and emotional complexity of the piece, Durr feels that he is ready to take on such a challenge.
Although Durr acknowledges that a profession as a concert pianist or music teacher may be a difficult goal to achieve, he is certain that music will remain a part of his future. "I believe anyone can devote their time to the arts, and with the right initiative develop an amazing talent for it," said Durr. "I've always seemed to understand music intuitively, and it gave me a different way to view life."
About the Contributor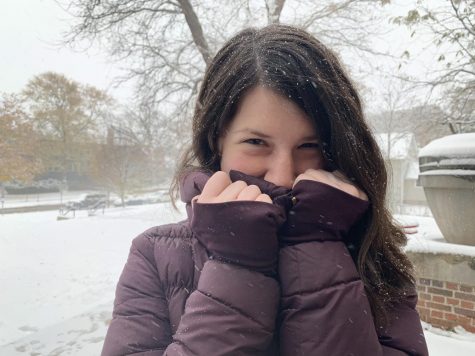 Lacey Cooper, Copy Editor
Lacey Cooper is a junior at Community High School and a Copy Editor on the Communicator. Entering her third year on staff, she is ecstatic to be a part of this community of student journalists. Lacey enjoys singing, reading, writing, watching The Office, and goofing off with friends. On a weeknight she can be found at rehearsal, the library, or a friend's house (although mostly at rehearsal).