Poetry Club's first meeting
As the aroma of pizza filled the small first floor classroom, a crowd quickly gathered. But the allure of the free pizza and drinks wasn't the real draw for this respectable crowd of students. It was the allure of poems — both reading and writing them — that brought them here.
On Wednesday morning during lunch, Poetry Club met in Room 122 for its opening meeting of the year. During this eventful gathering, the new staff advisor Robert Morgan welcomed everybody before turning things over to U of M graduate student Alex Kime, who took the group through a discussion of several poems he had selected. The last few minutes were set aside for individual writing.
Poetry Club has one major difference from last year: its longtime advisor, Ellen Stone, has retired. "Poetry club really was built on the back of Ellen Stone, at least as we know it today," Morgan said.
According to Morgan, Poetry Club has a lot of reading and writing of poetry, as might be expected. But it also includes a lot of news and discussions of opportunities in the world of poetry, such as periodicals accepting poetry submissions and other publication chances. Finally, it also hosts visiting poets who come in to give a talk to the student poets. "So it's part writing, part reading, and part of this sort of professional exposure, both in that you might get your work published, or that you can see sort of the real lived experience of a professional poet and what their life is like," Morgan said.
Poetry Club will continue to meet on Wednesday at lunch for the most part, except for weeks where the Wednesday schedule is unusual; those weeks, it will meet on Friday at lunch. A complete calendar, with meeting dates and guest speakers, is posted outside Room 303.
Leave a Comment
About the Writer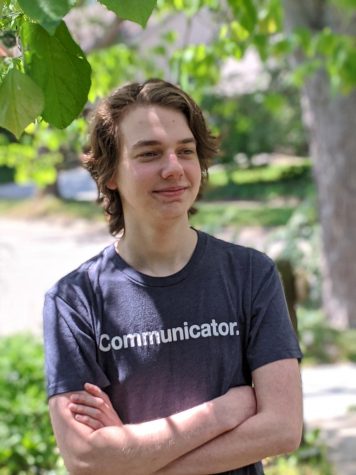 Charles Solomon, Web Editor-in-Chief
Charles Solomon is a senior at community, and this will be his seventh semester on staff. He is excited for many things about the year ahead, but the thing he is probably most proud of is the fact that he is posting this profile on time and not a year late like previous years. When not in class, Charles can often be found starting pointless debates in Mock Trial, practicing Jazz Violin for his combo, or plotting to translate the Communicator website into Tolkien's Elvish. In his scant free time, he enjoys reading books he doesn't have time for, watching bad movies, checking the news, and on special occasions spectacularly losing overcomplicated video games.