Record-breaking attendance at the annual DWOW dance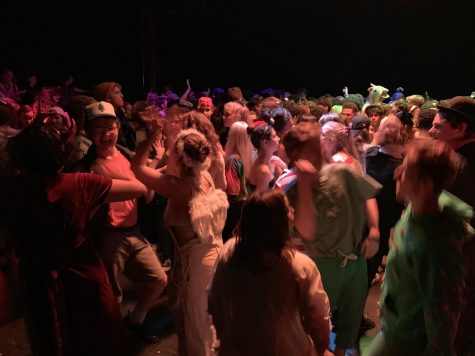 On Friday, Oct. 26., the annual Halloween Dance, held by the Dewoskin forum in the Craft Theater, was filled with hundreds of lively students. The preparations for this event began weeks in advance, but Judith Dewoskin, DWOW's forum leader, has psychologically prepared for this dance for 25 years.
In forum, her students have helped with preparations. "I started worrying about spider webbing, worrying about music, worrying about how many kids will be there," Dewoskin said. "I am also excited for it, I think it is the best dance in the world."
DWOW students compete for prizes on who can sell the most tickets. This year more than 380 students attended the dance, the biggest yet. Dewoskin hoped that zillions of kids would fill Craft Theatre from 8-11 p.m., and dance the whole time.
"I think dances are the best thing in the world for people," Dewoskin said. "I think it is the best exercise, I think it is the best way of being in touch with your body. I have always loved to dance and I know that dancing is good for the soul and good for your body. Dancing is good for everyone who's on that floor."
With the biggest turn out yet and limited space in the theatre, dancing became more difficult. It was tightly packed, and many people stumbled and fell, but this did not stop the students from dancing. The majority of students came dressed in Halloween costumes; some dressed in groups, by themselves, or even couples. A popular costume this year were fans and athletes. There were, of course, the classic cat, angel and devil costumes, as well.  
"This is the most Community dance you can possibly have," CHS senior Aviva Satz-Kojis said. "We all dress in stupid costumes, dance and have a good time."
Many students say this dance is better than the homecoming dances at other schools. Dewoskin is always wondering if there is a 'buzz' or word out about her dance, and the turn out growing every year shows how popular CHS's Halloween dance is.
This year with so many students attending, Satz-Kojis felt that she barely knew any because there were so many unfamiliar faces. Some faces were unfamiliar due to all their face paint for their costumes. This dance gives students the opportunity to dress up, now that they cannot go trick or treat anymore.
Administration, teachers, and parents all worry about the safety of the students. Students bringing guests from other schools to the dance also brings along more safety issues. CHS offers a lot of freedom with bringing guests, allowing students to have a fun time with friends. But with more students coming, adults being to worry about transportation to and from the dance, and choices students will make.
"I think it is important to have a school dance because it is a social activity that can be monitored by parents but allows people to have fun and kind of blow off some steam," assistant dean, Rebecca Westrate said. "It is that time of year that everyone needs to blow off some steam."
About the Contributor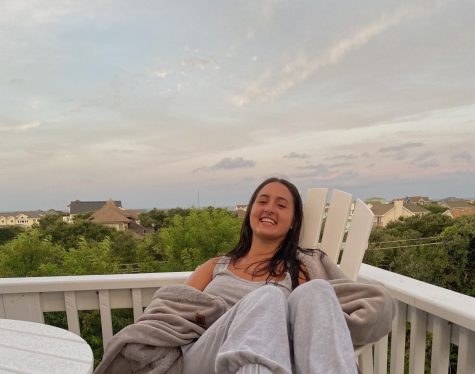 Hannah Bernstein, Managing Editor
Hannah is a senior at Community, and she is in her fourth year on staff. Outside of school, she plays volleyball and tennis. She also likes to spend time with friends and family, and go on walks outside with her dog, Bernie. Hannah loves to be outside, but she is terrified of birds, specifically seagulls. She was born in Florida and has been attacked by seagulls many times at the beach.