Mini Gym Musicians: The Left Lanes
Welcome to the second episode of Mini Gym Musicians, featuring The Left Lanes! We were genuinely worried about being able to fit two guitarists, a bassist, a drummer and a vocalist in our mini gym closet. But, as you can see, the band fit with just a bit of room to spare.
A blend of Community and Skyline students, The Left Lanes have begun to make a name for themselves in Ann Arbor. Maxey's voice drifts soft and smooth over intricate guitar melodies and the simplicity of the egg shaker. Among more established songs, the band played "Autumn," a newly released single which is reviewed on The Communicator. To our delight, right before packing up, the Left Lanes threw in a bonus song called "Leave It," in which we got to hear vocals from the rest of the band while Maxey's voice floated above.  
Thanks for watching, and again, if you are interested in your own Mini Gym Musician session, please let us know!
Songs:
"F***ed Up"
"Millennial Architect"
"Autumn"
"Leave It"
Guitar: Isaac McKenna, Max Mellor
Bass: Noah Hogan
Drums: Gabe Wood
Vocals: Nata Maxey
Leave a Comment
About the Writers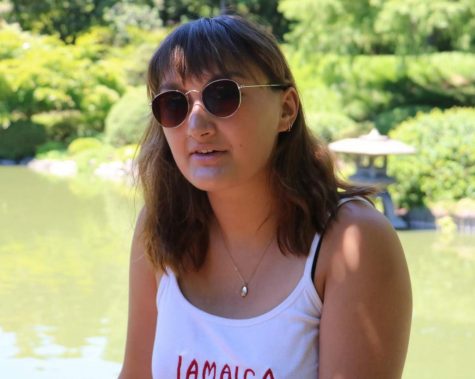 Mira Simonton-Chao, Website Editor-in-chief
Mira is a senior at Community High School and has been on staff for the last four years. She loves writing and The Communicator but also really hates writing staff profiles. She is passionate about American cultural studies, music and living the most vibrant and expressive life she possibly can. She also loves traveling and cooking yum food.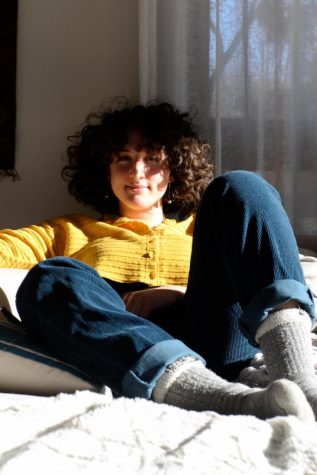 Ella Edelstein, Design Editor
Ella is a senior and Design Editor for The Communicator. She is the host of Chopped and Mini Gym Musicians.  She loves drawing little faces on every surface possible and talking about veganism. She can only read Google Docs in 12 point Times New Roman font.