Four Community High School poets move on to poetry slam finals
It's dark, silent, until words ring out. This provokes something: snaps, maybe, or the response phrase "speak your truth," or the nodding of heads across the audience; eventually these moments regress into silence once more and the voice continues on.
On Friday, Nov. 16, an eclectic mix of people — poets, parents, judges, enthusiasts, supportive friends and teachers — gathered in the dimly lit Craft Theatre at Community for the Community High Poetry Slam. The stage was highlighted, with its two microphones and a round of poets from Community and other schools. Robert Morgan made occasional appearances to announce the poets, but the dominant presence on the stage was these poets and their words.
The Community High Poetry Slam was the last of three; Ypsilanti and Pioneer High Schools have already had their slam. At Community, nineteen poets were competing. Ten moved on to the second round, and then eight, although originally seven slots were allotted, to the city-wide slam at the Neutral Zone on Nov. 30.
Emma Zielinski is a senior at Community and a first-time reader at the slam. Reading in her first slam was "terrifying, exhilarating, life-changing," Zielinski said. "It's like all these emotions are with you but when you get up there, for me at least, everything kind of clears and then all of a sudden it's just me and my words and there's nothing else."
All words were communicated to the audience as well as a panel of five judges to the right of the stage (interaction was limited, with the exception of one poet asked if they were ready before beginning).  Throughout the presentation of poems, the occasional note was made, or water sipped, all while intently listening for content, form, sound, and tone.
Nadine Marshall sat at the judging table that night and found judging very different from being an audience member. The hardest part is scoring the poems.
"Why would anybody give a score to poems?" Marshall said. "That's so terrible."
But there's a flip side: "I think the best part of being a judge is just being swept away by every single poet that touches the stage and just being in awe of like all the content, the way in which people bring their whole selves," Marshall said.
In the end, eight poets moved on to finals at the Neutral Zone, due to a three-way tie for first place. Four Community poets moved on: Emma Zielinski in fifth, Martha Ribant in fourth, Nicole Tooley in third, and Andie Tappenden in second.
Is your interest piqued? Want to augment your day with some poetry? Go see these finalists and more read at the Neutral Zone from 6-8 on Nov. 30.
Leave a Comment
About the Contributor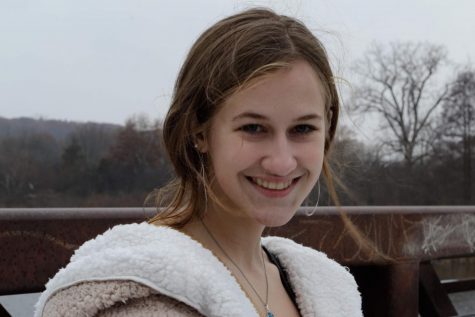 Zoe Lubetkin, Managing Editor
Zoe
Lubetkin
is a senior and currently embarking on her third and final year on the Communicator. When she's not writing for on staff, she enjoys walking everywhere and swimming at Barton, as well as sushi and chai lattes. She's a competitive rock climber, and competitive in most things too — she's an Aries. She uses Spotify, not Apple Music, and her Spotify Unwrapped was pretty truthful. This year she listened to 17 hours of Childish Gambino, whatever that means. Next year, hopefully at least one college will accept her, and she can walk to a fun French class at this college.