CR Spotlight: Emma Hoffman
Emma Hoffman, Community High senior, sits in the hallway editing clips with the software on her laptop. A familiar sight, as Hoffman pursues her passion for film not one, but two Community Resource (CR) classes. Whether working on a professional documentary, or doing homework for her college class Hoffman continues to go after her goal of a life in film after high school.
At the University of Michigan, Hoffman is taking Introduction to Media Studies, learning all the necessary things taught in a college film class. In addition to learning in the classroom environment, Hoffman also gets class credit for assisting with the Community High School documentary, "Commie High: The Film."
Hoffman began working on the CR her sophomore year with five other students, helping to edit scenes, and assisting with the mic'd up interviews of students and faculty.
"I remember sophomore year, when I started, I never thought I would take a CR," Hoffman said. "Now I've done it for years."
Now three years into the program, Hoffman has a much larger role in the production.  After the other five students moved onto other things or graduated, Hoffman is the only student left on the documentary. With a leading role, Hoffman video chats with director Donald Harrison and head editor David Cameron to talk about the production and get her individual responsibilities assigned.
"We've finished filming, so now we are in the editing process," Hoffman said. "I take conference calls and Facetimes from Dave… and talk about some new editing techniques."
With this format, Hoffman has plenty of freedom for completing her work.
"I can do my work wherever I can take my computer," Hoffman said. "With my software I can do editing from a friend's house or even Sweetwaters."
With a CR workload set up on the basis of self motivation, Hoffman if given the opportunity to complete her work whenever most convenient throughout the day.
In her time spent on the documentary, Hoffman has learned a lot about the history of the school. In order to capture the full picture of "Commie High," the film crew looked into the murky past of the school
"When Community first started a lot of people used drugs, and it was kind of a burn out school," Hoffman said. "There are interviews where people talk about a teacher involved with a student romantically, which I thought would never happen here."
Through all her time spent on "Commie High," Hoffman has an entire other class focused on film. In her other CR, Hoffman learns about the theoretical aspects of film, with her professor, Dr. Sarah Marie. Walking twice a week to the Modern Languages building for a lecture with 100 other students, and once on Fridays to Life Sciences for a small discussion group, Hoffman dives into a collegiate curriculum around the theories of digital media and its effects on modern life.
"We read a lot of studies on scientific investigation with a lot of reading homework and a few essays," Hoffman said. "We try to relate these alternate forms of media to how they affect the real world and, in turn, affect humans."
With so much study into media, Hoffman hopes to study film at a possible range of schools from Emerson in Boston or USC in Los Angeles.
"Because of my CR, I know how to set up for an interview and things to look for, like lighting, where the sandbags on like our audio equipment and stuff so it doesn't move, how to mic up someone, the very basic skills," Hoffman said. "It's good to know where to start and I won't be totally new at this in college."
"Film is such a unique form of storytelling," Hoffman said. "Working with film, you work with so many different moving pieces, but you end up creating this smooth, flowing project… the way that you can use both audio and visual is to work together and even enhance each other is something I find just incredible."
Leave a Comment
About the Writer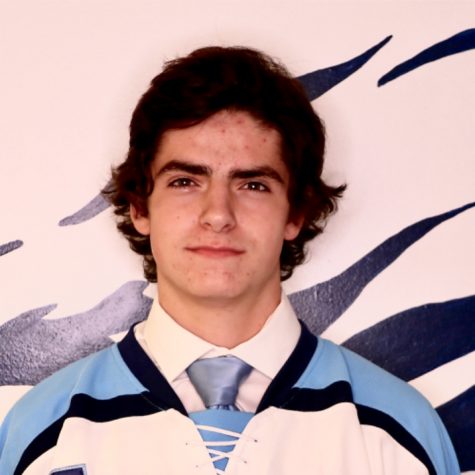 Shea O'Brien, Sports Editor
A fine young journalist of 16 years, O'Brien writes predominantly about sports, his constant the "CR Spotlight", and his upcoming podcast "Milkshakes and Hot Takes" with co-host Andrew Lafferty. A baseball and hockey player at Skyline, O'Brien is known for his love of Tom Brady, Notre Dame football, Boston area teams and Michigan Field Hockey. Take a look at his articles, they appear to be well written with great insight.