Marci Harris: teaching French
Marci Harris, 20 years old, stands in front of a class at West Aurora High School, located in a small city in Illinois. Nervously, she looks around the room to see people of a wide variety of ages, but what stands out to her the most are the two seniors in the room, only two years younger than her.
As Harris began teaching her peers she realized that the energy in the room was not fit for her.
"That was when I realized that I was a middle school teacher. For 25 years, I taught middle school, and I loved the energy of the kids." Harris said. "I went from the high school class that was always so tired to the middle school kids that were off the wall, and I'm very energetic like that."
Harris began learning French in the seventh grade. Throughout her middle school years, she never developed a strong liking for the language, but in high school, she fell in love.
"When I got to high school, I continued with French, and I had amazing teachers. I loved every teacher I had." Harris said. " My sophomore year I went to Paris for a week, and I completely fell in love; it really changed my life."
Harris attended the University of Michigan, where she planned on becoming an English teacher, though she was still taking a French class on the side.
The English courses felt dull to Harris, while her French class still had a level of excitement.
"I didn't like either of my English classes, and I didn't like my professors," Harris said. "I loved my French professor. She was super cool, and the bottom line was that French came easy to me, so that's how I fell into becoming a French teacher."
After teaching at West Aurora High School for three years, Harris moved back to Ann Arbor. She began teaching at Slauson Middle School, where she continued to work for 25 years.
"I initially taught seventh and eighth grade, and I loved it so much that the next year I went full time, teaching sixth, seventh and eighth grade," Harris said.
On top of teaching French at Slauson, Harris was also the Ann Arbor District Coordinator for world language. This position started to consume her time, causing her to miss her classes at Slauson.
"I was missing classes because I was traveling to conferences out of state," Harris said. "I felt like my students were being short-changed."
Harris was offered a full-time position as the head district coordinator, and she decided to accept.
"It coincidentally worked out for me because at the time we had new principals, and I was having a hard time with the new leadership style. It wasn't a good fit for me," Harris said.
After Harris left Slauson, she was no longer in a school, but instead a lonely office. She missed spirit week and being part of a school community.
"I care much more about the school community than I do being a French teacher. I teach students before I teach French," Harris said.
In the summer of 2018, Harris was offered a position at Community to teach French 1 and French 4. Although she was initially uneasy about the alternative style of Community, accepting the job was an easy choice.
"I believe everything in life happens for a reason. I probably would have never left Slauson, but I'm so glad I did," Harris said. "I love teaching high school. I think Community is the best deal in the world. I didn't understand everything about Community —  I don't think anybody does unless they're here — but it is such an amazing high school."
Although she has only been at the school for a semester, Harris has already adjusted to the new atmosphere at Community.
"At first the block schedule freaked me out. I wasn't sure if I could do an hour and 40-minute class, but now I love the schedule and I realized how much I could get done in that time," Harris said.
Now that Harris has adjusted to Community, she would not want to be teaching anywhere else.
"I like that if I show the students respect and trust, they will reciprocate it back to me," Harris said. "I love the freedom and independence, and how we are cultivating trust and mutual respect for one another."
Leave a Comment
About the Contributor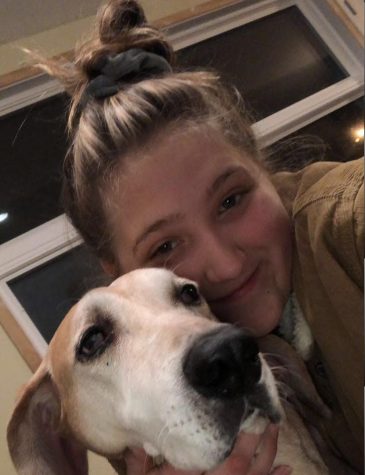 Sophie Nunez, Writer

Sophie Nunez is a Sophomore at Community and it is her first year writing for the Communicator. She loves animals and spends the majority of her time riding horses, spending time with her bunnies and playing with her dogs. She also enjoys volunteering with rabbits and horses in need.  She loves watching David Dobrik and Cody Ko. She also enjoys blasting Lady Gaga in the car with her best friend Hope. She talks very loudly all the time which can occasionally be annoying.