Spider-Man: Into the Spider-Verse
In the new movie "Spider-Man: Into the Spider-Verse," Phil Lord and Christopher Miller bring a unique take on the Spider-Man story. With stunning animations and goofy dialogue, all Spider-Man fans will get a kick at this new origin story.
Brooklyn teen Miles Morales becomes the new spiderman after Peter Parker tragically dies in a battle against the movies main villainKing-Pin. He discovers abilities separate to his predecessor, including invisibility and electric shock. Though, he has troubles using them. He believes he is the only Spider-Man but is soon met by many other "spider-people." As the new team of Spidy's prepares to stop a rip in the Time-Space Continuum, Morales struggles to gain their support and is treated like a rookie. The struggle to find his place creates a story focused on him embracing his power, rather than utilizing it.
The universe in "Spider-Man: Into the Spider-Verse" is separate of that from past Spider-Man movies. This new look on a classic story, with bold leaps in animation, is something Marvel has never dealt with before, but it paid off. The movie took home Best Animated Feature at the Golden Globes.
This movie was a large step in the future of Superhero films. Portraying Spider-Man in a new light paid off, and will hopefully influence many more stories to be just like it.
The movie also came with an extremely talented soundtrack, featuring artists such as: Juice World, Post Malone, Nicki Minaj and Jaden Smith. "Sunflower," by Post Malone and Swae Lee, has been atop the top 100 chart since October 15th. The hip soundtrack adds on to the pop-culture infused film and appeals to a wide range of ages.
With great animation, a great soundtrack and an amazing story, "Spider-Man: Into the Spider-Verse" is a story of adversity, friendship and responsibility, making it a movie anyone could enjoy.


Leave a Comment
About the Contributor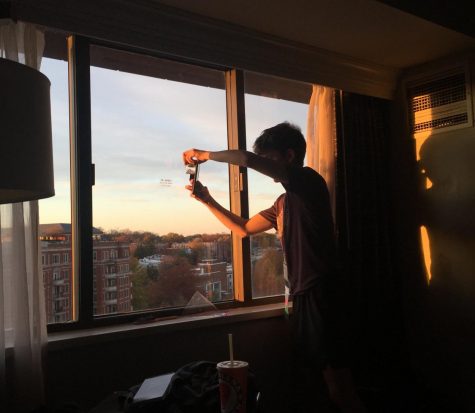 Evan Ash, Opinion Editor
Evan Ash is currently a senior at Community High School and this will be his sixth semester in journalism. Evan has loved the opportunities to meet new people at a personal level through journalism, interviewing people from all walks of life on many different topics — from basketball players like Cassius Winston to famous artists like 24KGoldn. He considers himself to have an outgoing and spunky personality, often starting sing-alongs and dance parties in the middle of class. This year, he will be working as the Opinion Editor, leaving his past position of Sports Editor to tackle the 2020 election in a time of great divide in the United States. He hopes he can generate tough conversations and cover the pressing topics in different forms of media, including video series and podcasts. He plans on studying political science in college and hopes to one day be an anchor on a mainstream news network.