Pride and joy
Noah Hogan arrived after more than eleven hours on the road. A musician with a dream of performing began his musical life in the place he currently lives now, Ann Arbor, Michigan.  Hogan moved from North Carolina to Ann Arbor when he was four years old. His father  found a teaching job at the University of Michigan so he and his family moved so they could all live together. Hogan began his music lessons at the Ann Arbor Music Center a couple months after he first moved in.
"I listened to a lot of Stevie Ray Vaughan and he really made me want to play the guitar," Hogan said. "I was initially to small to actually play the guitar so I started on the ukulele and I played the ukulele for two years until I grew enough to start playing the guitar so when I was six I got a small Squier Stratocaster. I've been playing guitar ever since then."
Hogan grew up listening to Stevie Ray Vaughan who inspired his liking for, and playing of the guitar. There are many artists who have motivated him to continue learning about the guitar.
"Throughout the years it's shifted around from Jimi Hendrix and Jimmy Page and now I have gotten into the jazz guys like Pat Metheny and West Montgomery, John Scofield and those guys," Hogan said.
Hogan has been playing in bands since he started at the Ann Arbor Music Center. He has been practicing on his own but he hasn't performed anywhere alone.
Hogan is currently a junior at Community High School and plays in three different bands, the Left Lanes, the Community High jazz band, and Prophecy. He could possibly join Present Company in the near future. He is involved in many bands and he plays different instruments and different types of music.
The Left Lanes, which Hogan mostly play bass in, is an alternative Rock/ Indie band. He occasionally plays guitar. Prophecy is an R&B group, and the jazz band plays all jazz music.  Present Company which is a group that Hogan could possibly join in the future will be a mixed genres band.
Hogan has joined many bands over his lifetime and played many songs. He has devoted most of his time outside of school to playing his instruments. Hogan is well experienced in knowing all of his songs and playing in many performances with different types of music in front of him.
"It's definitely difficult trying to find time to do it[ practice his music]," Hogan said. "When it comes to the music again I enjoy it enough, I'm not thinking like oh it's hard to switch, and way back I thought, I just want to do one thing, I just want to play Rock or whatever but now I think that it's definitely helpful and it's help me grow as a musician by playing all these different genres."
His family has provided everything for him, they have bought him equipment and given him rides to his performances. It hasn't always been easy, but making room for what he wants to do is important.
"I guess the most difficult decision I had to make when it comes to music was when I was coming into high school. I was playing music and I was in a band and I was about to be in high school and the jazz program and so I had to decide how I wanted to use my time. I couldn't play soccer and play music and do everything else that I wanted to do. So at the beginning of high school I ended up deciding to stop playing soccer and just focus on music," Hogan said.
 He began playing Blues-Rock and it evolved more into Rock.  In high school he began playing Jazz music. He has been listening and playing many different genres of music of his life. His high school offers a great Jazz program that  won the 2018 International Downbeat Magazine "Best High School Jazz Group" award. His jazz teacher Jack Wagner has given Hogan countless opportunities to play with fellow musicians and give Hogan the tips to being a better learner in the music world.
"Well, my band the Left Lanes won the battle of the bands this year. I got a small scholarship to go to the Berklee Guitar Sessions in the summer 2018 and then at the end of that I was awarded with a full tuition scholarship to the five week summer program in 2019, so I guess that's close to an award," Hogan said.
He takes great pride in gaining these awards. "I prefer to look at what comes after the achievements and the opportunities that come from them," Hogan said.  He has also received a chance to play at Top of the Park, a summer event in Ann Arbor, Michigan where people can listen to music, eat food, and enjoy the summer weather with their friends or family. This was important to Hogan because he was able to share his music at a popular event in his community.
College is the next step in his musical career. Hogan is looking to study music. He wants to continue to  perform and make an income off of his music.
"One of the things I've been looking at when I've been looking at colleges now is how many performance opportunities they're going to have in the city," Hogan said."In Boston, you're going to have a ton of opportunities to play. If everything goes well that would be my primary income source during college like a weekly or nightly gig."
Hogan hasn't always been playing the guitar and he even sacrificed playing it so he could be in a band.  "I started Bass, It was probably 7th or 8th grade," Hogan said. "I started playing Bass, I just thought it would be interesting and the band program at the music center needed more bass players and so I decided to pick up the bass," Hogan said
Since he was a little kid, Hogan wanted to play the guitar. He gave up soccer and other after school activities so he could focus on what he loves to do.
"I know I'm definitely never going to give up the guitar, and I assume down the road I will pick up more and more instruments."
Leave a Comment
About the Contributor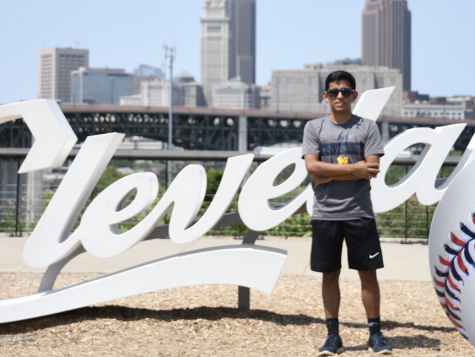 Josh Boland, Journalist
Josh Boland is a senior and in his second year on the Communicator staff. Josh has a great interest in photography which he devotes lots of time to doing. He also enjoys playing soccer, watching sports with friends, and traveling. Josh is hoping to attend a college with great student media opportunities and good athletic programs which he can photograph.