A winged runner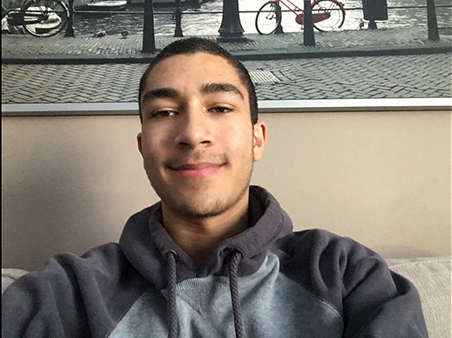 It was the winter of 2017, Savante Daniel, a member of the Skyline High School Track and Field team, was preparing to participate in the Sprint-Medley-Relay(SMR) and the 4 by 400 meter relay. His meet took place at Saginaw Valley State University's indoor track facility. This was his second ever high school meet and the first time Daniel had competed at a track outside of the city of Ann Arbor. His team broke school records by running the fastest time in school history, in both relays that he competed in. In addition Skyline High school qualified for the state high school track and field competition by running a minute faster than the second team.
Daniel attends track and field after school, Monday through Friday, from 3:15 to 5:00. He runs track all year as his only extracurricular activity. Currently his events are the 400 meter dash, the 200 meter dash, the four-by-two hundred, and the four-by-four hundred meter relay. Occasionally he will also compete in the 800 meter dash.
Daniel truly began track and field because his mother, and showcased this by saying "My mom is actually really thrilled for it. I mean she was the main reason I even started doing track and field,  when I was in middle school she wanted me to do a sport besides basketball."
"Ever since I was a little kid I liked running from watching Usain Bolt compete, and I wanted to become a 100 meter runner when I was little because of him." Daniel said.
Daniel started track at Clague Middle School, and first competed during spring of his sixth grade year.  He did well during his first season and because of this, he decided to continue running track. At the end of seventh grade Daniel transferred schools and ran his final year at Forsythe Middle School.
"My freshman year when I first joined the high school track, I was actually pretty nervous, I didn't know how I was going to do and I thought I was going to be pretty slow compared to these other guys," Daniel said. The pressure that [my peers} put on me when I first joined was intense because I had to go into many relays and perform well in order for us to go to states for the first time in Skyline history."
Currently Daniel is a junior and has gained much more experience through competing.
"This year there's a lot of pressure put on me since most of the seniors that we had last year left us, and they were important to our team," He said. I mean it's just me right now from the other team that was in that relay for nationals and went to states. The competition this year is also a lot more [difficult] than it was last year."
Currently Daniel's team is relatively small with only ten sprinters, as opposed to the usual 25 or 30 members on other teams. "We have lost a lot of people that were regular people that would come to practice every day," Daniel said. He has had to join more race groups on his team, because he doesn't have a lot of teammates.
In 2018, Daniel competed in the SMR and him along with three other of his teammates received a third place and made it to states. After competing in states he and the other male runners on his team earned a trip to Nationals, for the first time in Skyline history. "That was a pretty special moment for me and was probably my most important award," Daniel said.
2019 is his third year of track and field.  "My goal for this year is to make it to states again for indoor but also to make it to nationals as an individual. Last year we only made it for relays[with a team] and I'd like to just make it for an individual," He said.  Outdoor i'd like to make it to nationals and to states because there is no Skyline sprinting team that has ever made it to the states or Nationals. Just to have a sprint team [from Skyline] go to states or nationals would be cool."
"My dream school right now is the University of Oregon. I like their sprinting program," He said. His number one focus is track and field when looking at possible universities. Oregon is a long way to travel to and his family is not interested in sending him so far away for school.
"We've discussed it, my mom is not too thrilled about it obviously, because she just wants me to stay home, but I gotta do what I think is the best possible thing for me to get to my end goal," Daniel said. The end goal is being the best sprinter I can be. If it's staying here is what's best for me that's what I would do, but right now it looks like a really good track school is where I want to go."
Leave a Comment
About the Contributor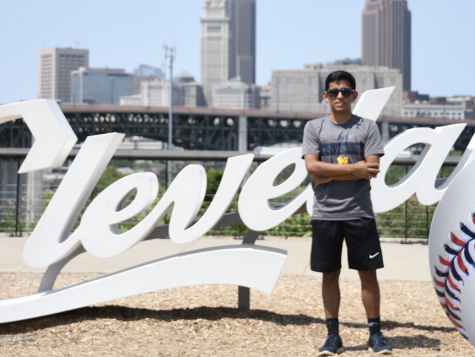 Josh Boland, Journalist
Josh Boland is a senior and in his second year on the Communicator staff. Josh has a great interest in photography which he devotes lots of time to doing. He also enjoys playing soccer, watching sports with friends, and traveling. Josh is hoping to attend a college with great student media opportunities and good athletic programs which he can photograph.