"Father of 4"
The Migos success has been rampant. Ever since the rappers' hit "Versace" released, they have skyrocketed to fame and continue to create hit after hit. But few realize that during their initial success the group lost Offset to legal troubles. Forced to watch his rampant success from behind bars, Offset has continually struggled with his identity vs. the identity of Migos as a group.
The desire to establish themselves as solo artists has lead to Quavo, Takeoff and now Offset to each release their own albums this year. Uncharacteristically, Offset has moved away from the often materialistic and braggadocious rap of the Migos and instead on his album, "FATHER OF 4," Takeoff touches on his many ups and downs in life. The entire album carries a tone of self-reflection previous untouched by Offset's verses as a Migo.
In the namesake song "FATHER OF 4," Offset discusses the woes of being a young father. "I was 17 years old when I had you, Trynna find my soul when I had you, I was oh so broke when I had you" Offset uses this song as a way to speak to his kids and repent for his previous shortcomings as a young father. But he is careful to not make excuses, in fact, he reaffirms his commitment to his children by promising to "grind" for them and that the past really is the past now that he has the money to provide for his children.
Although Offset does not wish to dig up the past, he also recognizes the deep effect it has had on him and those around him. "We was livin' up in College Park, Midnight, heard the gunfight" Growing up in Atlanta, Offset realizes that given where he grew up he is extremely grateful to make it out of his neighborhood. "Where I'm from, niggas cash, don't lease (Cash), Where I'm from, the stick's on the backseat (Stick sticks), Where I'm from, police put you six feet" Again, Offset reflects on his criminal past, questioning how he even made it out of a neighborhood where people drive with a gun just for their own safety and how truly blessed he is to not only have survived but to become a platinum-selling artist. This song serves as a commentary on the many barriers in the way of youth in these neighborhoods while also celebrating his successes.
Offset has clearly distinguished himself as a solo artist. From these songs alone you can see he has added the deeper meaning to his rap that Migos are often criticized for lacking. By maintaining the toted "Migos" flow and tackling deeper issues like the gang conflict in his old neighborhood and his own shortcomings as a father. Overall, "FATHER OF 4" proves all those that doubted Offset wrong and Offset is more than just another rapper with catchy hooks and no meaning to their rap.
Leave a Comment
About the Contributor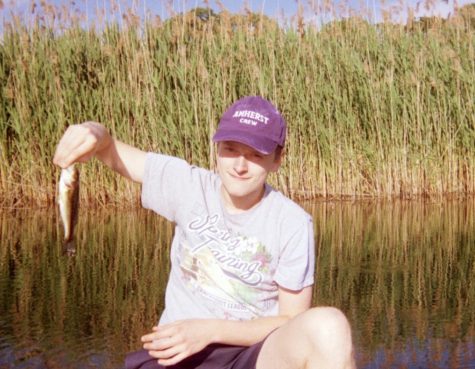 Brenan Dionne, A&E Editor
Brenan Dionne is the A&E editor for the Communicator. This will be his second year working on the Communicator. His passion is finger-knitting. When he's not working on the publication, you're most likely to find him debating with his friends over sports or music.