A$AP Ferg to perform at 2019 SpringFest
For eight years, MUSIC (Michigan Undergrads Serving In the Community) Matters, a student-run non-profit at the University of Michigan, has worked to bring together the community it serves and to promote social change by not only hosting events but also through philanthropy.
MUSIC Matters has donated over ten thousand dollars to Mott's children's hospital and kickstarted a student exchange program and spearheaded a summer camp for low-income, Detroit area, 9th through 12th grade students, among other projects.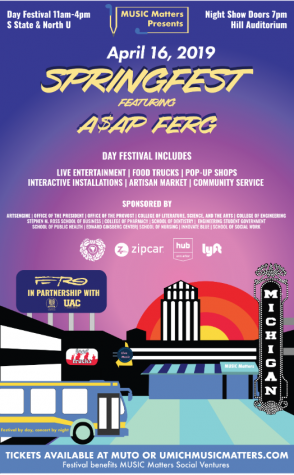 To fund these philanthropic projects MUSIC Matters is hosting its yearly, day-long music festival, SpringFest, which has in the past attracted over 10,000 attendees with headliners such as J.Cole, Migos, and 2Chainz . Taking place at Hill Auditorium on Tuesday, April 16th, SpringFest will showcase local talent and give a platform to rising stars in our community.
The day portion of the event will be free to all attendees and the night portion, featuring the headlining artist, will cost $25 for the general public and University of Michigan students only pay $15.
SpringFest's 2019 headliner is New York rapper, A$AP Ferg, whose most recent album "Trap Lord" peaked at 9th on the US Hot 100 chart and whose hit single "Plain Jane" is now certified double platinum. Ferg is a member of the A$AP Mob collective, a rap group with notable members including A$AP Rocky and Playboi Carti.
Along with big name acts, SpringFest will also showcase the work of its community partners, Heal-Move-Shift and Michigan Movement who have embarked on projects including the facilitation of seminars about music's palliative effects on mental illness. The event will also include an art showcase and food provided by local food trucks.
SpringFest is the perfect way to support local talent, business and philanthropy while listening to your favorite hometown artists as well as some of the biggest names in the industry.
To buy tickets and learn more about SpringFest and the MUSIC Matters organization visit:
Leave a Comment
About the Writer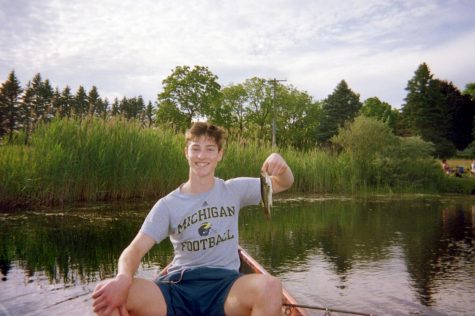 Jordan De Padova, Managing Editor
Jordan De Padova is a senior who splits his time between both Pioneer and Community High School. He is a Managing editor going into his third year on staff who loves to listen to, talk about, and write about music. Jordan owns 4 pairs of white Reebok shoes and is most proud of his position as "Line Leader" in Mrs. Gerhart's 5th grade class. In the future he hopes to scuba dive and produce a Billboard Hot 100 song, but as of right now he's enjoying Mock Trial and giving free rides.