From Ruthven to the BSB
A preview of the renovated University of Michigan Museum of Natural History set to open on Sunday, April 14.
Since its opening in 1928, the University of Michigan Museum of Natural History (UMMNH) was housed in the Alexander G. Ruthven Museums Building located at the corner of N. University and Washtenaw Ave. In early 2018, the museum closed to the public and began the long process of moving fossils and dioramas into the newly-constructed Biological Sciences Building (BSB).
   The decision to relocate the UMMNH was partly caused by the relocation of the U of M natural sciences departments into the BSB, previously housed in two buildings: the Ruthven and the Edward Henry Kraus building. With both structures built in the early 1900s, they could no longer expand to house the types of technology that were needed for scientific research and coursework.
   "[The Ruthven and the Kraus] just couldn't handle the kind of science that needed to be done," said Lori Dick, manager of marketing and communications at the UMMNH. "[The move] was really all about getting modern labs for the science and research that's going on. As part of that, it was determined to bring the museum into the same building and have it be the public face of the research that's going on on campus and in this building."
   Despite the relocation of the museum, the Ruthven is not being torn down; the building is currently being renovated to house senior administration offices — like those of the University President, Mark Schlissel.
   The new UMMNH is opening to the public on Sunday, April 14 with extended hours from 8 a.m.–8 p.m..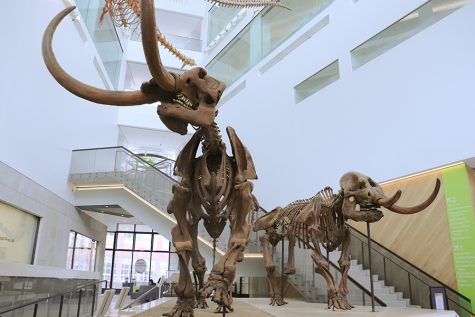 However, only half of the museum is opening that day: the Mastodon exhibit, the Evolution: Life Through Time exhibit, the Tree of Life, the planetarium and dome theatre and a few smaller exhibits scattered throughout. The rest of the museum is set to open in November 2019.
   The museum is free for families and individuals, but donations are appreciated so the museum can continue to stay free in addition to creating programs and provide scholarships for school groups to come in. More details about the museum exhibits and hours can be found at their website, https://lsa.umich.edu/ummnh.