The first annual CHS Smash Tournament is a smashing success
By 4 p.m. on a Friday afternoon, most Community High students have vacated the building, off for the weekend. The building is quiet, the doors locked, the lights off. But on Friday, April 16, Community's second floor was far from silent. Sound and light spilled from the open doors of the Craft Theatre, as 24 competitors gathered for Community's Super Smash Bros. Ultimate Tournament.
The CHS Smash Tournament was organized by the Morgan Forum, as their fundraiser for Forum Day.
"One of my forumettes, Ben Chambers is really interested in competitive Smash, and he goes to a lot of Smash tournaments," said Forum Leader Robert Morgan. "We always see a lot of people in the halls playing Smash, so we thought it would be a fun thing to do for CHS."
The tournament was open to anyone who wanted to play, including those from other schools. Registration was $5, and pizza was available for purchase as part of the fundraiser. Prizes included Sweetwaters gift cards for the top four players, as well as trophies for the winner and crowd favorite. The trophies, depicting "Master Hand" for the champion and "Kirby with Legs" for the crowd favorite, were 3D-printed by Engineering Teacher George Lancaster.
The tournament was two-parted, with a qualifying round before the finalists faced off for the top four spots and a chance to be the champion.
"Our first two rounds were Swiss rounds, which means you played and were paired against people who did as well as you did," Morgan said. "Then we took the top eight performers from those and they played in a double elimination bracket."
After four hours of grueling competition, the results were finally in: CHS senior Elijah Shore won the tournament, after cutting a swath through the competition with his impressive use of the character Richter. Other students who placed were Holly Tschirhart, Kevin Payne, and Ben Chambers in that order.
The Morgan Forum has learned a lot from their first tournament that they plan to incorporate into future events.
"I think I would definitely want to set more time aside for it," Morgan said. "It seems like people are accustomed to a longer tournament. But moreover, the big thing lost for me so far this year is that we couldn't figure out how to project the big match. I think that's a really exciting thing."
Leave a Comment
About the Writer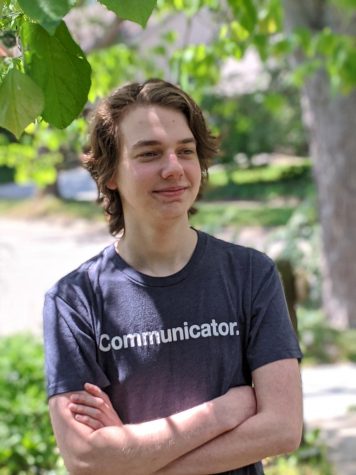 Charles Solomon, Web Editor-in-Chief
Charles Solomon is a senior at community, and this will be his seventh semester on staff. He is excited for many things about the year ahead, but the thing he is probably most proud of is the fact that he is posting this profile on time and not a year late like previous years. When not in class, Charles can often be found starting pointless debates in Mock Trial, practicing Jazz Violin for his combo, or plotting to translate the Communicator website into Tolkien's Elvish. In his scant free time, he enjoys reading books he doesn't have time for, watching bad movies, checking the news, and on special occasions spectacularly losing overcomplicated video games.