Title IX complaint filed against Community High School
UPDATE: In a statement released via a facebook post on April 30, 2019, the filer, Jenny Hannibal, said that after talking with staff, students and parents she has acknowledged that there are inaccuracies in the complaint. She goes on to apologize to survivors who may have felt traumatized by this situation and to students for hurting their trust with teachers. She states her intent was not to harm any relationships but to bring light on district policies and procedures that need updating; Hannibal still believes these procedures are in need of updating and has plans to work with teachers and administration to do so.
"Friends, four days ago I released a public statement. This is an update to that statement.
Over the past 72 hours, I have met with parents, students, and teachers. I have come to understand that there are inaccuracies and information that I did not have when I made my Title IX complaint public. Because I made that complaint public, I also now feel obligated to make it public that the complaint contains inaccuracies that are significant enough to retract and rewrite, and submit it to OCR.
Although I would like to comment on the inaccuracies, I am not able to do so due to privacy concerns.
I apologize to any survivors who may feel retraumatized by having details of sexual assault, trauma, and/or rape made public.
My intent was not to destroy the trust between students and staff who are working to support them.
My intent was to shine a critical light on district policies and procedures that need updating.
In the last day, I have also become much more aware of the ways that Community High School teachers and staff have carefully handled incidents of sexual assault with the utmost concern for the students involved.
I remain concerned about district policy around responding to incidents of sexual assault, and am committed to working with teachers and administration to help shape a more transparent and consistent policy that reflects national best practices.
I also met with families who share my serious concerns about how sexual assault policies can result in significant problems, and their stories need to inform this process.
I am thankful to a number of Community High School teachers who have met with me and are supportive of my efforts to initiate better policy at the school and district level around responding to incidents of sexual assault.
Students, I want you to know that your teachers care about you immeasurably, and are committed to this issue."
*****
A Title IX complaint was filed against Community High School on April 25, 2019.
Title IX is a federal civil rights law that prohibits sex-based discrimination in education. To file a Title IX complaint is to allege that a school discriminated against students based on sex; these complaints can be filed by anyone.
In this situation, the complaint  — linked here — was filed by a parent of a Community student.* It alleges that Community High School is discriminating against female students in dealing with cases of sexual assault in an intentionally indifferent manner, and failing to protect female students from potential assaults.
The complaint alleges the following:
There have been systemic and individual instances within the Community High School administration of lack of compliance with appropriate procedure, and that Dean Tuzinsky has both acted and instructed others to act in ways violating both school policy and Title IX procedure.

A Community High School staff member seeking to notify both administration and a Title IX coordinator of an alleged sexual assault was encouraged to stay quiet, and was threatened with a job transfer by Dean Tuzinsky after they reported.

The Community High School administration has belatedly notified or failed to notify parents and guardians of victims in cases of sexual assault, sexual harassment and rape.

The Community High School administration has failed to complete Title IX complaint documents.

The Community High School administration was unable to produce data on incidents of reported sexual assaults upon a Freedom of Information (FOIA) request. They are mandated by Michigan law to be able to produce this data.

The Community High School administration and staff have violated their mandatory reporter status — which mandates that any employees who believe any acts of sexual abuse are occurring are required by law to report it to appropriate officials — by, in certain instances, failing to report accusations of sexual assault to police.
The filing also includes instances of specific alleged assault and details at length one particular alleged assault that took place and was mishandled in the fall of 2018.
The parent who filed specifically references supposed instances of misconduct that have occurred under Dean Marci Tuzinsky's leadership.**
When asked, the Ann Arbor Public Schools said they cannot comment on the details of individual cases in order to protect student identities. They also say they are confident that the "actions taken both as a District and in individual cases are in full compliance with applicable… state and federal anti-discrimination laws including Title IX."
In a release — linked here —from Dr. Jeanice Swift, superintendent of Ann Arbor Public Schools, on April 26, 2019, she reinforced the point that student's safety is the first priority of AAPS.  Dean Tuzinsky also emailed Community High School parents shortly after Dr. Swift's release to reiterate the same messages. 
She echos the statement made by the communicators director stating that though they cannot share specific details on the cases in question, she is confident AAPS took the appropriate steps. 
Dr. Swift laid out the appropriate steps that, she claims, AAPS staff followed: contacting the parent/guardian of the students involved, notification of Department of Human Services (DHS), conducting a thorough investigation of the matter and contacting Ann Arbor Police Department in full support of a law enforcement investigation. 
When a staff member is made aware of an incident that may constitute a sexual assault the procedure is for them to contact parents and file a form DHS -3200 (Report of Actual or Suspected Child Abuse or Neglect) with the Michigan DHS. The DHS is responsible for forwarding such complaints to the applicable law enforcement agency for investigation. However, the AAPS administration believes it is best practice for their staff to report incidents directly to law enforcement; this form of reporting is not mandated by Title IX.
The parent who filed specifically requested in the complaint that Community High School update its sexual harassment and assault policies by consulting a professional who specializes in Title IX issues. They also asked that the administration train all of the staff and faculty both in policy and procedure of civil rights laws — including Title IX — as well as in effectively and compassionately receiving complaints of sexual assault and harassment.  
The parent has requested a waiver of the 180-day statute of limitations on filing Title IX complaints. This statute of limitations means under normal circumstances, a complaint cannot be made over 180 days after the most recent Title IX violation; the parent is requesting the waiver under the claim that occurrences of retaliation against teachers attempting to make changes internally complicated the filing.
The United States Department of Education 's Office for Civil Rights (OCR) will contact the AAPS if it accepts jurisdiction over the complaint. To date the District has not been contacted by the OCR. Ann Arbor Public Schools has agreed to comply fully with investigation if any should be initiated.
Crisis counselors will be available to provide support at Community High School and there is parent meeting has been scheduled for Tuesday, April 30 at 7:45 a.m. at Community High School.
* It is specified in the report that the filer's child was not one of the students allegedly sexually assaulted.
**These allegations were made by the filer; The Communicator cannot verify or corroborate any of the claims made.
Updates have been made regarding the letter from Dr. Jeanice Swift and Dean Tuzinsky's email that information was made available. Additional updates will be added as more information is released. 
View Comments (2)
About the Contributors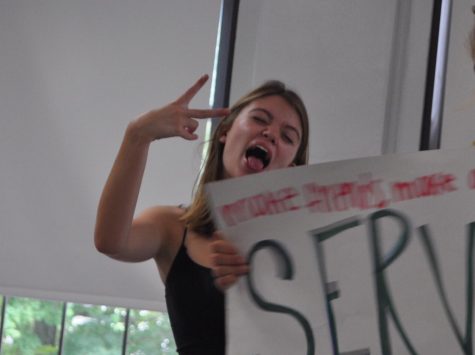 Paige Duff, Web Editor-in-chief
Paige Duff is a senior in her fourth year on Communicator staff, and one of three wonderful Web Editor-In-Chiefs. Her greatest skill is the ability to spin any fortune cookie slip, horoscope, or Magic 8-ball answer in a positive way. Paige loves the planet with her whole heart, and most of the people on it. She also loves car-singing and car-dancing — she does not love car-driving. She's looking forward to a magical year!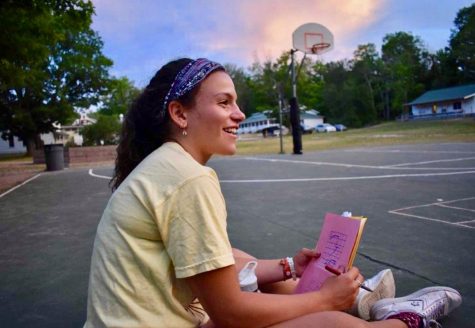 Cammi Tirico, Print Editor-in-chief
Cammi is in her fourth year on staff and is a senior at Community. This is her second year making up 1/4 of the print editor-in-chief team. When not working on The Communicator, she can be found playing golf and basketball for Skyline, lawyering at Mock Trial, singing camp songs off key at Camp Al-Gon-Quian or climbing trees. Cammi's favorite part of journalism is when an interviewee says something special or powerful out of the blue. Two averagely fun facts about Cammi are that 1 ) she is scared of lightning but loves rain and 2) her favorite shape is a triangle.