Dance Body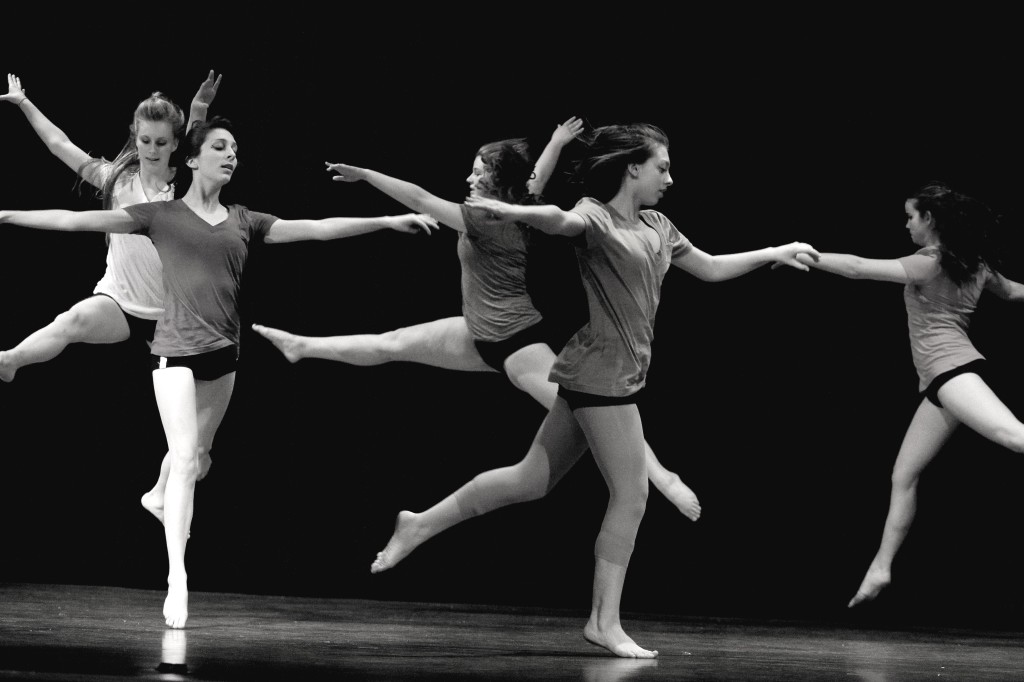 Julia Kortberg
March 4, 2010
Dance Body dominated the stage of Forsythe Middle School on January 22. With about three weeks notice, Dance Body long-term sub, Alison Hurd, and the dancers managed to pull off an outstanding performance.
Instead of focusing only on the usual contemporary and modern dances, Dance Body spiced it up with a variety of different types of dance. Sophomore dancer Gillian Teall said, "I thought it was a lot more diversified than last year. You know, last year, it was all contemporary and modern. This year it was hip-hop and slow sad songs and fast happy songs, it was a lot more interesting."
These dances included junior Annie Flynn running around in the upbeat jazz dance titled Awkward Turtle, composed by Squirrel Nut Zippers and choreographed by freshman Adina Nadler. Flynn ran around the stage as the awkward dancer, while the others wore different kinds of bow ties in their hair and danced in sync.
Nama Rivlin choreographed to a song titled "In The End" by James Blunt. In this love song, Rivlin and partner Hailey Keen danced passionately and at the end walked off the stage in opposite directions. On stage right, Rivlin walked to the side where the dancers wore white t-shirts while Keen walked to stage left, where the dancers wore black t-shirts. The black and white t- shirts represented their now separate lives.
Another highlight was the final performance, when the dancers came out with hair messy, trash bag skirts and dresses — and a lot of makeup. The song titled "Stomach. Eyes. Flesh." by Charlotte Martin was choreographed by senior Nicole Chen. "It's a whole different experience. I've been dancing at my other studio for a long time, and this is something so new. I've never choreographed my own routine before. It was an interesting process and I was really nervous. It worked out so well," said Chen.
However, the dance that received the loudest applause was the hip-hop dance to "Breaking Into A Locked House With A Jerk And A Wack King Tut" composed by Jem. The title comes from the actual hip-hop moves called breaking, locking, jerking and wacking.
All the dancers walked out dressed in sweat pants, t-shirts and Nikes, showing off their new moves. "It made me want to get up and dance… you know I wanna do that hip-hop number!" said English teacher Brian Miller. Health and Fitness teacher Robbie Stapleton agrees, saying, "I love the athletic dancing, and I sort of miss it!"
Junior Sander Bregman was a strong asset to the hip-hop dance, doing an outstanding breakdance performance. Being the first male dancer in a while, Bregman is satisfied with his decision of choosing to do Dance Body. "It's kind of awesome, honestly; at first I was nervous to sign up for the class. I was the first guy in six years." However, Bregman says Dance Body has also helped in "expanding his dance vocabulary," claiming that it has made his style more unique.
The hip-hop flavor comes from the current long-term sub, Alison Hurd. She has been dancing for 20 years to a range of dances including ballet, modern, jazz and all forms of hip-hop. Teall said, "Hip-hop was very, very new [to us]. We learned how to house, how to jerk, how to cut, how to break, how to wack."
Hurd stumbled upon the job while she was searching online for a long-term sub job. "It just popped up dance and I was like, 'yes!'" Hurd was extremely proud of the show saying, "I was so happy with it. Oh my gosh, it was the best every piece has been, it was incredible, it was perfect!"
The Maxed Out jazz band performance was outstanding as well. Jud Branam was on drums, Max Bowen on guitar, Spencer Johnson on saxophone, Max Hully on trombone and Aidan Cafferty on bass. They played the songs "Flamenco Sketches", "Pfrancing", and "Spain". "It was good, that Dance Body and the Community Jazz program could integrate for the event," said Hully. "I thought the performance as a whole was good; it was a really tight show with no awkward pauses." From the audience, junior Magda Aeschbach agreed, "The dancing was really great, but I loved the drum conversation and the jazz combo. It's cool to combine two of the arts from Commie."
Overall, it was a successful night, packed with a lot of fun. "I think it went well. I think we had some really strong pieces. We had a lot of fun; we always do!" said junior Elise Caruso. English teacher Judith DeWoskin agreed, "It was fabulous, wonderful. I've been coming here for 25 years – I'm practically their roadie. It definitely exceeded my expectations."