Athlete profile: Henry Monte-Sano
Henry Monte-Sano, a sophomore varsity cross country and track athlete, works hard day in and day out. He is dedicated, persevering and loves the team. He never fails to give 100 percent and enjoys the climb. On Aug. 24, at a high school meet, he earned his personal record of 16:26 in the 5K. He dropped 40 seconds from his 5K time freshman year, which only shows the great trajectory he has.
Monte-Sano runs for Pioneer High School. He ran cross country for two months in the fall of seventh grade, but then stopped when the season was over and didn't pick it up again. During his freshman year, he was drawn back into running by his close friends and his desire to be part of a team.
Prior to running cross country, Monte-Sano rock climbed competitively, but suffered from an overuse injury in his fingers on both hands, and had to stop. Although he no longer climbs, he has learned how to make his mind stronger and deal with being uncomfortable from it.
The Pioneer cross country program is extremely demanding, but Monte-Sano never fails to exceed expectations. The team is currently in cross country season, but there is also indoor and outdoor track, and summer cross country training. Monte-Sano runs the 5k for cross country and the 800 meters for track.
"I can run a lot faster and that's more fun," Monte-Sano said as he explained why he prefers track over cross country. Being the team player he is, Monte-Sano likes watching, hanging out and cheering on his teammates at track meets in between races.
"The best part about being on a team is hanging out with the boys," Monte-Sano said, "I just want everybody to do their best so we can run well as a team, and do well as a team."
Of course they sometimes get in arguments, but they're always quickly resolved. A frequent argument amongst the team is about pace. "There are kids who will always run two steps ahead of you instead of with you," Monte-Sano said. Although this can be a source of tension, after a hard day of training, the team enjoys catching up with each other on other topics.
This season, Monte-Sano aims to qualify and do well at states. "It's the culmination of the season and all of the effort you have put into training," Monte-Sano said.
Leave a Comment
About the Writer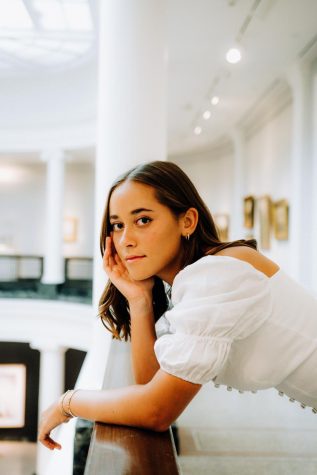 Mia Goldstein, Print Editor-in-Chief
Mia is a senior at Community High and this will be her second year as a Print EIC. Most of her time is spent on InDesign, fooling around with page design or making funky vector art on Illustrator. When she's not in the journalism room, you will either find her on the tennis court 80% of the time or with her black lab, Abby, the other 20% of the time. She's always up for a challenge. Bring it on senior year :)