Hillary Clinton Visits the University of Michigan
"I do think that we are facing a constitutional crisis," Hilary Clinton said. "I say that as someone who actually worked on an impeachment staff back in 1994." Impeachment was one of the many topics Clinton touched on during her talk at Rackham Auditorium on Thursday, Oct. 8. She was invited to Ann Arbor as part of the lecture series launching the new University of Michigan Weiser Diplomacy Center. She shared the stage with Michael S. Barr, the Dean of the Ford School of Public Policy.
Having a former senator, Secretary of State, and first lady in town stirred some excitement. The event's free tickets ran out within 5 minutes of the box office opening. Over an hour before the talk, a line snaked down the block. Inside, excited students and townies buzzed around, trying to find seats, as a dozen men in three-piece suits meticulously straightened a small coffee table on stage. A staff member carefully position a mug for about 15 seconds, in case Clinton got thirsty.
Known for being a women's rights activist, Clinton attended the World Conference on Women in 1995 where she famously stated, "Women's rights are human rights and human rights are women's rights." On the carefully organized coffee table on the stage, lay a copy of Clinton's latest book written with her daughter Chelsea, The Book of Gutsy Women. Clinton said that the book highlights 103 women who "persevered through obstacles and terrible difficulties to make a difference."
After entering to a standing ovation, Clinton sat, smiling off into the distance, as Mark Schlissel, President of the University of Michigan, listed her accomplishments.
Throughout the discussion, Clinton did not shy away from current events. She strongly condemned President Trump's withdrawal of U.S. troops from Syria, saying that the Kurds have been allies of the United States in fighting ISIS, and that pulling troops prompted Turkey to attack the Kurds.
"It should not be a surprise that the Turks intended to do that," Clinton said. "What is surprising is that the President of the United States basically gave them a green light to do whatever they choose to do." Clinton touched on several other diplomatic topics\; on the issue of foreign policy, Clinton's displayed her humanitarian and diplomatic views.
"When it comes to Hong Kong, I personally think it would not cause some huge breach if the United States government were saying what they should say, which is that people have arrived to demonstrate peacefully and we expect the Chinese government to avoid military action against their own people in the streets of Hong Kong," Clinton said.
Clinton also touched on the issue of immigration and her views on how to help.
"We should help the [Central American] governments crack down and eliminate gang threats so people don't have to rush to our border because they've seen their father killed or their daughter raped," Clinton said. Her ideas on how to help the immigration issue, instead of just "throwing money at it," excited the crowd and prompted a lot of applause.
At the end of the afternoon, Clinton finished by walking to the edge of the stage and reaching out to shake someone's hand. The audience cheered as she walked off stage, chattering excitedly about their brush with greatness.
Leave a Comment
About the Contributor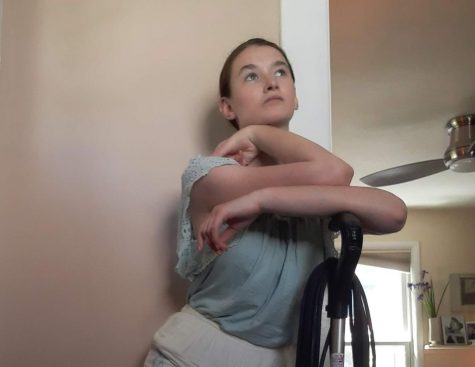 Lucy Tobier, Web Editor-in-Chief
Lucy Tobier is a senior at Community High School and a Web Editor-in-Chief for The Communicator. This is her third year on staff. When she's not transcribing interviews or messing around with website layouts, you can find her walking through the woods and browsing the stacks at the public library. She loves to bake cookies for her friends, rewatch Gilmore Girls and cut apart seed catalogs.