Mixed reviews for Skyline's annual homecoming dance
Skyline High School had its annual homecoming dance on Saturday, October 12th. After the homecoming game the night before (in which Skyline lost to Saline High School 56-14), the dance was held at the school in the cafeteria.
"It had its ups and downs, but it was fun, and I saw some people I hadn't seen in awhile," said freshman Valerie Vonrutte, who attended the dance. "(My favorite moment was) when they played Party in the USA, because everyone was singing along and having fun."
Many people who attended the dance were not enrolled at Skyline. They had to sign a guest form that allowed a Skyline student to bring them. Abby Potoff is currently enrolled at Skyline, and brought a guest to the dance.
"We had to sign a guest form and their principal had to sign it," said Potoff "It wasn't a hard process."
The theme of the dance was 'Fire and Ice," and the room had many decorations. Potoff also helped set up the decor for the dance.
The pillars were adorned on one side with "Fire" decorations, and with "Ice" on the other. In the middle was the DJ and dance floor, which was crowded for most of the night. There was also a photo booth, a place to drop off your belongings and a table that offered water, lemonade and some snacks.
Some students went to more than one homecoming. Audrey Parker is a freshman at Pioneer High School, and was brought to Skyline homecoming by a friend.
"I got to see a lot of my friends," said Parker. "It was fun experiencing another school's homecoming."
There were some differences between the schools' homecoming dances. Arista Luong, a CHS student, compared the Pioneer and Skyline homecoming dances.
"(At Skyline) The teachers were shining flashlights on us, which I found kind of off-putting. I get the safety issues, but I think it could have been handled better." She thinks that the close presence of teachers at the dance made the students kind of uncomfortable.
"We were just having a good time, and the principals were watching us…I think that was the problem," Parker said. The dance floor at Skyline was crowded and many people got their hair pulled or their toes stepped on.
"People were jumping and stepping on each other's ankles and feet." said Potoff, who finished the night with some blisters herself. "That really hurt."
Most attendees enjoyed the Skyline homecoming dance. Despite some opinions that the teachers were too invasive, and the fact that many students ended the night with injured feet, the dance seemed to be a hit with an 8 out of 10 rating from many students.
Leave a Comment
About the Writer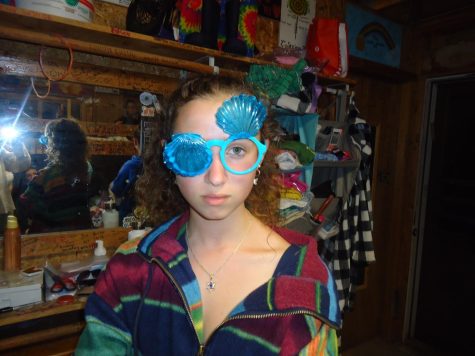 Scarlett London, Web Editor-In-Chief
Scarlett London is a senior at CHS. This is her seventh semester in journalism and her second year as Web Editor-in-Chief. When she's not editing articles or listening to music, she loves driving around with friends, watching movies, and looking at art. She loves dancing and spends time every day at the studio. She also sits on the teen editorial board for jGirls magazine. She has been involved with The Communicator since her freshman year and is excited to return as Editor-in-Chief this year!