Pioneer Soccer vs Grosse Pointe South photo gallery
The Pioneer Pioneers met the Grosse Pointe South Blue Devils on Wednesday Oct. 23. It was 5:00 p.m. when the two sides kicked off. As the sun started to set, Pioneer attacked Grosse Pointe's defense by passing through the back line to their much faster forwards. This created many opportunities for Pioneers' forwards to score one on one with Bennett Smihal, the Grosse Pointe goalkeeper. Most kicks were missed by the Pioneer players, but in the twentieth minute Austin Jacobs finished into the top left corner of the net.
During the first half and the start of the second half, Grosse Pointe showed determination by pushing their offense closer to Pioneer's goal. They struggled to finish, however, as the Pioneer goalkeepers Caleb Shoup and Alexander Szumko saved every shot. 
The Pioneer offense wasn't as strong after Jacobs's goal, but Pioneer kept possession by passing. Forward Jack Yerkes was the most energetic of the Pioneer offense, repeatedly beating Grosse Point's defensive right back Samuel Tucker with his speed and skill, however none of the Pioneers shot successfully until  Yerkes dribbled towards goal and got a shot off, scoring with 2:17 left in the first half. 
In the 30th minute, Pioneer forward Jack Yerkes was tackled inside the goal box. The referee blew his whistle and pointed to the penalty spot. Pioneer forward Aaron Hsu stepped up to take the penalty kick. Hsu backed up, then ran towards the ball. He shot at goal but Smihal dove and blocked the shot. The ball deflected off him and dropped in front of Hsu who reacted, shooting the ball into the back of the net. This gave Pioneer a 3-0 lead.
With three minutes left to play, Pioneer was consistent in passing behind the Grosse Pointe defense. However, almost every time they did this, Pioneer was called offsides by the sideline referee. One effort by Pioneer was successful when David Schnell received the ball from Austin Jacobs. Schnell shot towards goal but the goalkeeper blocked it. The ball deflected off the keeper and into the path of Pioneer's Aaron Hsu who tapped the ball into the back of the net, with three minutes remaining in the game. Pioneer will advance to play Salem in the regional finals, playing for a chance to go to the division one state semifinals.
Leave a Comment
About the Writer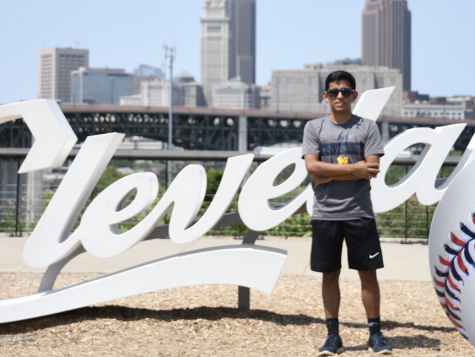 Josh Boland, Journalist
Josh Boland is a senior and in his second year on the Communicator staff. Josh has a great interest in photography which he devotes lots of time to doing. He also enjoys playing soccer, watching sports with friends, and traveling. Josh is hoping to attend a college with great student media opportunities and good athletic programs which he can photograph.